As I mentioned in my opening to chapter six on Wednesday, I very much plan to celebrate the Queen's ongoing service this month and raise a glass of bubbles in her Royal honour, at every opportunity I get!
Which is why I've gone all out on decorating for the jubilee in recent days, setting a regal tone for celebrations to come…
If you happen to be hosting a Jubilee celebration this weekend too (or you just fancy embracing the patriotism in the air and decorating regardless) here's a breakdown of the Jubilee decorations that I've ordered recently, to transform the Millen-Gordon household into a palace fit for the Queen!
The entrance
Our porch is surrounded by fragrant lavender at this time of year so when it came to sourcing a wreath fit for the Jubilee weekend, I knew that I wanted one that would stand the test of time.
And by stand the test of time, I mean double up as my main summer wreath too!
This wreath from Flowerbx ticked all the boxes – simple, summery and suitably sophisticated.
I always try to keep continuity in mind when decorating as it creates a sense of fluidity for guests (and calms me!) from the moment they arrive. With that in mind, I knew that these matching lavender centre pieces would do the trick – perfect for tables both inside and out.
The centre pieces
I've ordered two of these herb garden kits from Hello Petal to ensure that there's a rustic twist to my regal tablescape! Filled to the brim with oregano, thyme and white lavender, they'll frame our outdoor seating area perfectly.
The linen
I won't lie, when it comes to hosting any outdoor celebration, I love a bare wooden trestle table topped with beautiful blooms. That being said, the weather is looking decidedly unsure this weekend so I've ordered some light linens in case I need to bring the celebrations indoors. This navy and white linen tablecloth oozes Jubilee vibes… Even more so when paired with these navy linen napkins.
Going for a bare table instead? I also LOVE these striped linen napkins. 
The cake stand
A freshly baked sponge topped with seasonal berries is an absolute must for any Jubilee soiree! Which is why I invested in a wooden cake stand many moons back, so that if and when I decided to bake, my masterful creations got the recognition they deserve..! Personally, I'm a big fan of this one from Amazon but any wooden stand should do the trick.
The bunting
Though I love driving through local villages and seeing Great British bunting fluttering ahead, I decided to stick solely to blue and white bunting this weekend and will add pops of red via the food and fresh flowers on the table. 
This fabric bunting from Amazon caught my eye immediately – a shabby chic alternative to foiled bunting that can be used again and again.
The finishing touches
When it comes to finishing touches, I try my best to source decorations that work for multiple themes. With that in mind, my vintage inspired blue and white china vases will be coming out to play this weekend (you can find a similar set here.) Not only will they look fabulous filled with fresh flowers in various shades of red, white and blue but they add a little je ne sais quoi to pretty much any countryside themed party each year!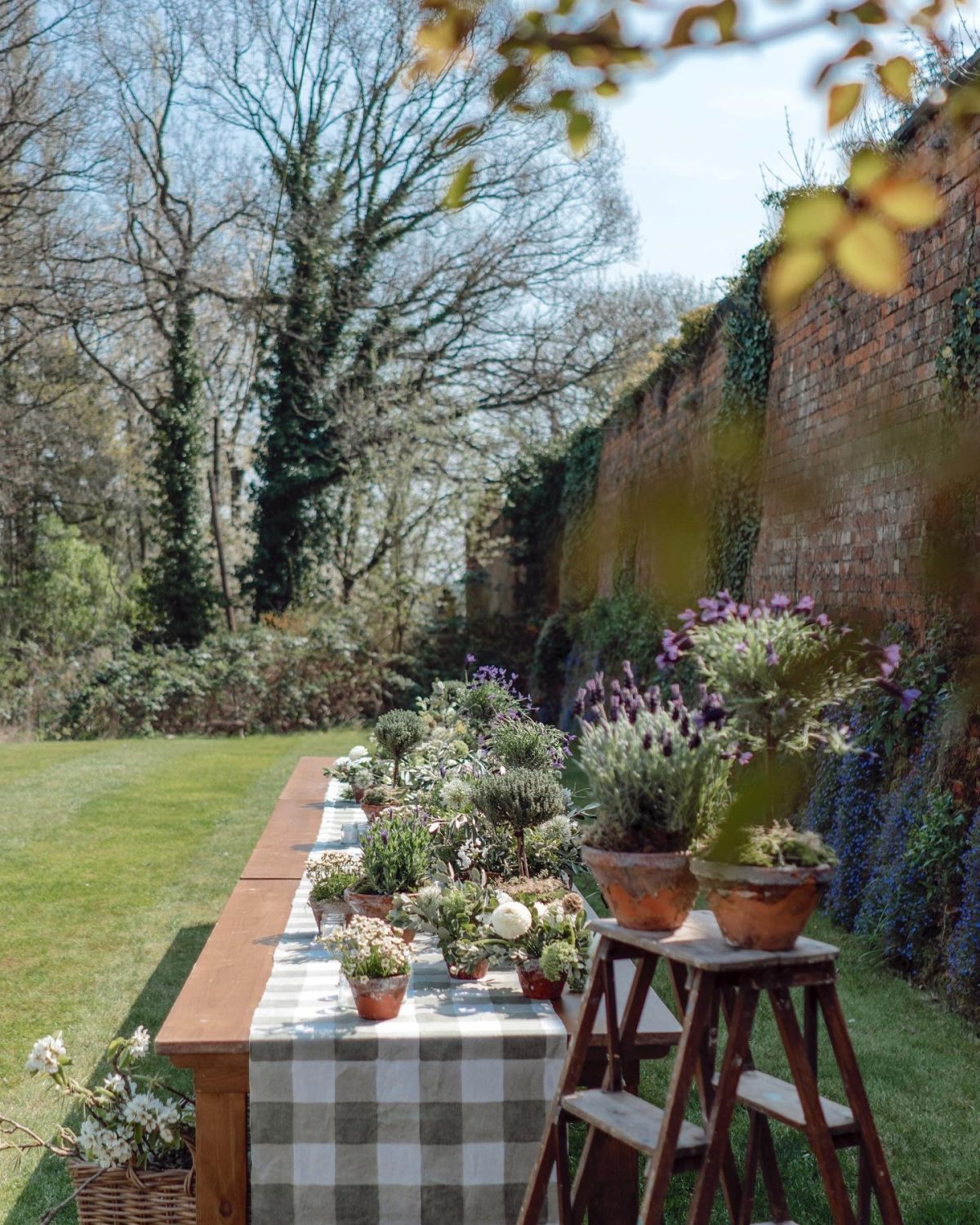 The outfit
You should know me well enough by now to know that if I've spent time thinking about the perfect decorations for a Jubilee party, I've also spent time thinking about the perfect outfit to host said Jubilee party in too! And this weekend I've decided to go all white. Not only will this White Broderie Midi Dress from my latest collection with Karen Millen compliment the various Jubilee decor above but it is the PERFECT white dress for summer events in general, too.
SHOP MY JUBILEE DECORATIONS EDIT
Wherever you happen to be spending it, enjoy the celebrations and have an amazing Bank Holiday weekend when it comes around!
Lydia xx