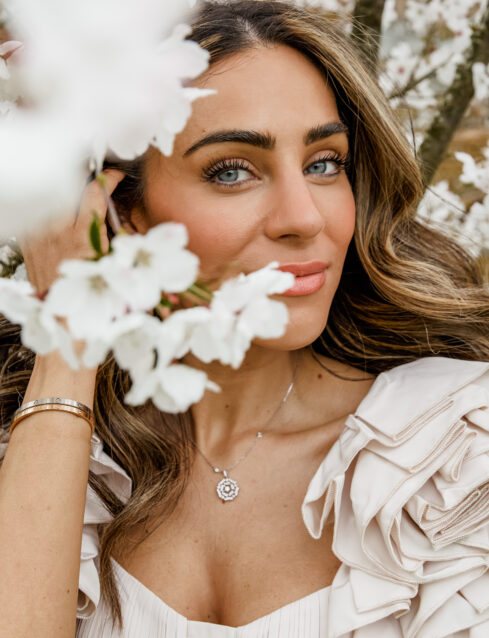 I'm Lydia and welcome to lydiaelisemillen.com - my very own corner of the internet which has been my home for the past decade (and a bit!) As one of the UK's original and leading digital creators in the luxury space, what started as an online diary in which I documented my outfits as a student back in 2011, has evolved into a space for my amazing community to immerse themselves in, seek inspiration from and access all of the content and products that I put out into the world via my channels on Instagram, Tik Tok, Pinterest, and YouTube.
Having moved to the English countryside just over five years ago, everything from my fashion, interior and beauty choices to how I spend my spare time these days is heavily influenced and inspired by the evergreen beauty of nature and the joy I find in seasonal living. Happiest when I'm at home pottering in my greenhouse or curled up on the sofa with my husband Ali and our beautiful pets, Lumi, Porter and Berkeley, I'm so grateful that you've chosen to be here and look forward to welcoming you into my world.
Lydia x
Proud to have worked with
Brands including
Karen Millen, BEAUTY PIE, Cult Beauty, Dior, MyTheresa, GHD, Farfetch, intimissimi, and more and been featured across publications such as Harper's Bazaar, STELLA, Marie Claire, COSMOPOLITAN, to name a few.
Frequently asked questions
How did you start blogging and do you have any tips?
I started blogging 11 years ago as a student! I'd got myself into a bit of a funk and needed to feel inspired again so started by sharing charity shop finds and how I upcycled clothes that had sat in my wardrobe for years. Having coded my own websites since I was 13 (albeit badly) and used them as an online diary to document my thoughts and life, blogging always came naturally to me so I kept it up after uni, alongside my full-time job in e-commerce. Unlike so many creators in the space at the time (who lived at home so found the transition into full-time content creation much easier) I had a full-time job and a mortgage to pay so made sure that I had every base covered before I went full time in 2016. Since then, I've never looked back and feel so passionately about the industry and proud to have played a small part in its beginnings.
What are your stats? (Age, height, weight, etc)
I'm 5ft 7" and can honestly say that I have no idea how much I weigh. I like to feel healthy and confident in my clothes so I eat well and exercise to achieve this without numbers. As for my age, I'm 35 years young and feel grateful that I feel more and more comfortable in my own skin with every year that passes.
Who takes your pictures and what equipment do you use?
My tripod and I capture the bulk majority of my content but I occasionally hand over the reins to my long suffering husband, Ali! I also love to work alongside photographers (here's looking at you @katherineboylephotography) as I thrive off of the creative energy they bring to shoots. Equipment wise, I'm a Canon girl through and through. In fact, I spent the pay cheque from my first big campaign on a Canon 5D MK iii which I still have to this day. Even though it looks and feels so clunky nowadays (it doesn't even pair with an iPhone!), it was a real career milestone for me so I couldn't bear to part with it. My favourite lens for it is the 50mm 1.4 – an icon from the early blogging years! And I shoot all video and vlog content with the Canon G7X mk ii – aka. My trusty side kick. Though they don't always last that long (in fairness, vlogging around the clock demands a whole lot from them), their performance is unrivalled. Finally, I reach for my M50 with interchangeable lenses when I'm looking for an easy, on the go content camera. It gives a professional finish whilst remaining compact.
What is the inspiration behind your style?
The annual seasons, without a doubt. I'm completely enchanted by them and find so much beauty in how the colours, textures and tones of nature evolve throughout the year. So much so that I try and use as much natural texture and tone in our home, to mirror nature and blur the lines between indoors and out. For my personal style you can expect to see botanicals and florals across lightweight linens and sheer organza fabrics in Spring and Summer. Come Autumn and Winter, deep earthy tones and heavier wools and cashmere come out to play.
I would love for you to try my brand/ product! How can I go about doing this?
Firstly, thank you so much for thinking of me! I'm so honoured you would like my opinion on something you've decided to launch. Given that I'm lucky enough to receive a large number of product review requests but only have one face and body to try them on (first world problems, I know!) please do reach out via the 'Contact page' and one of my team will get back to you asap. Hopefully we can work together soon.
Where is 'X' from on your Instagram/ YouTube content?
All products will be linked at the bottom of my YouTube videos if they're still available. For Instagram and Tik Tok, I try to tag any featured brands. I also add everything to my Shop page here. I hope that helps!
Get updates & exclusive news