tranquil rituals
16th September 2015

Stress is a constant battle in my world, I tend to let it all build up and get on top of me, which is why relaxation is so important. I love the feeling of indulgence and escape, I love the sound of silence and the calmness of alone time so when it all feels like it's getting a bit much I create my own little escape using some amazing products. Rituals is a brand which encapsulates the meaning of indulgence creating the most luxurious experiences and transforming everyday routines into more meaningful rituals, whether you're showering after the gym, washing the dishes or scheduling in some me time, their products are on hand to enrich most aspects of every day life, that little bit more because they offer a wide range of products for both body & home. I was instantly drawn to the Tao collection which promotes "The ancient art of tranquility", perfect for those times when my Yin and Yang aren't as harmonious as they should be. At the end of a busy week is when I most look forward to my own little ritual of relaxation in my busy life and it all starts by moving from my office to the living room. I perch myself on my favourite white fluffy blanket with the delicious scent of White Lotus and YiYi Ren filling our home. I love to read, I always have done but over the past few years I've had less and less time to do so which means now this is also an integral part of of my down time, currently I'm reading The Body Book by Cameron Diaz which means I'm learning how to benefit my life too as well as becoming submerged in the pages. Reading whilst in an ambiance full of calm and tranquility enables me […]
Stress is a constant battle in my world, I tend to let it all build up and get on top of me, which is why relaxation is so important. I love the feeling of indulgence and escape, I love the sound of silence and the calmness of alone time so when it all feels like it's getting a bit much I create my own little escape using some amazing products.
Rituals is a brand which encapsulates the meaning of indulgence creating the most luxurious experiences and transforming everyday routines into more meaningful rituals, whether you're showering after the gym, washing the dishes or scheduling in some me time, their products are on hand to enrich most aspects of every day life, that little bit more because they offer a wide range of products for both body & home. I was instantly drawn to the Tao collection which promotes "The ancient art of tranquility", perfect for those times when my Yin and Yang aren't as harmonious as they should be.
At the end of a busy week is when I most look forward to my own little ritual of relaxation in my busy life and it all starts by moving from my office to the living room. I perch myself on my favourite white fluffy blanket with the delicious scent of White Lotus and YiYi Ren filling our home. I love to read, I always have done but over the past few years I've had less and less time to do so which means now this is also an integral part of of my down time, currently I'm reading The Body Book by Cameron Diaz which means I'm learning how to benefit my life too as well as becoming submerged in the pages. Reading whilst in an ambiance full of calm and tranquility enables me to remove my mind from the busy week passed and transport my mind elsewhere, it's the perfect way to begin an evening of indulgence.
My love of posh tea is no secret here, and I believe many of you share the same love. There's something special about that first sip of the velvety smooth texture from an expensive loose leaf blend and for my tranquility ritual this really is my favourite moment. That first sip! Snuggling into fresh sheets bursting with the scent of Tao whilst I enjoy my favourite tea is all part of the process of unwinding from what is usually the end of a stressful week. The tea warms and soothes from the inside and the Body and Bed spray from Rituals provides a calming blanket of fragrance ready for a long soak. It really is the little things that make all the difference.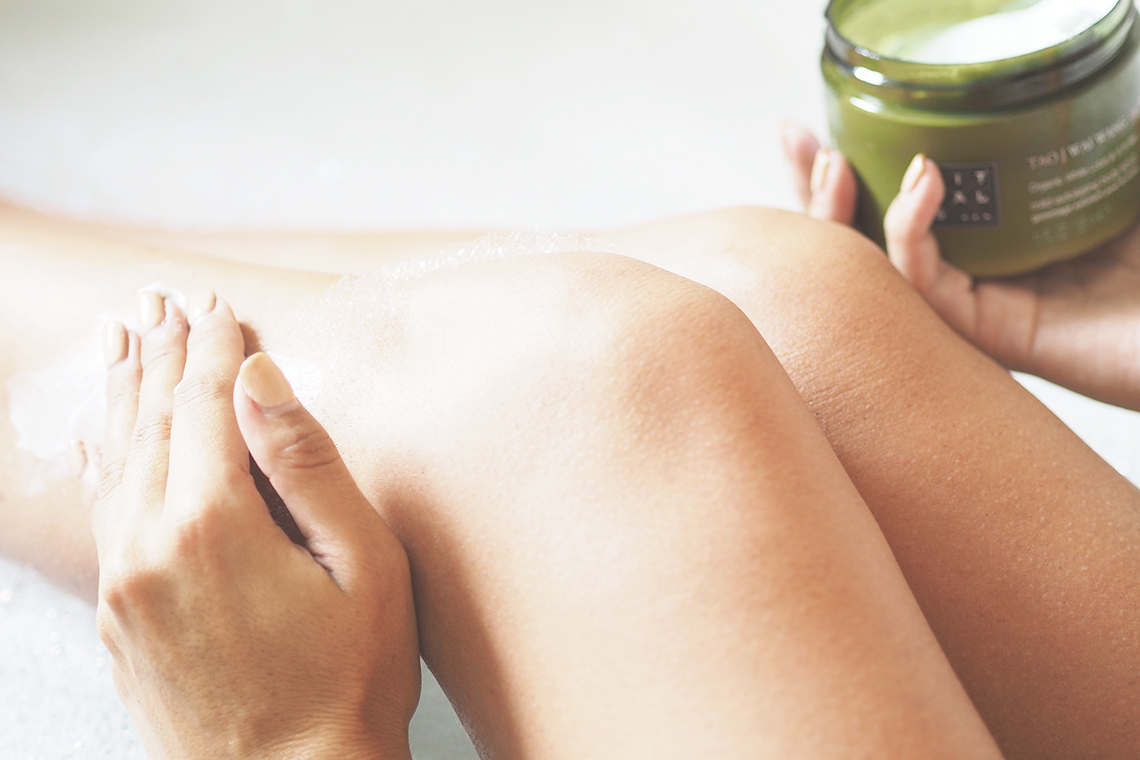 This is it! That moment I worked all week for. I leave all my stresses, worries and deadlines at the bathroom door and sink into a bath full of bubbles tailored to sooth my aching limbs. I could lay there for hours, sometimes I do. My little gift to myself has always been a special body wash, no matter whether I'm travelling, showering after the gym or just getting ready in the morning, this is a little gift I give myself every day, a bathroom over flowing with the most beautiful scents. Each of these stages come together to form my weekly "post working week Ritual" to ensure that I'm able to distance myself from the stress and craziness of working as a full time blogger and enable me to create a sanctuary within the 4 walls of my home. This ritual has become an intrinsic part of keeping myself calm and collected during even the most stressful of weeks. This is my little piece of Tranquility.
This post is in Collaboration with Rituals but all opinions are my own.
---
Shop The Post