the benefits of matcha – matcha latte recipe
8th September 2015

Match! Matcha! Matcha! I've been going on about it non stop for weeks. After randomly going in search of a Matcha Latte in between meetings a few weeks ago I have been hooked. I found a quiet spot just off Carnaby street to sit in the sunshine and try my very first sip. I loved it! Now unfortunately for this new found addiction, I don't live in trendy London and I don't think this little town is quite hip enough for green living just yet so I decided to make my own at home, even going as far as buying the stencils to make my froth on top of my latte all pretty, I know I really am that sad. But trendy healthista drink aside, why should you be drinking Matcha? Well if you are a green tea lover like I am then you will be astounded to know that Matcha powder contains almost 140 times more antioxidants than normal Green tea. Aids in burning calories Boosts metabolic rate Naturally detoxifies the body Calming on Mind & Body Jammed packed with vitamin C, selenium, chromium, zinc and magnesium Mood enhancing And those are just some of the reasons you should be drinking this healthy powerhouse. I've never been very good with "green things" even as a child I steered clear of green veg, to the point where I was 27 years old when I first tried an avocado. But done right you can make this green powder taste anything but that. Starting with the right Matcha, you want to get yourself good quality powder so that you are fully reaping the benefits of what this drink has to offer and so far my absolute Matcha of choice is Eat Clean Tea which has been stoneground into a delicate but powerful powder […]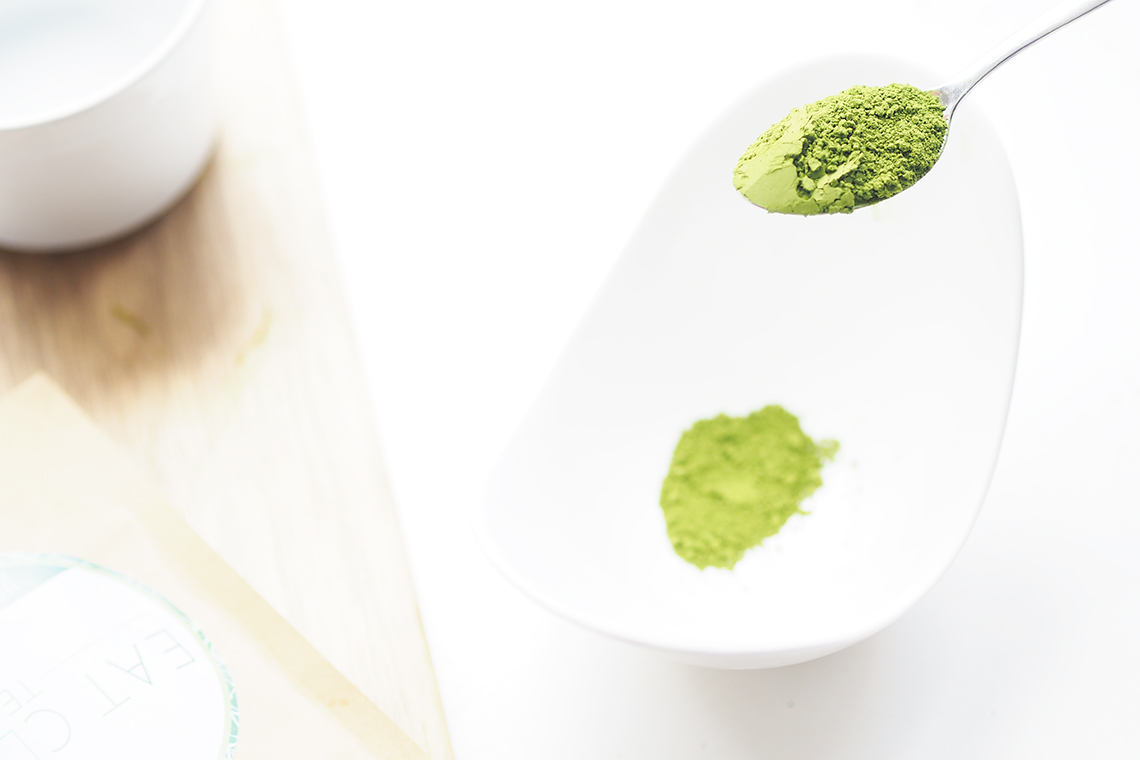 Match! Matcha! Matcha! I've been going on about it non stop for weeks. After randomly going in search of a Matcha Latte in between meetings a few weeks ago I have been hooked. I found a quiet spot just off Carnaby street to sit in the sunshine and try my very first sip. I loved it!
Now unfortunately for this new found addiction, I don't live in trendy London and I don't think this little town is quite hip enough for green living just yet so I decided to make my own at home, even going as far as buying the stencils to make my froth on top of my latte all pretty, I know I really am that sad.
---
But trendy healthista drink aside, why should you be drinking Matcha?
Well if you are a green tea lover like I am then you will be astounded to know that Matcha powder contains almost 140 times more antioxidants than normal Green tea.

Aids in burning calories

Boosts metabolic rate

Naturally detoxifies the body

Calming on Mind & Body

Jammed packed with vitamin C, selenium, chromium, zinc and magnesium

Mood enhancing
And those are just some of the reasons you should be drinking this healthy powerhouse.
---
I've never been very good with "green things" even as a child I steered clear of green veg, to the point where I was 27 years old when I first tried an avocado. But done right you can make this green powder taste anything but that.
Starting with the right Matcha, you want to get yourself good quality powder so that you are fully reaping the benefits of what this drink has to offer and so far my absolute Matcha of choice is Eat Clean Tea which has been stoneground into a delicate but powerful powder and comes from the highest quality source in Japan.
Then you want to find a recipe that suits your taste buds, whether you are going to pop it into smoothies, bake with it or like me, make a delicious morning latte with it. Regular readers will know that I stay away from Milk so if thats you too then this recipe is definitely for you.
---
You Will Need:
250ml Almond Milk
A dash of Cinnamon
2 tbsp of boiling water
1/4 tsp Vanilla Essence
1/2 tsp Agave nectar
1. Using a milk frother (which are more powerful than I ever imagined) mix the Eat Clean Tea Matcha Powder in with the Cinnamon and boiling water.
2. Heat around 200ml of Almond milk in a pan and slowly add the Matcha solution that you made earlier and Vanilla Essence until hot but not boiling.
3. Taste the solution to decide whether you require the agave nectar.
4. I then heat and whisk using the milk frother the remaining 50ml of Almond milk to create a beautiful and frothy Matcha Latte.
---
This post was shot on the Olympus PEN E-PL7 & 45mm lens.