After a very full-on December in the LEM office, I'm sure we're not the only ones who struggled to ease ourselves back into the reality of a 'post-Christmas break' work schedule.
After all, as much as we all love our jobs (!) we're in agreement that the week between Christmas and New Year is the best time of year for switching off/embracing the sloth life, in full. With that in mind – as you'll soon see from our recommendations below – in recent weeks we've embraced the slower pace of life that winter brings with lots of reading, baking and beauty rituals that help us to unwind.
As always, we hope that they're helpful in some way and look forward to sharing more when spring arrives in full bloom…
Carrie
---
Official best friend and Chief Operating Officer at LEM Online, I like to think that I'm the glue that keeps this business together. I'm also quite the expert in drinking alcoholic grape juice and herding small, energetic dogs.
SKIN TYPE – Normal to dry, prone to sensitivity with weather changes or hormonal fluctuations.
HAIR TYPE – Half wavy, half curly, fine but lots and lots of it.
MAINTENANCE LEVEL – Minimal effort always!
INTERESTS – Food and wine, cooking, my little Bolly Moo, hiking, travelling, date days with my friends, staycations.
BEAUTY – If you're a religious subscriber to Lydia's YouTube, you'll know that last summer I had hyper realism brows done at Tracie Giles (and as someone that used to have to dye their brows every 10 days to see them, it was the best money I've ever spent on myself, beauty wise!) With that in mind, I decided to try the lip blush there too. It's such a weird treatment because you're numb while the artists do their work but I honestly wanted to keep the immediate result forever! It was like someone had applied the perfect glossy lipstick and liner to my lips. Naturally, it fades over time (I have my top up this month) but the fact that the subtle colour and definition has remained has saved time in the morning which has been wonderful.
BOOK – I've been so lucky because I've read 3 amazing books in a row in recent weeks.
'Lessons in Chemistry' by Bonnie Garmus seemed to be everywhere last summer. The cover was all over social media but the title just didn't appeal. Over Christmas I finally sat down with it and devoured every word over two days – a truly wonderful story about the importance of being a little bit 'different' in society and why the world needs more people who don't conform. I can't wait for the movie – I hope it does it justice! 
The next two are both by Colleen Hoover, my favourite author right now. 'It Ends With Us' followed by 'It Starts With Us.' I finished the first wanting to know more so I'm so glad the follow up was out by the time I finished the first one! Both books follow a relationship that turns abusive and is so well written, void of  judgement for anyone who 'stays' in abusive relationships. I'm not doing the story itself justice but it's brilliant, heartwarming and truly worth devouring on the sofa. 
RESTAURANT – Cut at 45 Park Lane. Holy moly, the meat here is exceptional. In fact, the entire experience is exceptional. The service is friendly whilst remaining professional and classy – A real treat of a restaurant. 
More exceptional finds? The seabass at Harry's Dolce Vita in Knightsbridge. 
The best sushi I've ever experienced at Nikkei Nine in Hamburg. (I was exceptionally lucky to experience this place on my birthday whilst away with Fairmont. THE FOOD. The staff. The atmosphere. And just THE FOOD. Holy cow I'd go back to Hamburg in a heartbeat just to eat the tuna again!)
Not quite as exceptional but still very good, my partner and I had a spontaneous date night after trying to escape a dusty house (we've recently had a lot of building work done!) We ventured in to Milton Keynes which we never do and ended up just wandering in to a Miller and Carter. I've not been to one before but it was blooming lovely. Our server, Richard, was charming and the food was very good. I certainly wouldn't hesitate to return 🙂
FOOD OR DRINK ITEM – Ok, this one is niche so bear with me here (!) but I'm a hot chocolate addict and also bloody love any form of nut butter. With that in mind, when I discovered peanut butter powder that could be stirred in to hot chocolates existed… Oh. My. God. Game changing!
NEW PURCHASE – I went to Base Camp in Nepal as a 30th birthday present to myself pre-covid and kept a diary whist I was away. My parents really wanted to read it to see what I'd got up to but when I got back, we went straight into lockdown and it sort of fell by the wayside. Fast forward three years and I've spent a fair few nights using 'Once Upon' to type it up and have created a photo book to go alongside my words. I found that a fair few photobooks don't allow much in the way of text, so I'm thrilled with how this has turned out.
The next one has been a game changer for my early morning winter dog walks! These fleece-lined, windproof and waterproof trousers from ACAI (that look like jeans) are just next level comfort combined with practicality. I can't recommend them more if you're out in the freezing cold fields each morning, like me! 
PODCAST EPISODE – Where to start!? I would say Tim Spector or Davina McCall on Diary of a CEO but I feel like the whole world knows about these two now because they're so brilliant. With that in mind, if you're looking for a niche one, over Christmas I started listening to the 'Dish' podcast from Waitrose. It's hosted by Angela Hartnett and Nick Grimshaw – two personalities that I NEVER would have thought to put together but they work! Each episode, Nick and Angela invite someone for lunch or dinner. Angela cooks (with every recipe available on Waitrose's website to try at home – bonus) and Nick is in charge of the wine and cocktails. It's warm, inviting and very entertaining. I like the fact that their guests aren't the typical 'whoever is doing the podcast rounds of the moment' too. 
RECIPE – I've got one sweet and one savoury for you!
My partner isn't a fan of kale but we had some to use up and it was his turn to cook. With that said, he found a recipe that he thought would make kale bearable for him (!) and it was so delicious we both said we wanted it again! Pasta with lemon, tuna and kale. Fresh, quick and scrummy 🙂
For sweet, again he isn't a fan of beetroot or chocolate so – being the evil person that I am – I made a chocolate and beetroot cake and didn't tell him it contained either ingredient. What happened? I hear you ask! He devoured it, willingly. I reduced the sugar to 150g but otherwise only substituted the flour to gluten free flour and added xantham gum to bind. The result? A cake that's not too sweet with a moreish texture, almost like a pudding! It can very easily be made vegan as it's egg free and I used coconut yoghurt, too.
Fi
I'm the Content Editor for Lydia and the LEM team, which means that I oversee, populate and manage Lydia's blog as well as various creative projects within the business. It's one of those 'inspiration comes from everywhere' kind of jobs, so back-to-back coffees throughout the morning and Carrie/Lydia/Satin's baking throughout the afternoon helps to keep me focused on the task at hand.
SKIN TYPE – Normal/Fair – leave me for 10 minutes in the sun and I'll fry like a tomato!
HAIR TYPE – As my hairdresser always says, "you don't have thick hair Fi, you just have a ton of it..!"
MAINTENANCE LEVEL -Minimal effort/the basics unless I'm going out out, in which case I might go wild and curl my hair!
INTERESTS – Cooking, exercise (I rotate between HIIT, yoga, pilates, running and horse riding), discovering new coffee shops, supporting indie businesses and spending time with family/ friends/fur babies.
BEAUTY – For once it's not a shower gel… Shock horror, I know! Instead, I'm going to say a giant thank you to Aurelia London for inventing their Miracle Cleanser and Kiehls for inventing their Midnight Recovery Serum. I'm sanding/painting/grouting my house pre and post work at the moment so I'm convinced these two bottles of goodness are saving me from looking like a run down, dusty mess! It's like having a professional facial pre-bed. My skin feels utterly spoilt – I couldn't recommend them more. 
BOOK – Wintering by Katherine May. I'm late to the game with this one but I started this book a few days back and find myself taking photos of quotes on pretty much every page. Though the lessons feel fairly obvious if you've pushed through tough chapters in your life, the way that she describes nature, the seasons and human instinct is so powerful. 
FOOD OR DRINK – Technically it's neither but it makes INCREDIBLE pizzas in a matter of seconds so I'm going to give a giant shoutout to the new Ooni pizza oven that I bought my partner for Christmas. As someone that openly rates and compares the quality of pizza dough when we go out to eat (what wild conversation I'm exposed to, I know..!), I thought it was about time he had a go himself… so the other night, the Ooni (and the boyfriend) had their big debut. It might've been wet and miserable outside but within minutes, we were eating one of the best pizzas I've had in ages (indoors thankfully!) I'm already excited for proper pizza parties when the sun comes out to play! 
TV SHOW – Harry and Megan's documentary on Netflix is a must-watch for anyone that chooses to have an opinion on the couple, if you ask me. In my opinion, if you've been muzzled for 7 years whilst the media curate a false narrative about you (that is intentionally damaging and designed to undermine your existence and safety) you have every right to use your voice and share your truth on your own terms, when you can. Furthermore, how can we – as members of the public – formulate our own opinion on a topic without taking into consideration both sides of the story and assessing the situation critically? It feels like every man and his dog keeps referring to their version of events as "one-sided," that they're "asking for attention" etc… In my opinion, these narratives not only undermine and distract from their personal reality (a personal reality that each and everyone of us is entitled to) but also completely overlook the 7 years' worth of one-sided media abuse that they've had to endure… Can you tell I'm passionate about this one!? I think they're extremely brave. 
GAME-CHANGING FIND – It's a random one this season but I'm going to say 'a traditional rotary whisk..!' I spent the week post-Christmas in Edinburgh with my boyfriend's family and his Mum makes the best scrambled eggs going each morning. As someone that previously just used a bog standard fork to whisk my eggs (!) along with a decent chunk of butter, I'm convinced that her fancy hand held whisk has a significant role to play too!  
NEW PURCHASE – As I mentioned in Autumn, I'm currently doing up a Victorian terrace so unless you want me to shoutout grout, paint and/or various rollers (!) I haven't purchased  anything exciting for me of late. That being said, I was lucky enough to receive a few house goodies for Christmas, including this gingham bed linen set from The White Company (thank you parents!) Though I'm yet to sleep in it (I can't bring myself to get out all the new stuff when there's still dust everywhere) it feels amazing and will look cosy year-round.
MANTRA – "You're only one thought away from thinking differently." I'll credit the boss for this one! We were chatting in the office about the abuse Harry and Megan are receiving at present and when Lydia said this, she had a little mic drop moment! Applying it to everything and anything in life, we all have the power to open our minds up to new ways of thinking, if we want to.
PODCAST EPISODE – If I'm being honest, I'd expected Greta Thunberg's interview on Elizabeth Day's 'How To Fail' to be quite heavy given the reality of the climate crisis and the amount of abuse she's subjected to online. Instead, I found her to be utterly refreshing. Frank but hopeful about the future of the planet and so blasé about being trolled by the likes of Trump and co! It was a welcomed reminder to stay hopeful, however dire a situation might be and a FANTASTIC reminder to only concern yourself with the opinions of people you respect! 
RECIPE – Given that I dedicated my food/drink recommendation to the Ooni oven, I'm dedicating this season's recipe to the dough recipe we used. If you're on the hunt for authentic, Italian dough, this pizza dough calculator is genius. Not only does it work out the exact amount you need based on the number of people you're catering for, it adjusts the recipe based on flour and ideal pizza size in inches too!
Satin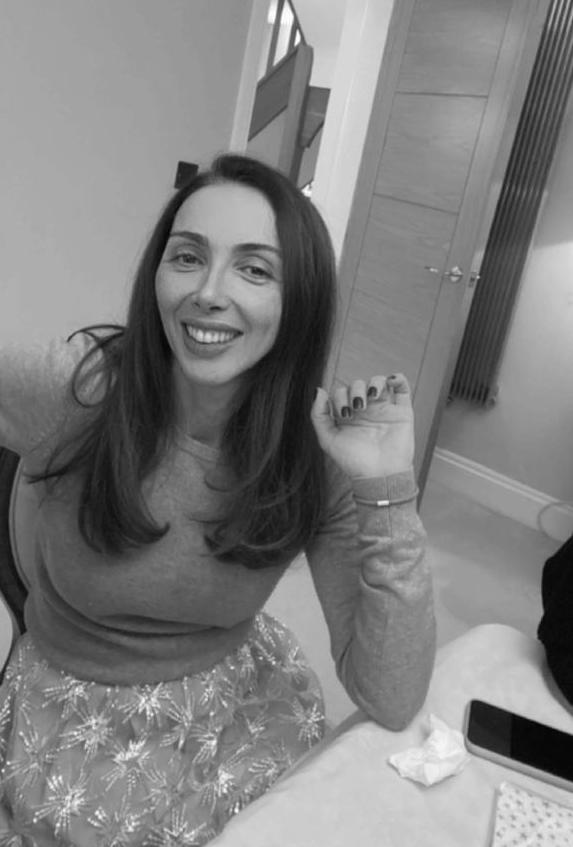 I'm Lydia's PA – a job where no two days are the same! Whether it's going all Marie Kondo on Lydia's dressing room or making sure that The Millen-Gordon's day-to-day life runs smoothly, there's always a random task ready and waiting for me. Earl grey and hot chocolates power me through.
SKIN TYPE – Normal to combination with some pigmentation in summer! 
HAIR TYPE – I'm naturally curly but that quickly becomes frizzy if I don't use hair products on a daily basis!
MAINTENANCE LEVEL – I blow dry my hair after every hair wash but once it's straight, I'd say I'm low maintenance! 
INTERESTS – Hunting down vintage pieces (namely clothes, fabrics and furniture!) I also love shopping, traveling and spending time with my friends and family.
BEAUTY – I love trying out new beauty bits but given that this is my first entry, there are three products that I can't live without. 1) My Unite 7 seconds Detangler 2. Elizabeth Arden's Eight Hour Intensive Lip Repair Balm and 3) Rodial's Banana Lowlighter. I can thank Lydia for getting me hooked on the latter two!
BOOK – My diary's been so busy recently so I won't lie and pretend that I've read anything of late. I can tell you what I'm about to read though! Revenge by Tom Bower and Spare by Prince Harry – we've had lots of discussions about the latter recently so I'm looking forward to getting stuck in. 
FOOD OR DRINK – I love my red wine so highly reccommend 'The Guv'nor' from Majestic – it's a Spanish red that's fruity, easy to drink and goes with anything. At £8.99 a bottle, you can't really go wrong!
I'm also a big fan of Caesar cocktails (similar to a Bloody Mary) so swear by this clamato juice – a combination of tomatoes, clams and spices!  
GAME-CHANGING FIND – My new Stanley 'never leak' flask! I'm constantly running around dropping my kids off at school/ various classes so this is perfect for keeping my earl grey hot on the go! 
NEW PURCHASE – I've treated myself to two ByMatter products recently. As a team, we fell in love with this brand when they sent some cleaning products to Lydia so when I noticed they had a sale on, I stocked up! The bio-active freshener and all purpose cleaner have both been a game-changer, I'm obsessed! I use the freshener on everything and the smell is amazing! 
MANTRA – "You're only one thought away from thinking differently." I'll credit the boss for this one! We were chatting in the office about the abuse Harry and Megan are receiving at present and when Lydia said this, she had a little mic drop moment! Applying it to everything and anything in life, we all have the power to open our minds up to new ways of thinking, if we want to.
RECIPE – It's not really a recipe per say but I wanted to throw a quick meal together the other day and have fallen in love with this pasta sauce from M&S. It's rich, indulgent and utterly glorious – the perfect midweek treat or fakeaway dinner at the weekends! 
That's all from us for now. We look forward to chatting again in Spring!
Looking for more seasonal inspiration?
Look out for Lydia's seasonal favourites, coming your way soon…