superfoods you should be eating
3th March 2015

Superfoods have become a big part of my daily diet over the last few years. As a child I couldn't stomach even the thought of vegetables and today you will be lucky if I'm able to even look at a tomato or mushroom but my diet has somewhat improved during my twenties. I now consume a fair amount more of fruit and vegetable on a daily basis but I like to give my diet a nutrient boost with Superfoods. Whether it's adding a little Maca to a smoothie like I did last week or snacking on some super berries like I am as this post goes live, your body really will thank you! I've popped together a little list of the three Super berries you should currently be snacking on and if these don't stop you reaching for that galaxy bar, I simply don't know what will. Mulberries As someone who doesn't like raisins, I believe Mulberries to be similar in taste but without the wrinkly, gag-worthy texture. These delicious berries come in at about 43kcal per 100g but are packed full of vitamines, minerals and nutrients which help fight Cancer, diabetes and bacterial infections to name a selection. They are also high in anti-oxidants which aid in detoxifying the body and maintain skin condition against free radicals and it doesn't finish their either, a large selection of the vitamines also aid the metabolism of carbohydrates, proteins and fats. Mulberries can be added to salads, muffins or eaten dried on their own. Goji Berries These bright red berries have been claimed to be the most nutrient dense fruit on the earth. Big claims for such a tiny little berry. Bursting with anti-inflammatory and  anti-bacterial compounds they aid in boosting immune system function as well as energy and strength. Goji […]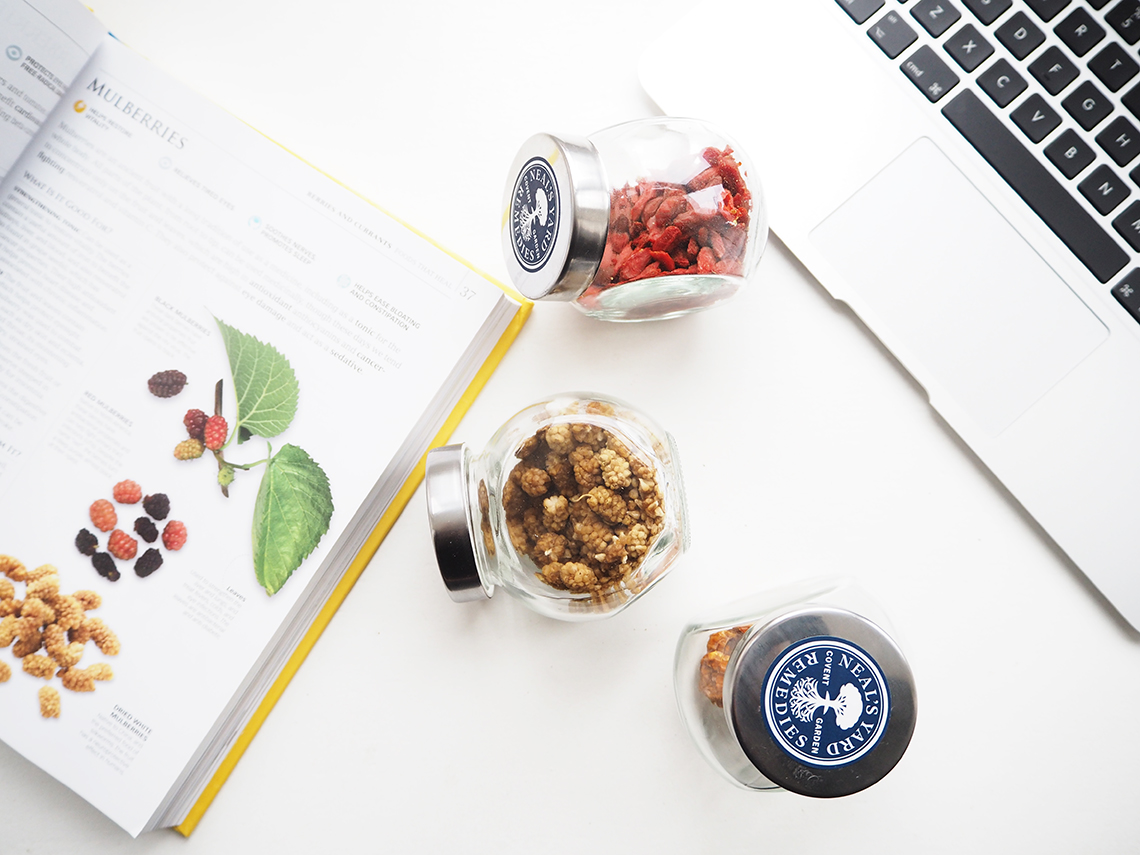 Superfoods have become a big part of my daily diet over the last few years. As a child I couldn't stomach even the thought of vegetables and today you will be lucky if I'm able to even look at a tomato or mushroom but my diet has somewhat improved during my twenties. I now consume a fair amount more of fruit and vegetable on a daily basis but I like to give my diet a nutrient boost with Superfoods. Whether it's adding a little Maca to a smoothie like I did last week or snacking on some super berries like I am as this post goes live, your body really will thank you!
I've popped together a little list of the three Super berries you should currently be snacking on and if these don't stop you reaching for that galaxy bar, I simply don't know what will.
---
As someone who doesn't like raisins, I believe Mulberries to be similar in taste but without the wrinkly, gag-worthy texture. These delicious berries come in at about 43kcal per 100g but are packed full of vitamines, minerals and nutrients which help fight Cancer, diabetes and bacterial infections to name a selection. They are also high in anti-oxidants which aid in detoxifying the body and maintain skin condition against free radicals and it doesn't finish their either, a large selection of the vitamines also aid the metabolism of carbohydrates, proteins and fats. Mulberries can be added to salads, muffins or eaten dried on their own.
---
These bright red berries have been claimed to be the most nutrient dense fruit on the earth. Big claims for such a tiny little berry. Bursting with anti-inflammatory and  anti-bacterial compounds they aid in boosting immune system function as well as energy and strength. Goji berries contain all essential amino acids, as well as boasting a higher dose of protein than any other fruit. Other super nutrients of the Goji berry include exceptionally high levels of Vitamin C, Iron, Zinc, Calcium meaning it really doers live up to it's "Superfood" label. I love adding them to smoothies of simply picking at a handful on my desk
---
The berry that rocked my world over the weekend. I like to refer to them as "natures answer to Haribo Tang-fastics" because they have a sharp and citrusy taste that is oh-so-moreish. Admittedly they sat in their jar for quite some time before I felt ready to give them a taste, they resembled a sun dried tomato a little too much for my liking. But once I had, it was a struggle to hang on to enough to photograph for you all (as evident in picture 4). These berries are noted to posses health benefits which are beyond basic nutrition. They are high in iron and fibre which improve immune system function and also possess benefits to weightloss,  inflammation and bacterial issues. Can be added to smoothies, yogurt or you can just eat the entire jar like I did.
Whats your favourite Superfood?