my guide to feeling festive this year
1th December 2018

Happy 'It's-now-socially-acceptable-to-only-talk-about-Christmas-related-topics-and-decorate-your-house-accordingly' Day! Truth be told, I've been counting down the seconds until this day since November 1st and I definitely had my tree's up well over a week ago but stayed a safe distance to avoid the judgemental eye of the internet.  When all is so festive and bright in my world, I don't need that kind of negativity. The new Jo Malone 'White Moss & Snowdrop' candle is burning on my desk beside me and Michael Buble, who defrosted at least half way through November in our house hold, can be heard quietly in the background singing his rendition of White Christmas. Needless to say, this is without a shadow of a doubt, my most favourite time of year. Like Buble, I feel like I almost defrost, which is odd considering the current temperatures,  I feel like I relax a little more this time of year. But now the Holidays are officially upon us and it's an opportunity for me to create a new feeling in the house, a feeling and atmosphere that brings me so much joy to plan and create. This time last year I was knee deep in planning our dream Christmas of course wedding, which might have slightly over shadowed the usual festivities we under take. So with our first anniversary on the horizon and our new house coming together around us, I felt it the perfect occasion to put together my step buy step guide to getting festive this time of year. No.1 It doesn't just happen! The festive feeling doesn't just happen, I don't sit around expecting to feel festive and let the feeling of disappointment envelope me when it doesn't, I create it. I start somewhere, whether its dusting off some of the Winter candles I have left over from last […]
Happy 'It's-now-socially-acceptable-to-only-talk-about-Christmas-related-topics-and-decorate-your-house-accordingly' Day! Truth be told, I've been counting down the seconds until this day since November 1st and I definitely had my tree's up well over a week ago but stayed a safe distance to avoid the judgemental eye of the internet.  When all is so festive and bright in my world, I don't need that kind of negativity.
The new Jo Malone 'White Moss & Snowdrop' candle is burning on my desk beside me and Michael Buble, who defrosted at least half way through November in our house hold, can be heard quietly in the background singing his rendition of White Christmas. Needless to say, this is without a shadow of a doubt, my most favourite time of year. Like Buble, I feel like I almost defrost, which is odd considering the current temperatures,  I feel like I relax a little more this time of year. But now the Holidays are officially upon us and it's an opportunity for me to create a new feeling in the house, a feeling and atmosphere that brings me so much joy to plan and create.
This time last year I was knee deep in planning our dream Christmas of course wedding, which might have slightly over shadowed the usual festivities we under take. So with our first anniversary on the horizon and our new house coming together around us, I felt it the perfect occasion to put together my step buy step guide to getting festive this time of year.
No.1
It doesn't just happen!
The festive feeling doesn't just happen, I don't sit around expecting to feel festive and let the feeling of disappointment envelope me when it doesn't, I create it. I start somewhere, whether its dusting off some of the Winter candles I have left over from last year and lighting them around my house or prematurely defrosting a little Buble, I do whatever it takes and I embrace it whenever I feel like it. I don't wait for today, or any other day that people tell me I should feel festive, I just go with whatever feels right for me.
I get out my cosiest blankets, or take a trip to Homesense and treat myself to some new 100% wool ones to throw around the house and fill out the endless wicker baskets I have scattered around our home. I light candles, I light all of the candles, I buy Mulled wine, I do it all! To create that Hygge feeling in my home because even if I don't feel particularly Christmassy yet, I feel cosy and that is pretty much on parr. So my first tip for kick starting your festivities it so create a little festive cheer inside your home, when you walk through the door after work, light your favourite candles, light all of them and snuggle under a blanket with a hot chocolate or a Mulled wine if you're hardcore and enjoy the moment!
No.2
Be Extra AF!
I'm often described as being "Extra" because I do tend to go over the top with things a little *ahem*. When we have guests I like to make it feel like they are away on holiday in our home and to be honest, when it comes to the Holidays, I am exactly the same. In our old house, I had to keep it under wraps a bit because we didn't have the space I would have liked for multiple trees and displays but I like to think I did the best I could. Now we are in our new home the gloves are well and truly off! I'm going all out and I'm not even sorry about it, I've been planning the colour schemes of my trees for about two weeks, I spent two days buying decorations which will be the themes of the trees for years to come, I will just add little pieces to them each year until they are quivering uncontrollably  under the weight of all the Christmas cheer. It gives me a chance to be creative which I love although I might not be that good at, I still enjoy and this year I wanted our tree's to be extra lol special.
I decided I wanted to learn how to create a real Harrods inspired Christmas tree inside my home and there's no better person for this than Sarah-Jane Copestake, I had followed her on instagram for an age and recently she began helping me with some of the rooms in our house as well as fabrics so I asked if she would help me to create the Christmas tree's of my dreams, you should absolutely follow Sarah on instagram for tree inspo and general home inspo too, shes very talented! We listened to Christmas songs, drank mulled wine and decorated all day which you can see in the first episode of Christmas with the MG's which starts over on my Youtube Channel tonight at 7pm.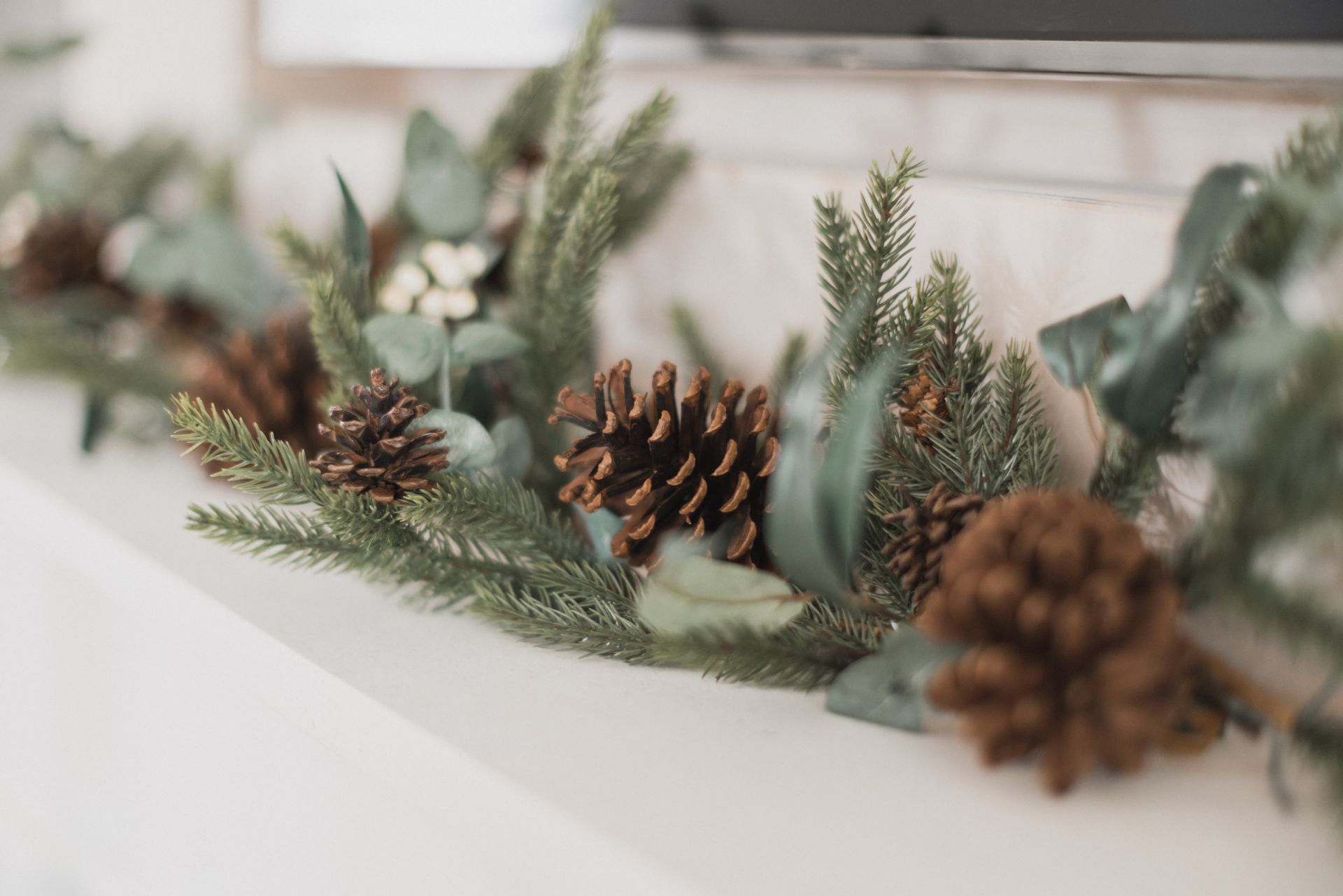 No.3
GIVE WAY MORE THAN YOU RECEIVE
If there is one feeling that I wish I could bottle up and keep forever, is the feeling you experience when giving to others. Its another area that I tend to be a little "Extra AF" in again. Ali often tells me that I go a bit over board with gift giving and the amounts I give to charity but if it feels right, I tend go with it. For me, this is the single thing that gets me into the festive feeling if I'm maybe not feeling it so much that year it's rare, granted but I'm sure its happened. Choosing the perfect gifts, giving a person or group of people who maybe wouldn't normally enjoy this time of year, a reason to be cheerful is incredibly special. And whilst I may not talk about Charity too often online, purely because its something I prefer to do privately, it is a huge part of my own personal Christmas cheer. From donating towards Winter survival kits for the homeless or gifts for women shelters, this really is the best kind of festive feeling there is. So if you are struggling to get into the spirit of the Holidays this year, this is a really great place to start.
No.4
TAKE TIME
The biggest gift I'm giving myself this year is time, with vlogmas and preparations, I'm trying to focus more on my free time to spend with my friends and family because it's those moments that make you feel truly festive. So rather than focusing too much on work, I'm treating this month as a wind down on the year, working smarter hours on the final projects of 2018 and drinking way more G&T's with the girls!
Don't put too much pressure on yourself to feel festive, just enjoy the good vibes that seem to surface around this time of the year and always focus on the little things in life that give you the most pleasure. Mine is sitting on the sofa on a frosty morning watching the sunrise at 7am! Try it, its pretty spectacular. What is your little thing that gives you the most pleasure to get you feeling festive this year?