lydia in the city | three autumn outfits in new york city
17th September 2017

Jacket – esmara By Heidi Klum Dress – Ulla Johnson Bag – Chloe Boots – Chloe This post is sponsored by esmara by Heidi Klum for Lidl. My second time in New York but I felt so lucky to be there to see the sheer excitement on Ali's face as he experienced the City for the first time. It's noisy, hectic and everything moves at a hundred miles an hour. As someone who tries to create calming a atmosphere for myself wherever I am in the world, naturally I should have hated it. But I didn't. Quite the opposite. We flew out Wednesday morning for the Global launch of esmara by Heidi Klum to experience Heidi In The City. We checked into to the Gansevoort in Meatpacking and within minutes we were back on the streets of NYC shooting the items I had personally selected at the first of many iconic New York destinations we would visit during our stay in The City. The collection was designed by Heidi Klum, One of the worlds biggest and most well known Supermodels, for Lidl, which made this such an interesting collection from the outset. I'd spent hours at the show room styling, selecting and pulling my looks to wear and shoot on my trip. I was instantly drawn to the black Suede Moto jacket and it's tan suede sister. Side by side, They epitomised my transitional colour palette and textures perfectly. The air in New York was distinctly colder than I had anticipated so both jackets were a blessing. Weirdly, 24 Degrees in the city is not that warm!  So you can imagine how happy I was when I remembered I'd picked the snuggliest poncho (which doubled nicely as a blanket on the plane) and a black long sleeve shift dress […]
Jacket – esmara By Heidi Klum
Dress – Ulla Johnson
Bag – Chloe
Boots – Chloe
This post is sponsored by esmara by Heidi Klum for Lidl.
My second time in New York but I felt so lucky to be there to see the sheer excitement on Ali's face as he experienced the City for the first time.
It's noisy, hectic and everything moves at a hundred miles an hour. As someone who tries to create calming a atmosphere for myself wherever I am in the world, naturally I should have hated it. But I didn't. Quite the opposite.
We flew out Wednesday morning for the Global launch of esmara by Heidi Klum to experience Heidi In The City. We checked into to the Gansevoort in Meatpacking and within minutes we were back on the streets of NYC shooting the items I had personally selected at the first of many iconic New York destinations we would visit during our stay in The City.
The collection was designed by Heidi Klum, One of the worlds biggest and most well known Supermodels, for Lidl, which made this such an interesting collection from the outset. I'd spent hours at the show room styling, selecting and pulling my looks to wear and shoot on my trip. I was instantly drawn to the black Suede Moto jacket and it's tan suede sister. Side by side, They epitomised my transitional colour palette and textures perfectly.
The air in New York was distinctly colder than I had anticipated so both jackets were a blessing. Weirdly, 24 Degrees in the city is not that warm!  So you can imagine how happy I was when I remembered I'd picked the snuggliest poncho (which doubled nicely as a blanket on the plane) and a black long sleeve shift dress for good measure.
With my wardrobe sorted I was set for my time in The City.
TO VISIT…
Grand Central was where I felt like I was in the beating heart of New York. Smoke poured from the ground, people rushed shouting into their phones, families stopped for photographs and I stood and watched it all unfold around me. I felt as if I were on the set of the newest Hollywood movie, it was intense but you could find yourself stood their for long periods of time without realising. simply taking it all in and watching the high speed world go by.
The Highline was a short walk from our hotel and it took me a while to full understand exactly what it was, it's purpose and how it came about. But once up there, you forget all the details and just enjoy the views that these unique gardens and walk ways in the sky have to offer. If you like early morning jet lagged walks this is where I would recommend stopping with your morning coffee.
EAT & DRINK…
Coffee, it is important. I realised just how important it was when Ali and I visited another US state earlier this year. So naturally the first thing we did, before anything else on our first morning in New York, was go in search of good, strong coffee. We found ourselves wondering through Chelsea market which was home to a number of cute industrial style cafes as well as the New York Youtube space, weirdly enough.
We found Ninth Street Coffee around half way through the Chelsea Market but chose to scope the area out before quickly returning, ordering a double shot Soya latte which was the perfect morning pick me up!
Pizza, I knew it was inevitable so I quickly succumbed to the reality of it all and went in search of "New York's Best Pizza" after whatsapping my friend Leanne, we knew Juliana's was the only place to go.
We walked the Brooklyn Bridge as the sun rose, it was beautiful and I could have stayed there all day but Dumbo was calling. We walked until our feet hurt, and until Juliana's opened at 11am. A queue was already forming so we joined to be one of the first ones in. The pizza was incredible, the service fast and totally worth the early morning calories.
Gin, I can't say I've always loved the taste of alcohol but I have really gotten into gin this year and I love trying different concoctions, cocktails and garnishes. Knowing this, Ali whisked me to Rainbow Room to sample their gin based cocktails and pile our table full of flat breads, cheddar pretzel balls and mini sliders. The views were reason enough to go, but with that menu and the buzz of the atmosphere I would definitely go back.
SHOP THE POST
Poncho – esmara By Heidi Klum
Jumper Dress – Equipment
Boots – Stuart Weitzman
Bag – Chloe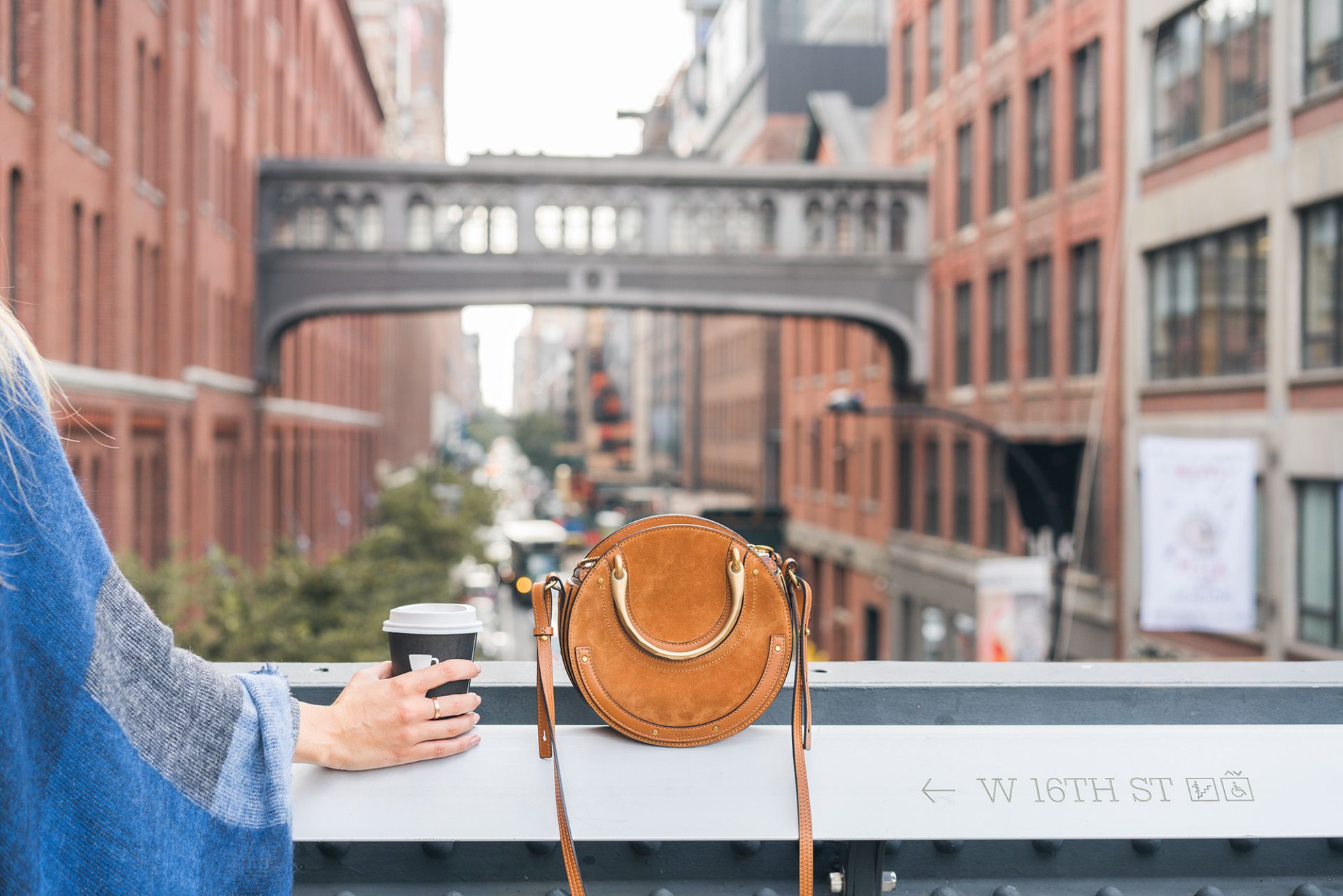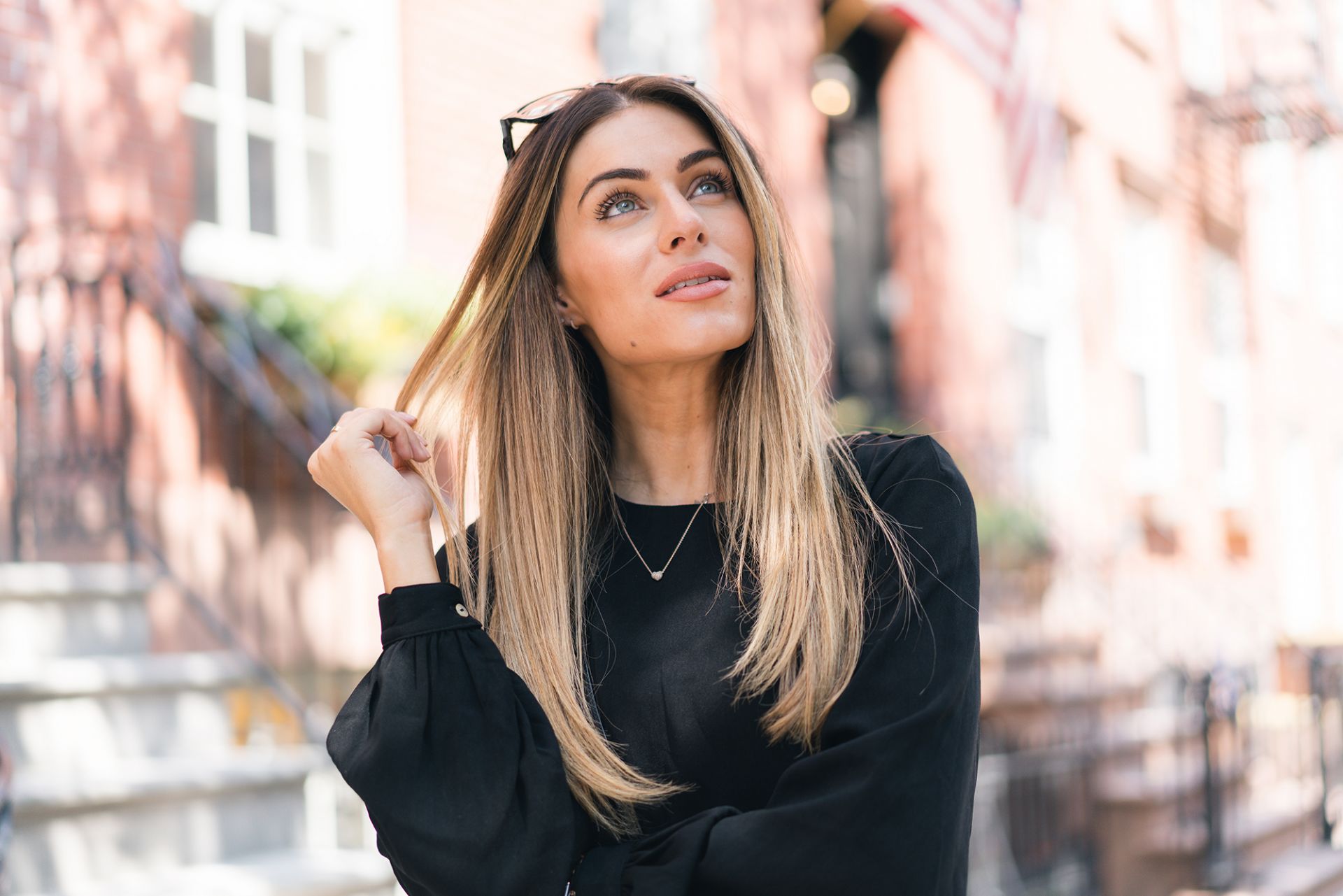 EXPLORE & SHOP…
Iced coffee in Greenwich, I'm seeing a trend here, coffee > explore but this girl needs her fuel. We stopped for an iced coffee and sweet treat at Maison Kayser in Greenwich village before walking the cobbled streets and sitting on the iconic steps which lead to instagrammable front doors throughout the area. But so much more than just a good instagram opportunity, the village is beautiful, breath taking at every turn and great for shopping too.
Lower Manhatten. Glossier, Reformation, Stadium Goods and lots of other uber cool niche and independent stores within the area made it my favourite place to shop whilst in the city. I found 5th Ave. too hectic and touristy, opting for a slightly calmer and slower paced stroll with my coffee (obvs) whilst popping in and out of boutiques in the area.
SHOP THE OUTFIT
Dress – esmara by Heidi Klum
Boots – Louis Vuitton
Bag – Louis Vuitton
Sunglasses – Chanel
What a city! Where are your favourite places to go in NYC? we plan on going back and exploring again very soon.