If you are anything like me you will know that there are 36 days 1 hour 52 minutes and 21 seconds until Christmas, well there were when this went live anyhow. So if that is the case you will also be well and truly prepared for its arrival with check lists ensuring you are fully aware of who has been naughty or nice, you would have been collating decorations since June and Christmas cheer will bursting out of you at unexpected intervals. So by way as a total excuse to put up my Christmas tree early I thought I would give you an insight in to how I get my home into the spirit of things.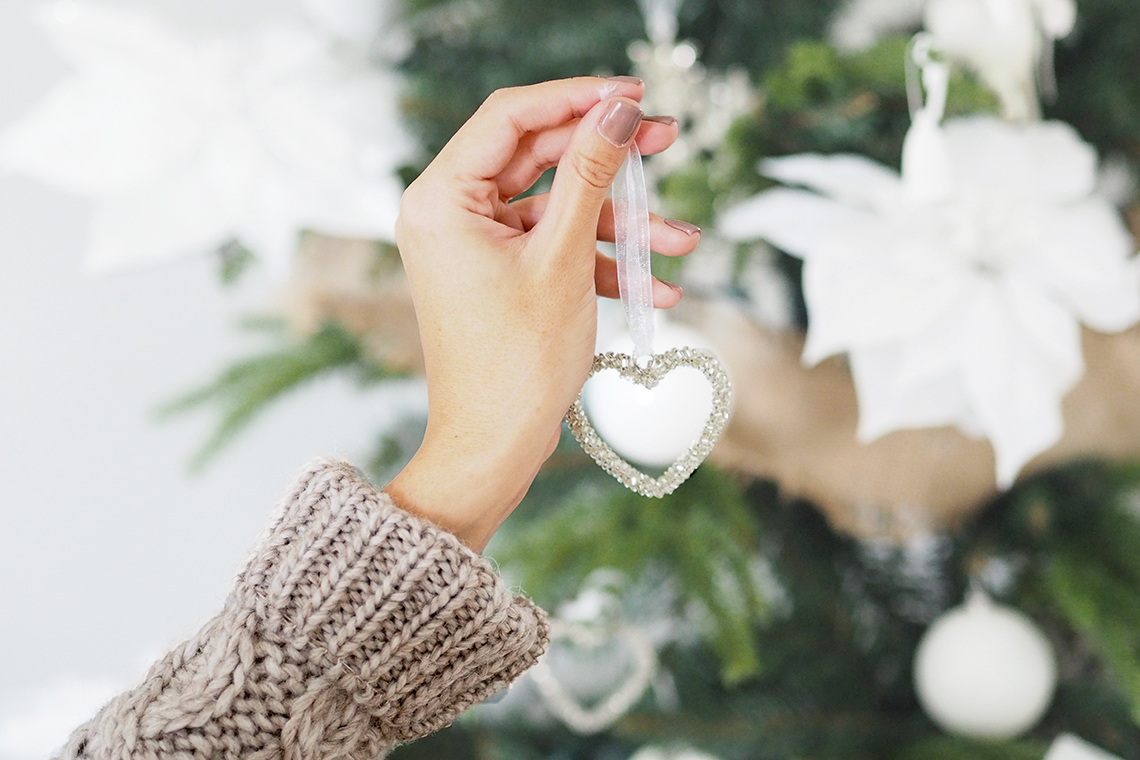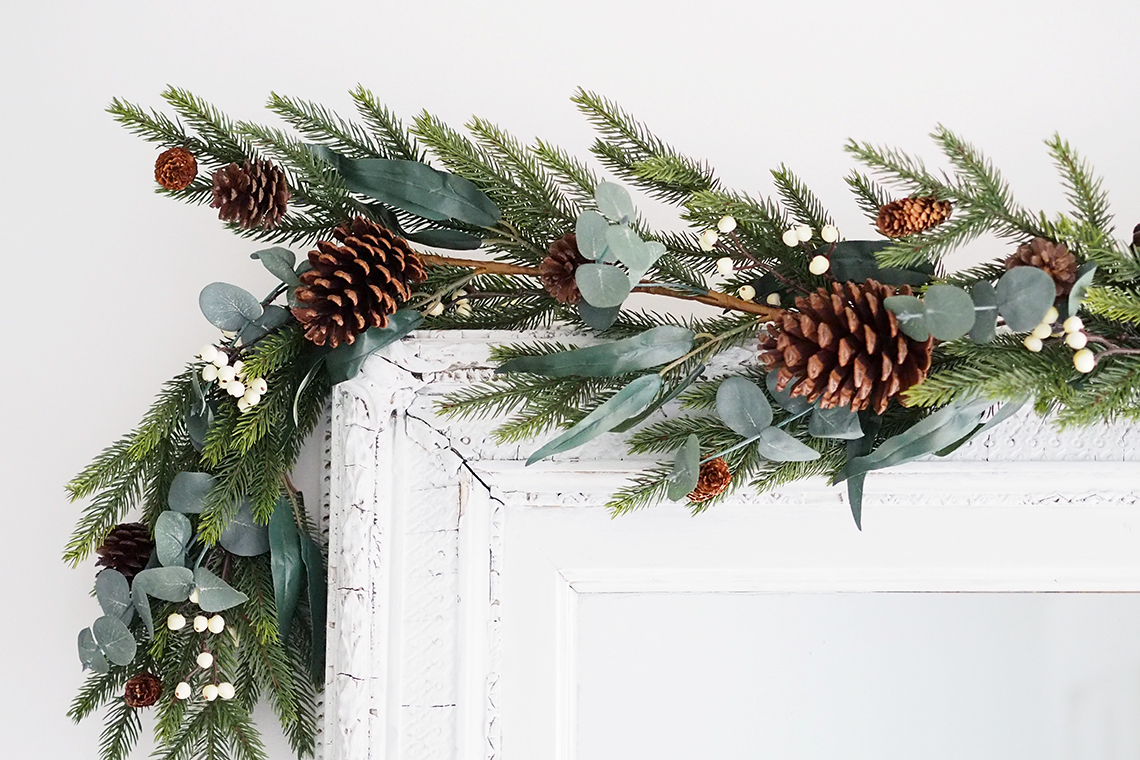 ---
T H E   T R I M M I N G S
We don't have a large house which but we have made the most of what we have by keeping the place bright and airy so there isn't a lot of room for extra's like a baby grand piano or an 8ft tree although I would give it my best shot at making them fit given half the chance. For this reason we can't over do it but for someone who is truly captivated by the magic of Christmas I have to ensure I create enough of that magic within my home to satisfy my inner child.
THE TREE
I start with the tree as this is the heart and soul of our home during the festive season. Last year we went for a real tree which although smelt divine, left us cleaning up after it more than we do with Lumi regardless of it's "Needless" title. So this year we went for something a bit special, it looked the most life like we had seen with it's deep green tone and also fitted nicely into the corner of our lounge. We picked up the 5ft tree from The White Company during one of their many epic 20% off day's and we knew we were getting a tree that would last us for many Christmases to come without ever having to worry about disposing it each year. You should have seen how excited we were talking back to the car, like two big kids.
THE DECORATIONS
The first stage of the decorating process is to decide on a colour scheme, last year we opted for white and red where as this year we decided to opt for white (obviously) with a silver and iridescent accent. We use baubles as the base to the decorations so we kept is simple with 12 plain, gloss and glitter white styles to dot around the tree followed by 6 large 10cm Silver Gloss orbs, I find keeping the baubles plain allows me to incorporate the most beautiful and intricate tree ornaments into the design. The next state was to find the perfect white clip on Poinsettia and we ordered 12 to really glam up the tree which complements the existing decor and flower arrangements of our home. The Ornaments are where I have lots of fun as I find myself searching for the most beautiful designs even before the colder weather has arrived. This year we stocked up on an array of intricately beaded silver snow flakes and hearts along side ceramic bells from The White Company to add some sparkle and then added an array of white glittered ballerinas, reindeer heads and bird houses. To finish and tie the tree into our solid oak floor I draped hessian ribbon around the tree and popped an ornate star at the very top.
THE LIGHTS 
Although  not seen in the images above lighting is a fundamental finishing touch in the decor process. We aren't fond of coloured lights at all so always opt for a white light with a touch of warmth to ensure the lounge feels cosey in the evenings when we are snuggled on the sofa.
THE FOLIAGE
To tie in the tree and spread the festive feel throughout the house I like to adorn our large vintage mirror in the hall way with a good quality garland complete with Mistletoe for an unsuspecting Ali upon his return from work. I am also fond of a Marks & Sparks Poinsettia to greet people when they walk through the front door.
---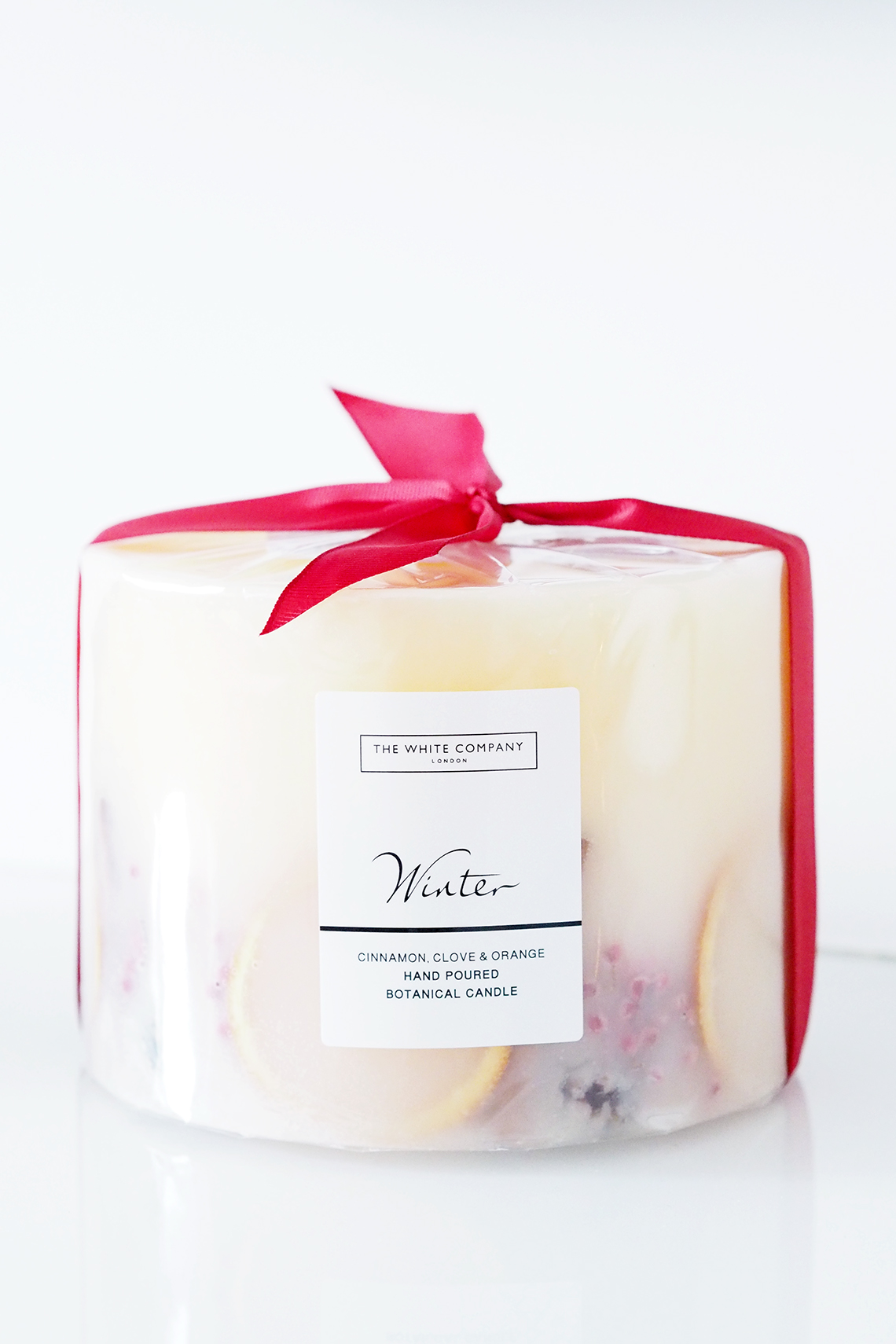 ---
T H E   S C E N T
If you are new here, you might not be aware of my obsession with The White Company, but no doubt after reading this post you will be more than up to date. It's not just down to the name, I know my love of the non-colour white is also rather apparent. I fall in love with that shop every time I set through the doors, it's a little bit of magic even when it's not Christmas and my house is literally bursting with my favourite pieces from their range. The most noticeable being the scents I have filling my home and come the festive time our house is full of the scent of Winter. You might remember this from one of my first Youtube videos and it still is a fundamental part of our Christmas ambiance. Our home is filled with the fruit and spice of Cinnamon, Clove and Orange whether it's the read diffuser by the door, the oils in my humidifier or the beautiful warm scent of the botanical candle, no matter what it is, Winter is what you smell when walking through our front door.
Smells have always been so important to me, especially the smell of my home. different scents are able to transport you back decades with the tiniest whiff and for me this smell is always Christmas morning.
I'd love to know more about your festive favourites for your home this Christmas. Feel free to share them with me in the comments below!
---
Shop The Post
All images shot on the Olympus PEN E-PL7 kit, 45mm & 75mm Lenses.


Christmas Tree – The White Company     Garland – The White Company     Beaded heart – The White Company     12 White Baubles – FestiveLights     6 Silver Baubles – Festive Lights     White Poinsettia – Festive Lights     Beaded snowflake – The White Company     12 Porcelain white bells – The White Company     Enamel heart – The White Company     Hessian Ribbon – HobbyCraft     Ornaments – Asda     Tree Topper – The White Company     Winter Candle – The White Company
---