gigi's, mayfair review – cheat meal
7th January 2015

I was recently invited down to the newest Italian Restaurant to hit London's stylish Mayfair. Being Italian myself, going out to eat something that 9 times out of 10 my Nonna will cook better doesn't really sit well with me, so we always tend to opt for something else. I decided that this was the perfect opportunity to put my theory to the test.. Could Gigi's out do Nonna's home cooking? In short, neither were a match for the other. They were completely different! Where as my Nonna offers the traditional home cooked comforts, Gigi's offered specialities that I'd never even dreamed to find in an Italian restaurant. We started off our evening sipping some of their delicious cocktails, both Carrie and I opted for a powder pink Silvertini which we sipped whilst sitting under the heated seating area surrounded by fairy lights. Soon enough the crisp Winter evening air forced us inside to the cosey yet grand decor that Gigi's has to offer. With large silver urns full with seasonal flowers and the most beautiful detailed ceiling, we settled into our booth with a bottle of their finest Prosecco. Carrie and I went straight for the Ala Carte menu and for starters I had the 62 Degree egg whilst Carrie went for the Veal. We both loved our choices, my only issue was there were mushrooms which weren't listed on the menu. This is a personal pet peeve as I can be a tad picky (I'm expecting a comment from Carrie stating how that is an understatement of the centuary) so when I'm ordering I like to know exactly what I'm getting, but aside from that I loved it. For our main course I opted for the Tagliolini Tartufo which sounded devine and tasted even better whilst Carrie had […]
I was recently invited down to the newest Italian Restaurant to hit London's stylish Mayfair. Being Italian myself, going out to eat something that 9 times out of 10 my Nonna will cook better doesn't really sit well with me, so we always tend to opt for something else. I decided that this was the perfect opportunity to put my theory to the test.. Could Gigi's out do Nonna's home cooking?
In short, neither were a match for the other. They were completely different! Where as my Nonna offers the traditional home cooked comforts, Gigi's offered specialities that I'd never even dreamed to find in an Italian restaurant.
We started off our evening sipping some of their delicious cocktails, both Carrie and I opted for a powder pink Silvertini which we sipped whilst sitting under the heated seating area surrounded by fairy lights. Soon enough the crisp Winter evening air forced us inside to the cosey yet grand decor that Gigi's has to offer. With large silver urns full with seasonal flowers and the most beautiful detailed ceiling, we settled into our booth with a bottle of their finest Prosecco.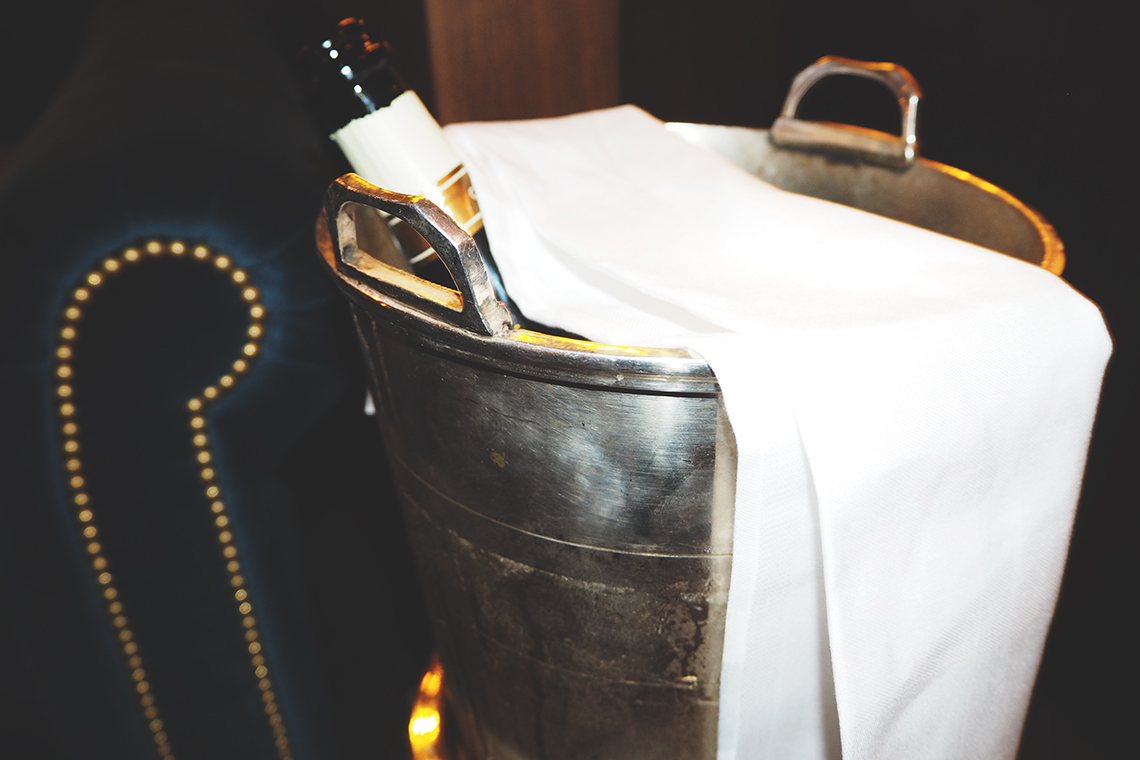 Carrie and I went straight for the Ala Carte menu and for starters I had the 62 Degree egg whilst Carrie went for the Veal. We both loved our choices, my only issue was there were mushrooms which weren't listed on the menu. This is a personal pet peeve as I can be a tad picky (I'm expecting a comment from Carrie stating how that is an understatement of the centuary) so when I'm ordering I like to know exactly what I'm getting, but aside from that I loved it.
For our main course I opted for the Tagliolini Tartufo which sounded devine and tasted even better whilst Carrie had the Salt Marsh Lamb which she told me she could have eaten 12 times over! I had never had truffles before and never had I tasted a pasta sauce so creamy and rich, I genuinely still get cravings for the dish now which I suspect means I will be visiting again very soon.
And finally for dessert Carrie had the Tiramisu,  I chose not to in honor of Nonna (haha) and went for the Poached pear instead. I usually prefer something stodgy like cake for example so I worried I may not enjoy this desert and feel like I hadn't cheated fully. But I needn't have worried as it was gorgeous and the little pieces of honeycomb added a sugar rush seamlessly.
We left with our tummys full, heads fuzzy and smiles beaming from such a wonderful evening. The staff were so welcoming and attentive, ensuring our evening was flawless and our glasses always full.
I would definitely go again, I need that Tagliolini in my life/mouth again.
Gigi's can be found at 22 Woodstock Street (just off New Bond Street) and if you could like to book a wonderful evening like the one Carrie and I had, you can book via their website here.