four things to do in santorini
17th June 2016

From the moment I set eyes on Santorini, scrolling through my Instagram feed, I knew I needed to visit and experience for myself the immaculate white landscape teamed with breath taking views and those famous sunsets that will leave you in complete awe, and last week this dream became a reality as Ali and I jetted off to this beautiful Greek Island on one of the many Aegean Airlines flights which leave London Heathrow on a daily basis. I couldn't believe we were finally going, it honestly didn't feel real. From the moment I woke up and took in the view from my hotel window I knew that this Island would go on to become a home away from home. But as well as taking in the visual side of Santorini, we also wanted to experience all that Santorini has to offer as a destination, not just an Instagram  back drop. From sampling the finest wines the island has to offer to breakfast above the Aegean sea at dawn, I've put together a list of a few great places and experiences for when, not if, you decide to visit the intoxicating Island of Santorini. [lem_title]Lunch At Fabrica[/lem_title] Situated beach front in Perivolos, Fabrica is super cool beach club and restaurant where you can begin a relaxing day at the beach with a table full of great food offering a twist on some of Greece's most iconic dishes, delicious and incredibly Incredibly Instagramable cocktails along side a fully functioning Vitamin bar. As we sat enjoying an early lunch, the breeze from the Aegean sea and chilled music kept us cool before we retired for a snooze on the huge white  water front beds. Here we enjoyed a full service of fruit platters and cocktails as we dozed and chatted in […]
From the moment I set eyes on Santorini, scrolling through my Instagram feed, I knew I needed to visit and experience for myself the immaculate white landscape teamed with breath taking views and those famous sunsets that will leave you in complete awe, and last week this dream became a reality as Ali and I jetted off to this beautiful Greek Island on one of the many Aegean Airlines flights which leave London Heathrow on a daily basis.
I couldn't believe we were finally going, it honestly didn't feel real.
From the moment I woke up and took in the view from my hotel window I knew that this Island would go on to become a home away from home. But as well as taking in the visual side of Santorini, we also wanted to experience all that Santorini has to offer as a destination, not just an Instagram  back drop. From sampling the finest wines the island has to offer to breakfast above the Aegean sea at dawn, I've put together a list of a few great places and experiences for when, not if, you decide to visit the intoxicating Island of Santorini.
[lem_title]Lunch At Fabrica[/lem_title]

Situated beach front in Perivolos, Fabrica is super cool beach club and restaurant where you can begin a relaxing day at the beach with a table full of great food offering a twist on some of Greece's most iconic dishes, delicious and incredibly Incredibly Instagramable cocktails along side a fully functioning Vitamin bar. As we sat enjoying an early lunch, the breeze from the Aegean sea and chilled music kept us cool before we retired for a snooze on the huge white  water front beds.
Here we enjoyed a full service of fruit platters and cocktails as we dozed and chatted in the afternoon sun. Fabrica offers a sophisticated and relaxing, yet uber cool take on today's beach club, it's somewhere you can relax and unwind whilst also fully embracing that hedonistic holiday vibe that takes on an entire new meaning when visiting the island of Santorini.
[lem_title]Sunrise Yoga at Notos Therme & Spa Hotel[/lem_title]
The Notos Therme & Spa Hotel was the first hotel in which we stayed in Santorini but as I found throughout the island, the mornings there were my most special times. I rose at 6am every day to just sit out on terrace of our room listening to the quiet, breathing in that ocean smell and watching the sky change from various shades of pink to blue. The only thing missing was a Vinyasa yoga session to start the day, so that is exactly what we did.
We booked an early morning class with Conny, a local yoga instructor from Santorini Yoga and yoga shop owner who enabled us to truly connect with Santorini's  mysterious volcanic energy as part of the class ver looking Vychada Beach. It really was the most perfect and invigorating start to our day.
[lem_title]Lazy Afternoon Cocktails at West East Suites[/lem_title]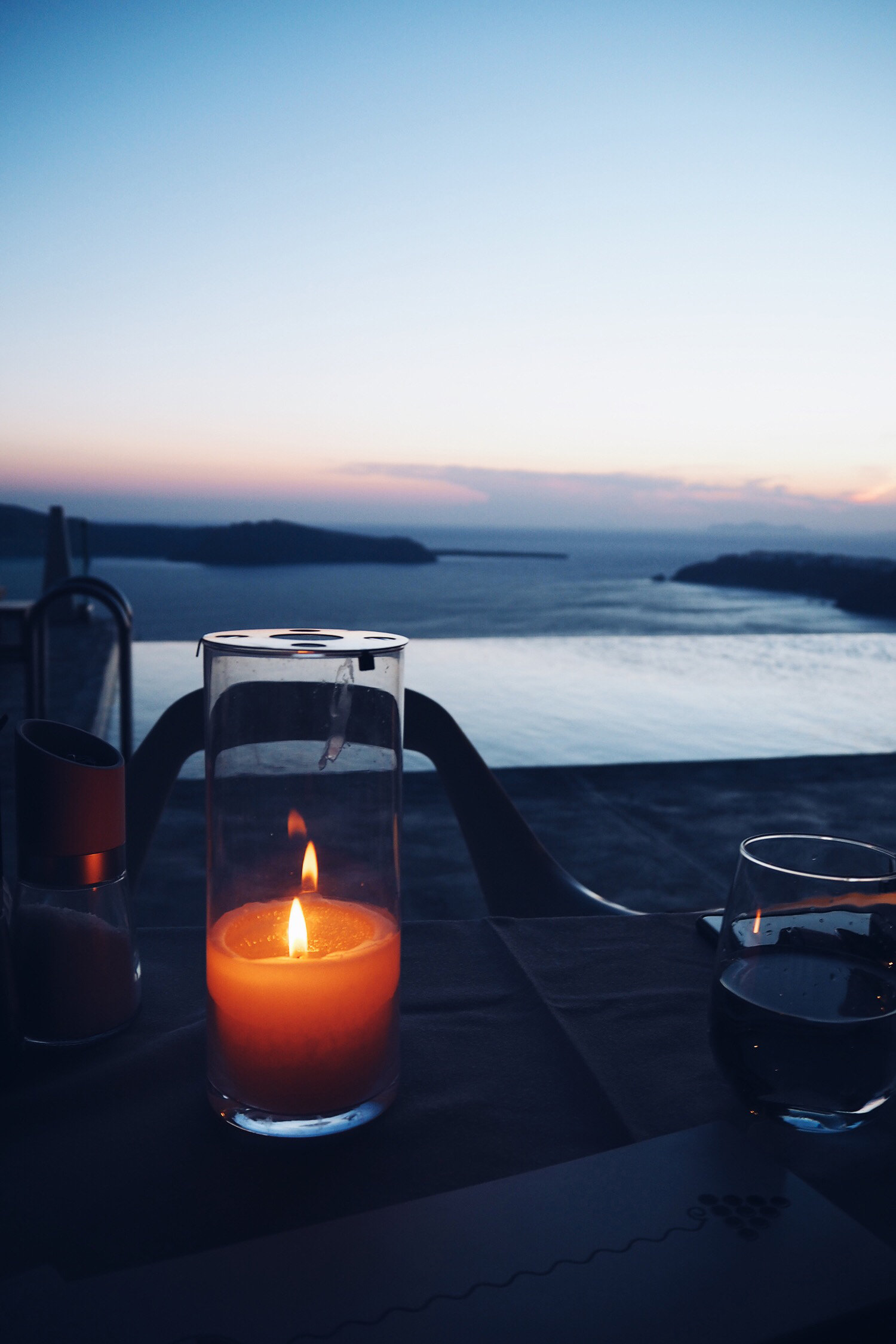 By far one of our favourite places to visit on the island, West East Suites goes against the grain of Santorini style with its mysterious black aesthetic which can be spotted from Oia amongst the usual white buildings on the Island. West East Suites is an unbearably cool hotel with a picture perfect infinity pool which leaves you feeling as if you really had found the end of the Earth and offers one of the best sunsets that we experienced whilst on the island of Santorini.
Sipping cocktails and lounging by the pool in the afternoon sun can work up quite the appetite, it's serious stuff all that relaxation and the food at West East's FlyAway Lounge Bar & Restaurant was the perfect choice with Ali stating the burger as "The best he'd ever had". But it doesn't stop at the burger, each dish was exceptionally presented and bursting with the flavours of local produce and all served by the most friendly, attentive and exceptional staff we had ever experienced whilst travelling. Although we were not guests of the hotel we were welcomed as if we were and allowed to enjoy everything that West East Suites has to offer. If you do one thing from this guide, allow yourself a lazy after noon here.
[lem_title]Breakfast with a view[/lem_title]
Taking a trip to the other side of the island offered up those quintessential Santorini views over the Aegean sea which meant there was only one spot we would be enjoying the golden ours of the morning and that was in our bathrobes, enjoying a continental breakfast spread at the stunning Iliovasilema Suites in Imerovigli overlooking the most stunning views, views which are so beautiful it was a struggle for me to process that we were actually sat there, experiencing it. I struggled to take it all in but savoured every moment. The croissants were something else too!
For more information on visiting Santorini or any of the Greek Islands visit DiscoverGreece.com