current favourite glute workout
19th November 2014

Leggings are the bane of my existence, which isn't a phrase that you hear every day but when you spend as much time in them as I do, you kinda get to understand. These technical leggings from the new Lipsy Sport collection were given a run for their money in this weeks leg work out which I can confirm was a success, I love feeling supported but not restricted and these leggings find that happy medium, from leg workout to yoga class this cropped pair are perfection. Give them a go with my current favourite glute workout. I have a knee injury so these are great if you struggle with exercises. Weighted Stiff Leg Deadlift Grab a kettle bell which you feel comfortable  with keeping one leg stiff and your back straight dropping the kettle bell down wards. 10 Reps per leg Kettlebell Swings The heavier  the better with this one making sure to use your hips to gain enough momentum to swing the kettle bells. 20  Reps Weighted Hip Extensions Lay on the ground placing  a comfortable weight barbell across your hips, with knees bent feet flat  extend hips up to the ceiling and hold for 3 seconds at the highest point. 12 Reps perform each excercise consecutively with a 60 second rest in between repeat 3 times. Leggings – c/o Lipsy Sport     Crop – c/o Lipsy Sport     Jacket – c/o Elle Belle Attire    Trainers – Nike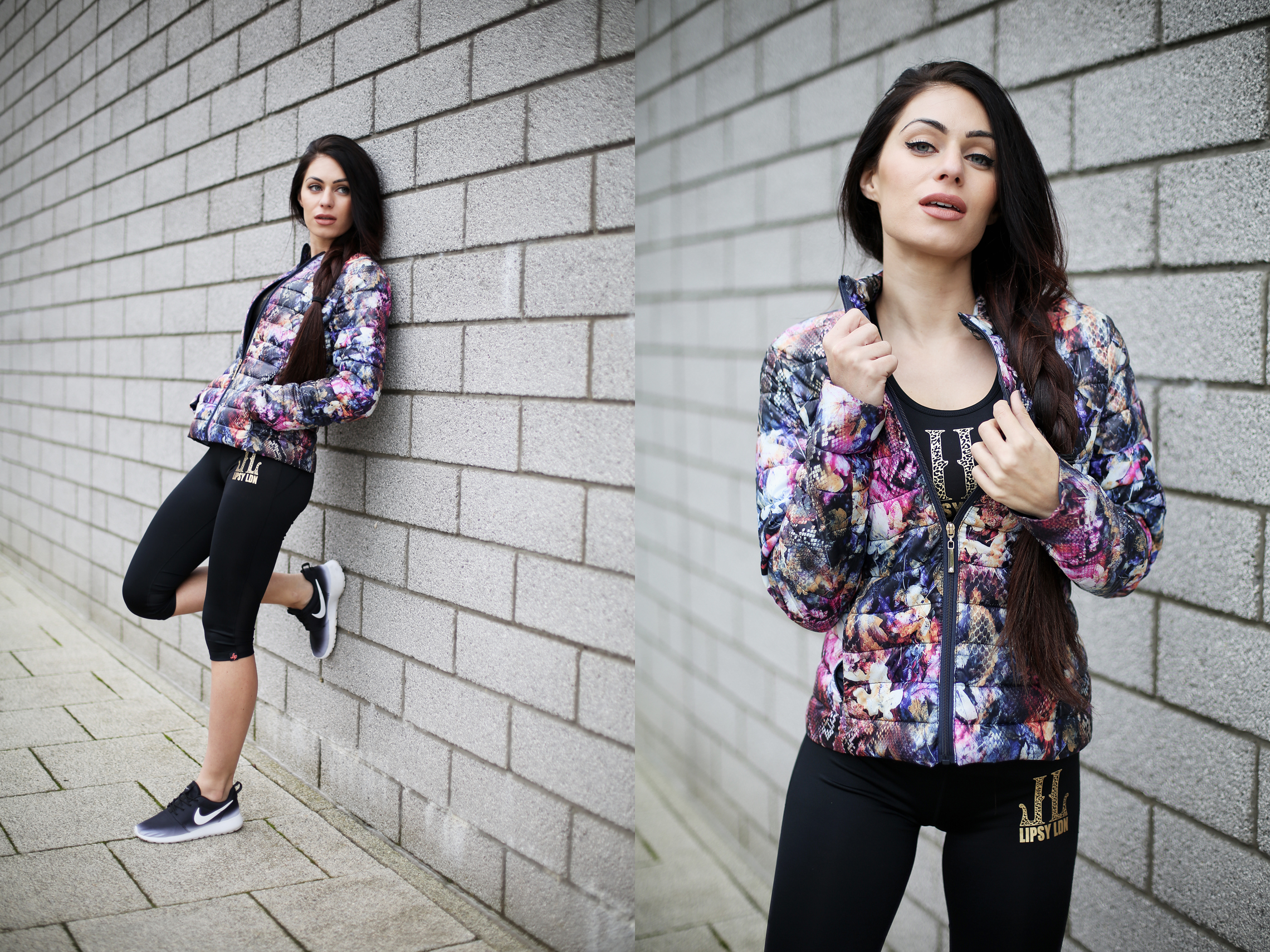 Leggings are the bane of my existence, which isn't a phrase that you hear every day but when you spend as much time in them as I do, you kinda get to understand. These technical leggings from the new Lipsy Sport collection were given a run for their money in this weeks leg work out which I can confirm was a success, I love feeling supported but not restricted and these leggings find that happy medium, from leg workout to yoga class this cropped pair are perfection.
Give them a go with my current favourite glute workout. I have a knee injury so these are great if you struggle with exercises.
Weighted Stiff Leg Deadlift
Grab a kettle bell which you feel comfortable  with keeping one leg stiff and your back straight dropping the kettle bell down wards.
10 Reps per leg
Kettlebell Swings
The heavier  the better with this one making sure to use your hips to gain enough momentum to swing the kettle bells.
20  Reps
Weighted Hip Extensions
Lay on the ground placing  a comfortable weight barbell across your hips, with knees bent feet flat  extend hips up to the ceiling and hold for 3 seconds at the highest point.
12 Reps
perform each excercise consecutively with a 60 second rest in between repeat 3 times.
---
Leggings – c/o Lipsy Sport     Crop – c/o Lipsy Sport     Jacket – c/o Elle Belle Attire    Trainers – Nike