chic christmas decor essentials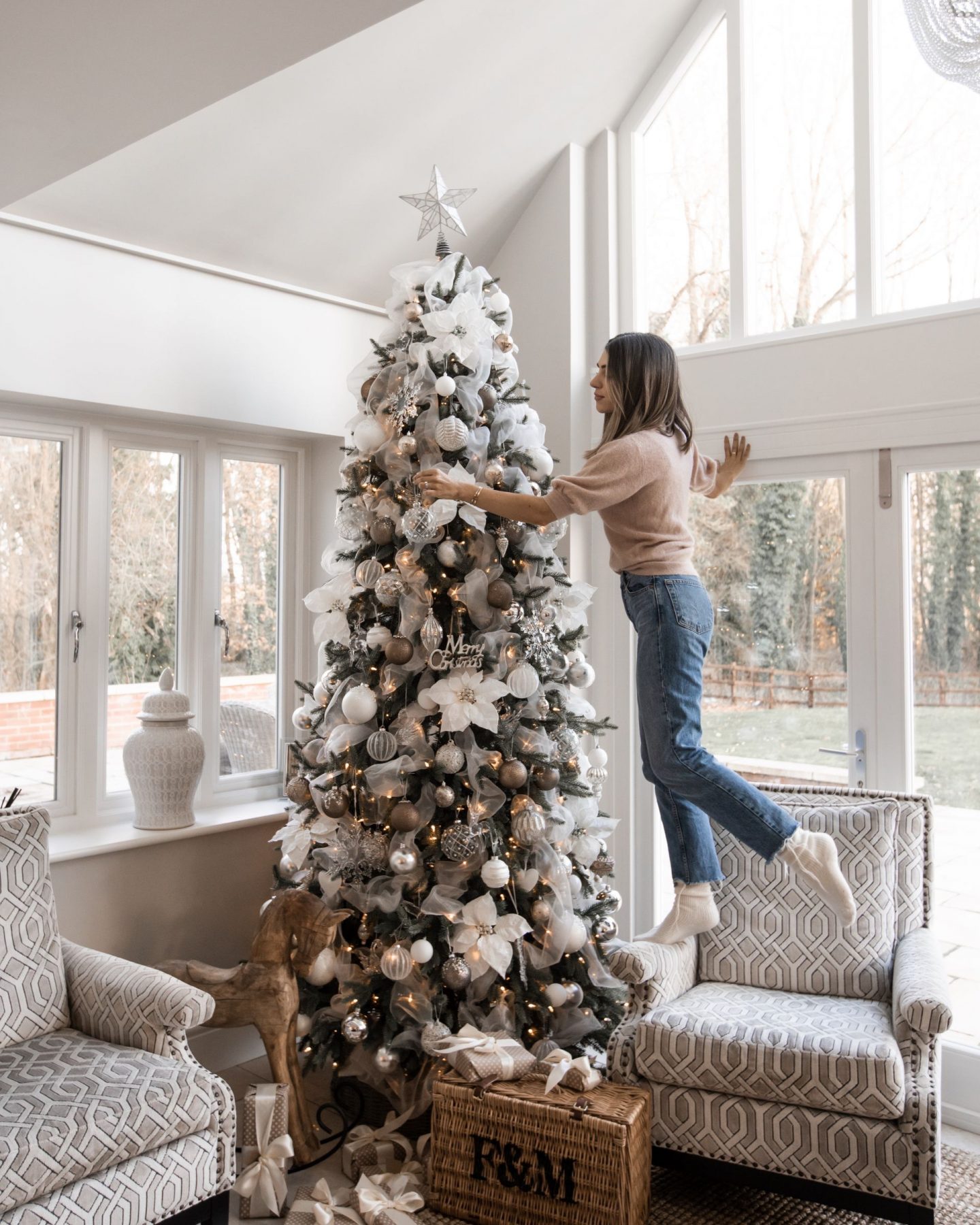 25th November 2019

My family never really went over board at Christmas, sure it was always a wonderful celebration but it wasn't until I spent my first Christmas with Ali and his family that I realised how magical this time of year could be. In our old house we really had limited space, I mean we had limited everything but I knew that one day I would own a home that I could decorate beyond my wildest dreams.
This time last year I spent a day with my friend Sarah shadowing her and her Christmas tree styling in my home, we did three trees in one day and they transformed my home into a chic yet magical space. But this year it was my turn.
I spent a lot of money on decorations last year so I wasn't about to scrap them all and go for an entirely different theme but I do intend to make small changes each year to modernise and take inspiration from interior trends to make sure I'm always reusing decorations on rotation but still changing things up a little.
I've also spent a lot of the last year restyling my home so that its completely our style so I wanted to do the same with my trees this year. Christmas is an incredibly special time of year for Ali and I, we got engaged and got married but we are both utterly obsessed with the festivities so whilst it wont be to everyone's taste, we really enjoy going a little bit over board with decor.
I've put together some essential Christmas decor purchases below to help you create your own perfect trees this year.
THE BASE
Using a proper tree skirt is a key part of getting a super smart finish to your tree, there are so many DIY options with hessian or whatever fabric you desire but I always opt for something more structured. I tend to go for a rattan woven base as its a great all-rounder and with it being a natural fibre it looks expensive without being over the top but can easily be used for the more Glamorous tree as well as the rustic styles.
However I did stumble across this Galvanised steel base which I ended up purchasing in the brass finish for our hall way tree which I absolutely loved. It looks beautiful styled with a black and white tree, hint hint!
NATURAL GLAMOUR
If there's one particular change I am making to my festive decor style its the addition of more natural materials to contrast a lot of the glitz and glamour of the decorations I purchased last year. It tones everything down just a touch to ensure it fits the style of my interior and can usually be done super cheaply. I ordered three rolls of 10cm x 10m Burlap ribbon from Amazon and it did just the trick for under £15.
BAUBLE HAUL
I always like my trees to be quite full but I wanted to be sure that I liked all the decorations i was putting on my tree this year and not just putting them on to fill space. By far the best place to buy baubles by the basket load is The Range, some of my favourite decorations are from there and yet they are super affordable which means you can get enough to ensure they are seen on the tree but you can also compliment the more affordable baubles with some expensive ones too. I love heading to local garden centres such as Frosts in Woburn, to get something special.
REAL OR FAUX
I'm of the mindset that I prefer my trees in the ground, living than in my home dying and thats without taking the disasters we've had with real Christmas trees in our previous home and the fact that if its real, Lumi will attempt to scale it multiple times per day. For some reason she stays away from the Faux ones and so we decided to really invest in our trees so that they can last for as long as we do. But there's no denying that a real tree has a certain magic that a faux one never will, the intoxicating smell of pine being one of them so this year I purchased a few of the pine scented fragrance sticks which are made to be hung on your tree and give off the exact same smell as a real tree. Now all the rooms in my house smell like Christmas morning without needles all over my floor.
MAKING AN OLD TREE FIT
We originally bought the tree thats in our living room, for our hallway but we discovered our tree from our old house in our loft last year and with the Living room having just been finished earlier than expected, we wanted a tree in there too. The only problem was, realistically we needed the tree to be taller as it was originally for under the stairs, instead of buying a brand new tree, we propped it up on a boxed  which we covered in black fabric and put some old trunks around the base to cover it up. The tree now fits the space perfectly and I actually think it looks better because there's a good amount of space under the tree to fit the trunks and all of the presents that will obviously be waiting for me under there too!
What is your favourite way to decorate and what's your favourite place to buy decorations?
I've not quite finished buying decorations just yet so I need some inspiration!