three designer summer outfits with 50% off
11th June 2015

Jumper   –    Shorts   –   Sandals   –   Necklace   –   Bag   –   Bracelet   –   Sunglasses Distressed denim is the ultimate wardrobe stable in creating the laid back effortless Summer style that I love so much. Finding the perfect denim cut offs can take time and a little investment so it's always good to spot one of the front runners in the field, Rag & Bone taking poll position in the Very Exclusive 50% off sale. I've teamed it with a light beige jersey sweater for cool Summer evenings with a slogan which depicts my life right now, Positive. For accessories I went for gold hardware with a touch of snake skin to the luxury leather goods from See by Chloe and Ash. My word I cannot get enough of this outfit. Jumpsuit  –  Bag  –  Trainers  –  Rings  –  Sunglasses After seeing how the Beautiful Chloe, on our recent trip to Ibiza, looked so chic and put together despite wearing no make up and a simple jumpsuit I knew I wanted one. Comfortable and stylish at the same time I saw this black jersey number from By Malene Birger with its relaxed fit and flattering gathered waist and knew it was "The One". I've teamed it with some super comfy sneakers from Iro and a practical cross body bag from Moschino. But the main event has got to be the Ray Ban Aviator's that have up to 50% off in the sale, win! Dress  –  Bag  –  Shoes  –  Bracelet  –  Lipstick  –  Ring And what's a holiday without that super special outfit that gives you butterflies in anticipation of wearing it. Having been a fan of Three Floor dresses from day dot I literally couldn't believe my luck when I saw them on Very Exclusive and […]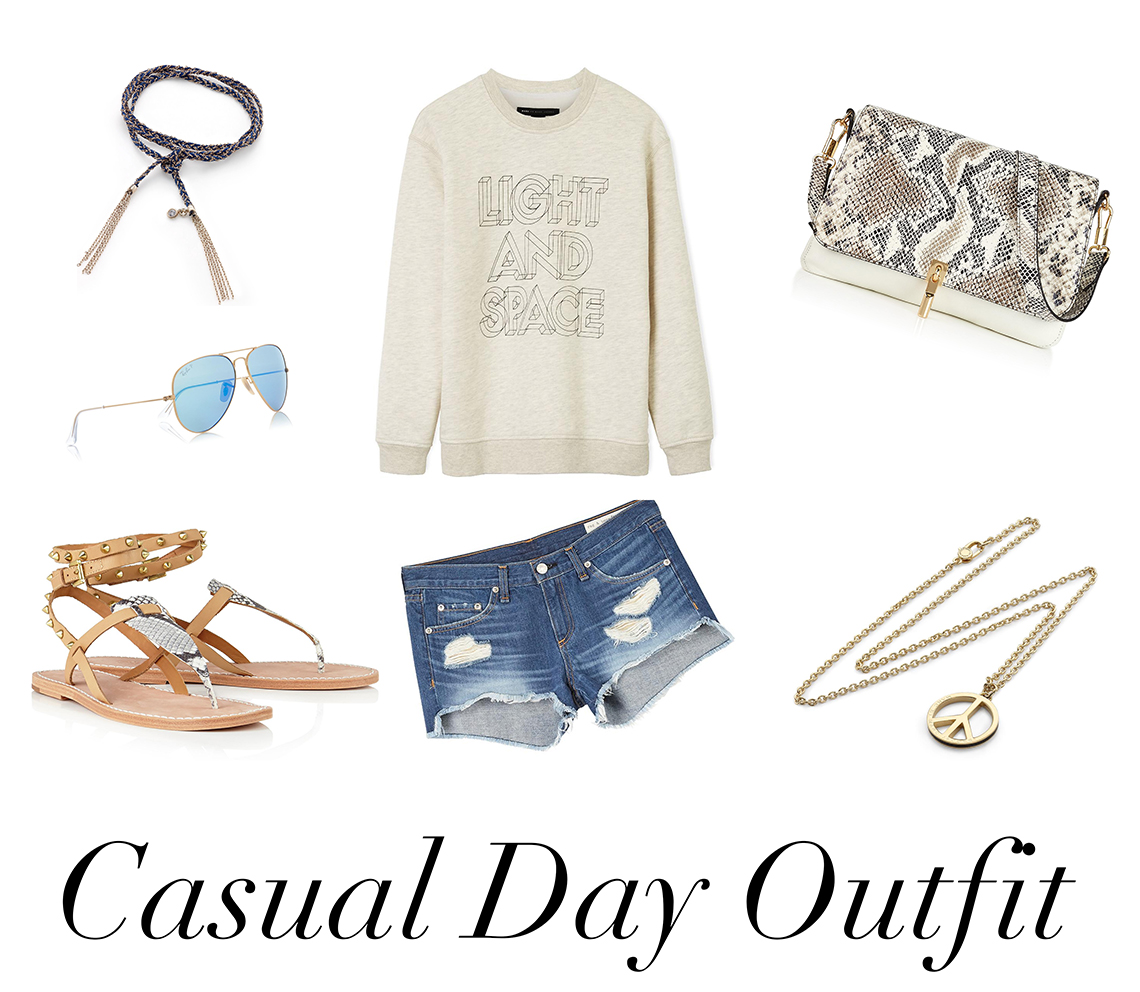 Jumper   –    Shorts   –   Sandals   –   Necklace   –   Bag   –   Bracelet   –   Sunglasses
Distressed denim is the ultimate wardrobe stable in creating the laid back effortless Summer style that I love so much. Finding the perfect denim cut offs can take time and a little investment so it's always good to spot one of the front runners in the field, Rag & Bone taking poll position in the Very Exclusive 50% off sale. I've teamed it with a light beige jersey sweater for cool Summer evenings with a slogan which depicts my life right now, Positive.
For accessories I went for gold hardware with a touch of snake skin to the luxury leather goods from See by Chloe and Ash. My word I cannot get enough of this outfit.
Jumpsuit  –  Bag  –  Trainers  –  Rings  –  Sunglasses
After seeing how the Beautiful Chloe, on our recent trip to Ibiza, looked so chic and put together despite wearing no make up and a simple jumpsuit I knew I wanted one. Comfortable and stylish at the same time I saw this black jersey number from By Malene Birger with its relaxed fit and flattering gathered waist and knew it was "The One". I've teamed it with some super comfy sneakers from Iro and a practical cross body bag from Moschino. But the main event has got to be the Ray Ban Aviator's that have up to 50% off in the sale, win!
Dress  –  Bag  –  Shoes  –  Bracelet  –  Lipstick  –  Ring
And what's a holiday without that super special outfit that gives you butterflies in anticipation of wearing it. Having been a fan of Three Floor dresses from day dot I literally couldn't believe my luck when I saw them on Very Exclusive and this Navy number is an ultimate fave. I went for some Peach luxury leather accessories from Reiss with gold hardware from Elizabeth and James, because whatever  the Olsen Twins touch is just that, gold.