the lipstick i can't stop wearing that isn't nude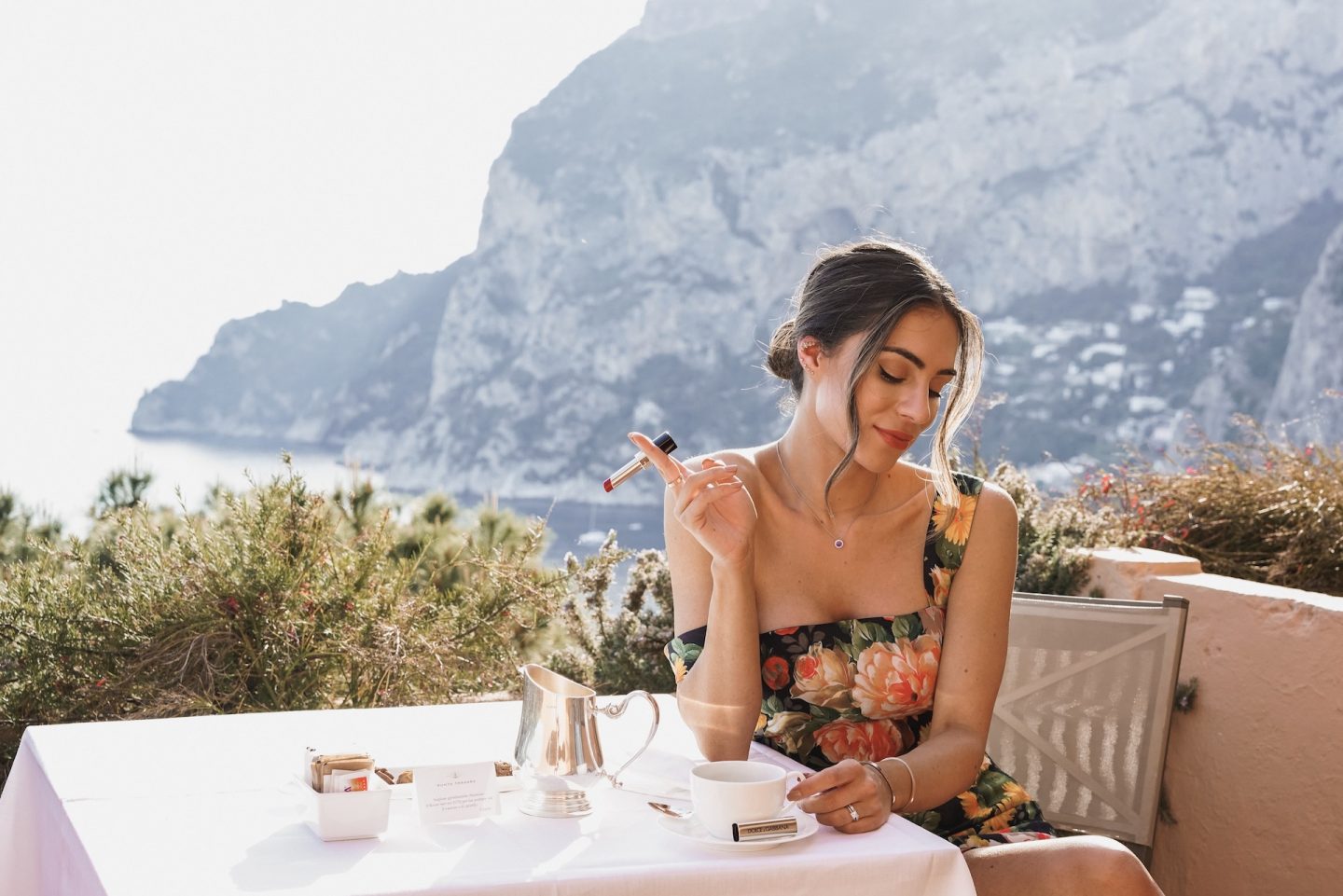 11th June 2019

I think 2019 is the year I explore Italy a little more because it really is one of the most magical places on earth, I realise I sound exactly like my Nonno here because boy, does he fly that Italian flag sky high but it becomes more and more undeniable the more I visit.
Capri was obscure and beautiful and imperfect all at once, I was pleasantly surprised it was so imperfect considering how touristic it can be. I often find those typical Instagram tourist destinations to be a little bit of a let down because they become so consumed with pleasing the tourists that they lose the one thing that makes them so magical in the first place. But Capri felt like it was doing the most to retain its magic and it wasn't lost on me. Ali and I immersed ourselves in Capri, rising early to walk the narrow streets and get our bearings, we took vespa rides to Anacapri, dined beach front at La Fontelina and drank more home made lemonade than I've ever drank normal lemonade in my life. Now I need to know where in Italy I should visit next? let me know in the comments below!
We were in Capri with the D&G Beauty team to celebrate the launch of Light Blue Sun alongside their Summer beauty collection. Summer beauty collections are a highlight in my beauty calendar, I love how experimental I get around this time of year and one of the biggest changes has been to the lipstick colour I'm reaching for every morning when I'm sat at my dressing table. After a long and unwavering love affair with matte nudes, one evening in front of the bathroom mirror of my hotel room I picked up the new Miss Sicily lipstick from the Sunlight collection in shade Agata. At first glance, I expected a bright vibrant red for an evening of traditional Italian food and dancing, but what I got was a flushed crimson red which was the most natural "is she wearing a lipstick or is she just wearing a balm and has fabulous flushed lips?" look I had ever experienced in a lipstick. Its now my healthy-glow-day lipstick.
Shop D&G BEAUTY Sunlight collection
  [show_shopthepost_widget id="3612319″]
The big launch whilst in Capri was for the new D&G Light Blue Sun fragrance which was a bold move for the brand. The original Light Blue Fragrance is Iconic, for most of my generation it was one of the first fragrances they wore growing up and it holds such nostalgic memories whilst still being a big hitter in the fragrance game. So I knew Sun had to be good to be in anyway affiliated with such a renown fragrance. It's the sweeter Sister to the original fragrance and for Summer it maintains the zesty twist that Light Blue is famous for making it recognisable yet original in the sea of overly coconut sickly sweet Summer fragrances.
Light Blue Sun reignited a love affair I had with the fragrance when I was younger, giving my fragrance wardrobe a fresh new identity when it comes to Sun kissed skin. Its been one of my most complimented fragrances of the season so far and I definitely think Sun will be back year on year as a favourite amongst the most iconic Summer scents. And just as a side note, I was very fortunate to work with D&G Beauty on the launch of the fragrance however this blog post is not part of that collaboration, I'm just a big fan of the collection and fragrance and wanted to tell you a little bit more about why. I hope thats OK 🙂
Have you smelt the new fragrance or tried the new Sunlight Collection? let me know your favourite item from the collection in the comments below! I'd also LOVE to know what age you were when you first wore D&G Light blue ha-ha!