the illusion of longer legs
9th October 2015

Faux Leather pants & Chelsea boots, today I'm channeling my very best attempt at off-duty model chic, albeit a vertically challenged one. It's no secret here that throughout my teens I longed to be a model so I was constantly on the prowl for ways to make myself appear taller. I have become so well trained in the art that now when I meet people they are shocked by my 5.7″ stature. But this little paring really is my little secret to elongated legs; form fitting black denim tucked straight into a pair of seamless luxe boots. The denim of choice is a coated pair of high-waisted jeans from the current Missguided collection available online. The high waist line elongates my legs upwards whilst the seamless join of the denim to the boots draws the eyes right to the floor. So whilst that has the height issue covered the faux leather effect with cold silver zips brings the effortlessly cool rock & roll edge and the embroidered fabric of this high quality floral bomber injects a little extra femininity, knot a crisp white tee for good measure. I've had denim worth hundreds of pounds and I've had denim thats worth £10 and to be perfectly honest I've never regretted the latter. The fit of a pair of jeans is not determined by it's price and the selection currently of amazing fitting denim available online at Missguided is enough to kit you out with an entire wardrobe full for the price of a premium pair. Expect to see a lot more of these rock & rollers this Winter. This post is in collaboration with collaboration with RewardStyle but all opinions & shopping habits are very much my own. Shop The Post Jeans – Missguided      Tee – Missguided      Bomber […]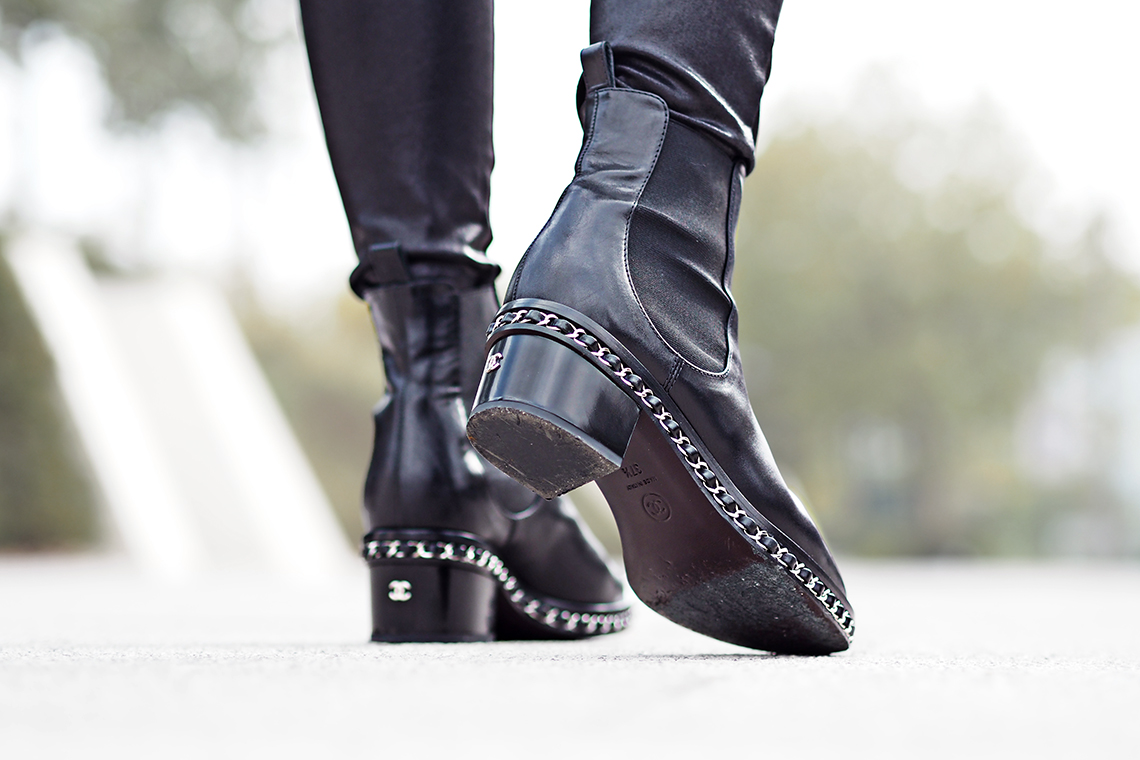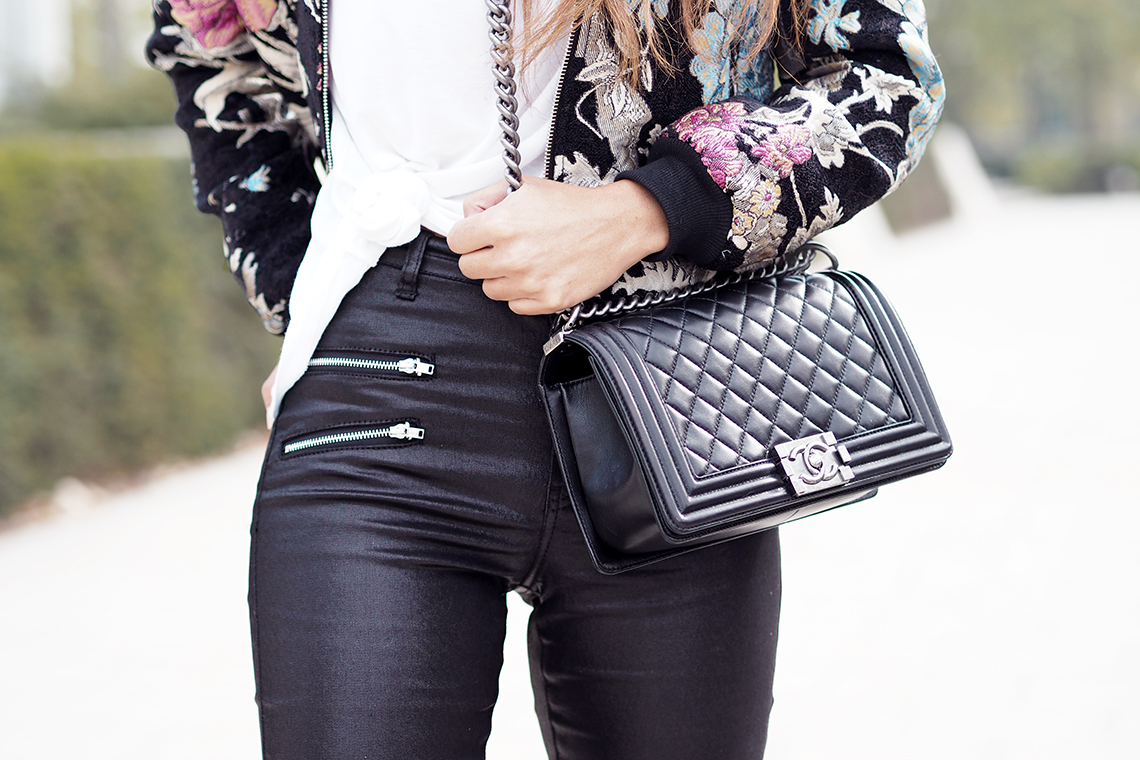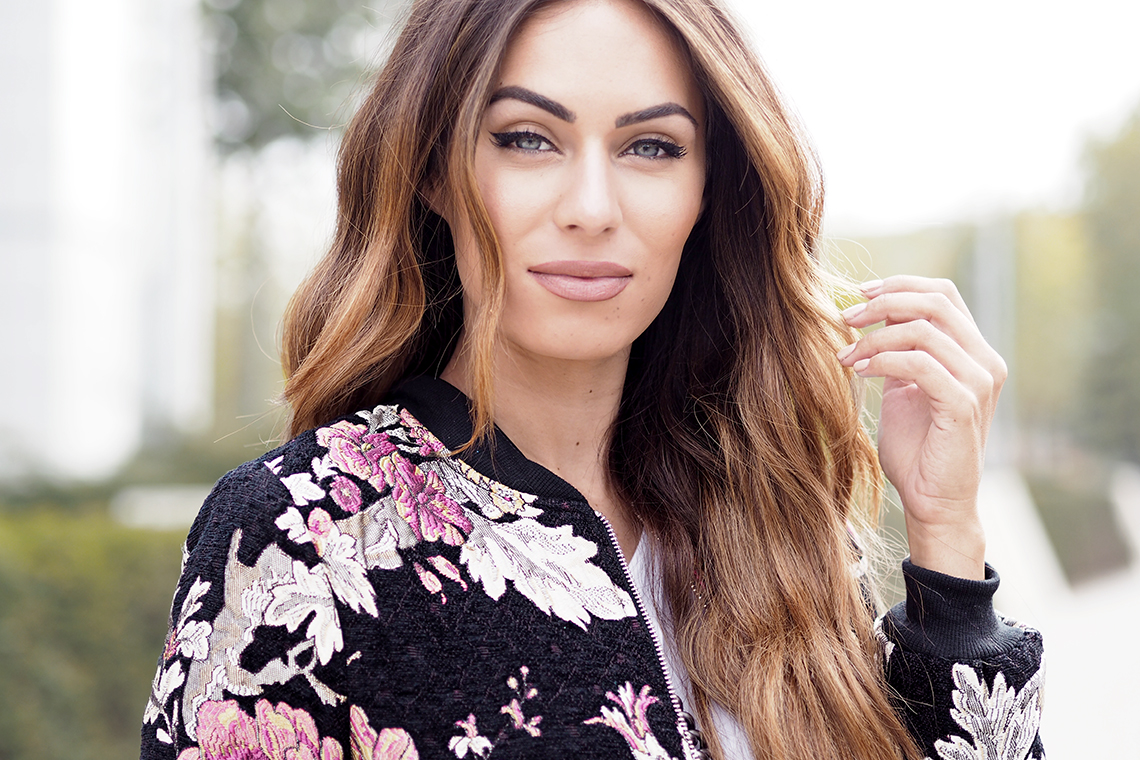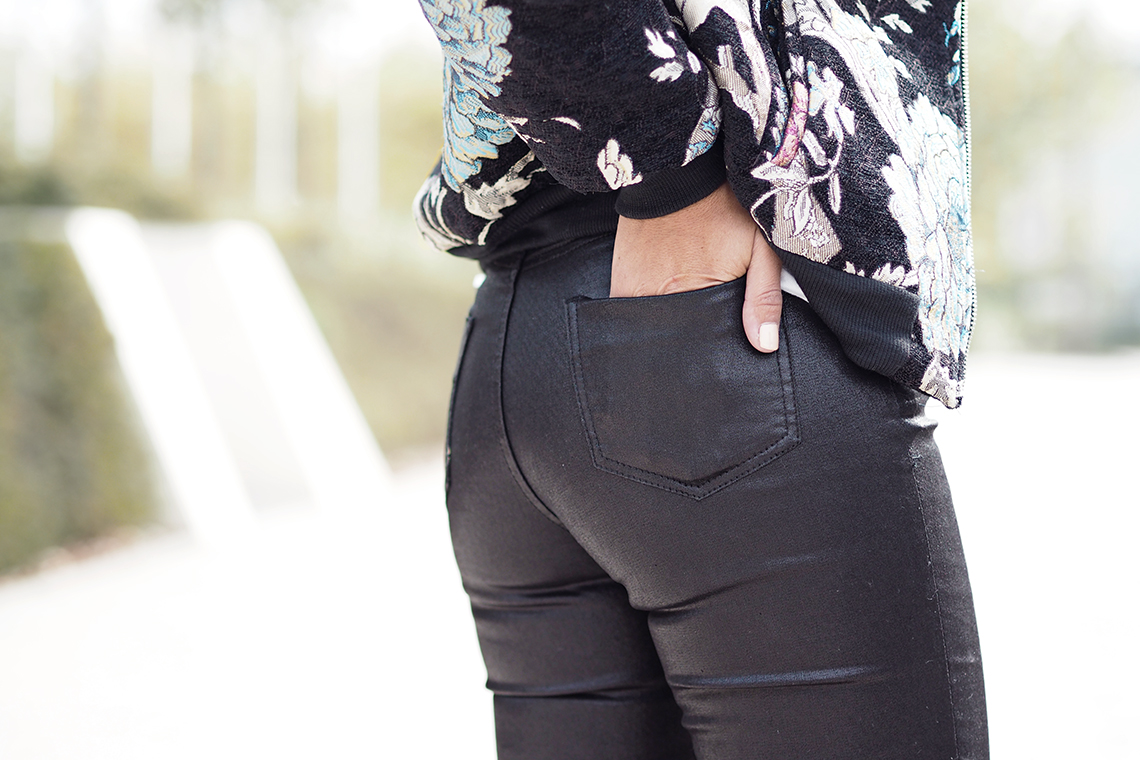 Faux Leather pants & Chelsea boots, today I'm channeling my very best attempt at off-duty model chic, albeit a vertically challenged one. It's no secret here that throughout my teens I longed to be a model so I was constantly on the prowl for ways to make myself appear taller. I have become so well trained in the art that now when I meet people they are shocked by my 5.7″ stature. But this little paring really is my little secret to elongated legs; form fitting black denim tucked straight into a pair of seamless luxe boots.
The denim of choice is a coated pair of high-waisted jeans from the current Missguided collection available online. The high waist line elongates my legs upwards whilst the seamless join of the denim to the boots draws the eyes right to the floor. So whilst that has the height issue covered the faux leather effect with cold silver zips brings the effortlessly cool rock & roll edge and the embroidered fabric of this high quality floral bomber injects a little extra femininity, knot a crisp white tee for good measure.
I've had denim worth hundreds of pounds and I've had denim thats worth £10 and to be perfectly honest I've never regretted the latter. The fit of a pair of jeans is not determined by it's price and the selection currently of amazing fitting denim available online at Missguided is enough to kit you out with an entire wardrobe full for the price of a premium pair. Expect to see a lot more of these rock & rollers this Winter.
This post is in collaboration with collaboration with RewardStyle but all opinions & shopping habits are very much my own.
---
Shop The Post
Jeans – Missguided      Tee – Missguided      Bomber – Missguided     Bag – Chanel      Boots – Chanel
[show_shopthepost_widget id="1087200″]