the burnin' end of a midnight cigarette…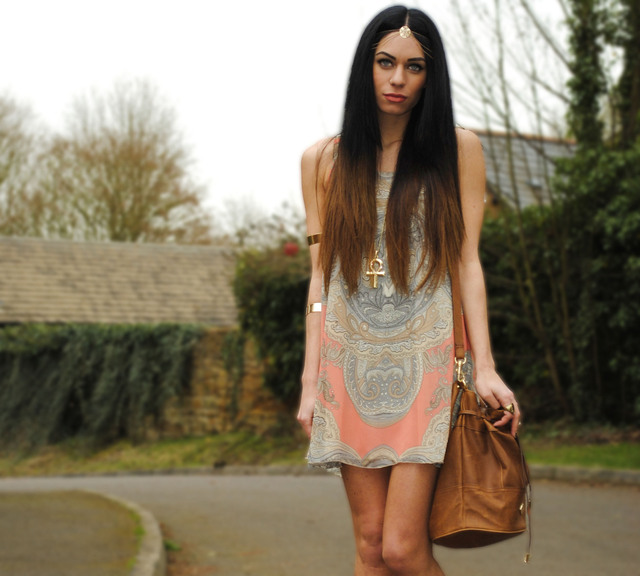 18th March 2012

Dress – C/O INLOVEWITHFASHION Bag – H&M Shoes – Melody Arm Cuffs – H&M Head chain – Miss Selfridge Peace ring – C/O CUTIE PIE JEWELLERY I might be getting a bit ahead of myself, but is it blaady Summer yet?! Seems like this Winter is never ending, but I've decided I'm not getting anymore cosey stuff, just Summer tings….Positive mental attitude and all that! This is such a gorgeous dress that I have a strange feeling I may have a fight on my hands as the moment my Mum saw me unwrap the beautiful Love parcel her face lit up ha-ha! I've always had a real love for paisley so seeing it teamed with this gorgeous peach tone made this dress a winner in my eyes. As always I have nothing but the best things to say about Love and their stock, I have never been disappointed a single item and always find my self salivating at their New Arrivals page, so looking forward to seeing more Summer stuff coming in….Ok enough about Summer (Please hurry up) Today I spent the morning having breakfast with the family for mothers day in Windsor and it was so unbearably beautiful I didn't want to leave…however that might have been down to the fact that it was 6degrees and my brother had the roof down. That said I seem to be spending more and more time in my own car recently so it made a nice change…. Its not that I'm going places, just driving to random spots to…think? I actually fell asleep in my car last night, that was really odd ha-ha! Anywhoooo, how have you treated yo' Mommas today? sip sip | Follow LydiaEliseMillen on TWITTER | Follow LydiaEliseMillen on BLOGLOVIN | | Follow LydiaEliseMillen on FACEBOOK | Follow LydiaEliseMillen […]
I might be getting a bit ahead of myself, but is it blaady Summer yet?! Seems like this Winter is never ending, but I've decided I'm not getting anymore cosey stuff, just Summer tings….Positive mental attitude and all that!
This is such a gorgeous dress that I have a strange feeling I may have a fight on my hands as the moment my Mum saw me unwrap the beautiful
Love
parcel her face lit up ha-ha!
I've always had a real love for paisley so seeing it teamed with this gorgeous peach tone made this dress a winner in my eyes. As always I have nothing but the best things to say about
Love
and their stock, I have never been disappointed a single item and always find my self salivating at their
New Arrivals
page, so looking forward to seeing more Summer stuff coming in….Ok enough about Summer (Please hurry up)
Today I spent the morning having breakfast with the family for mothers day in Windsor and it was so unbearably beautiful I didn't want to leave…however that might have been down to the fact that it was 6degrees and my brother had the roof down. That said I seem to be spending more and more time in my own car recently so it made a nice change…. Its not that I'm going places, just driving to random spots to…think? I actually fell asleep in my car last night, that was really odd ha-ha!
Anywhoooo, how have you treated yo' Mommas today?
| Follow LydiaEliseMillen on TWITTER | Follow LydiaEliseMillen on BLOGLOVIN |