the art of trench – the nonchalant scarf
8th December 2015

There are those select few items that you will always need or desire to have in your wardrobe. A Chanel handbag? A smart pair of boots? Well fitting Denim? The Iconic Burberry Trench? All great additions to any wardrobe and things that I have found myself investing in recently. Having grown up in a fashion concious family, my Grandpa was wearing his Burberry Trench before I was born, investing in timeless pieces was destined to become a fundamental part of my style. Timeless pieces are timeless for a reason. They aren't fleeting and their versatility makes investing all the more plausible and there is none more so than the Burberry Trench. With so many ways for the form fitting coat to be worn and across so many seasons I decided as part of my collaboration with Farfetch to show you my favourite ways to style mine in a three part series of outfits inspired by The Art Of Trench campaign. PART ONE The Nonchalant Scarf Burberry Autumn/Winter 15 imagery is full of belted Trenches and iconic scarfs styled up many different ways but my favourite being worn in an effortless drape around the shoulders. The scarf sits under the collar of the trench and falls unevenly each side belted at the waist with the trench to show off the smallest part of your frame. The belt is tied rather then buckled again adding to the nonchalant feel of the outfit whilst still looking smart and styled. I teamed my Burberry pieces with my coated denim jeans and Chloe boots which merge to look as if they were one utilising the leg lengthening illusion to make me feel a little more like Cara D in my British heritage get up. For warmth under the light fabric of the Trench I place layers […]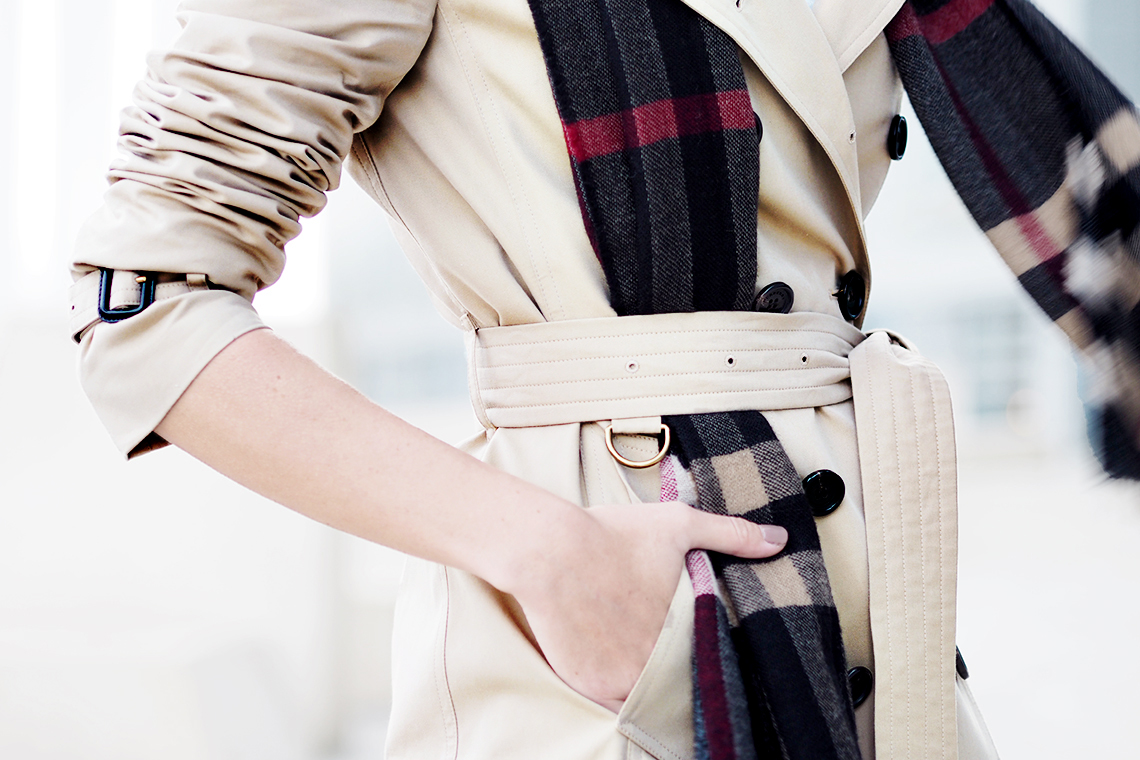 There are those select few items that you will always need or desire to have in your wardrobe. A Chanel handbag? A smart pair of boots? Well fitting Denim? The Iconic Burberry Trench? All great additions to any wardrobe and things that I have found myself investing in recently. Having grown up in a fashion concious family, my Grandpa was wearing his Burberry Trench before I was born, investing in timeless pieces was destined to become a fundamental part of my style.
Timeless pieces are timeless for a reason. They aren't fleeting and their versatility makes investing all the more plausible and there is none more so than the Burberry Trench. With so many ways for the form fitting coat to be worn and across so many seasons I decided as part of my collaboration with Farfetch to show you my favourite ways to style mine in a three part series of outfits inspired by The Art Of Trench campaign.
---
PART ONE
The Nonchalant Scarf
Burberry Autumn/Winter 15 imagery is full of belted Trenches and iconic scarfs styled up many different ways but my favourite being worn in an effortless drape around the shoulders. The scarf sits under the collar of the trench and falls unevenly each side belted at the waist with the trench to show off the smallest part of your frame. The belt is tied rather then buckled again adding to the nonchalant feel of the outfit whilst still looking smart and styled.
I teamed my Burberry pieces with my coated denim jeans and Chloe boots which merge to look as if they were one utilising the leg lengthening illusion to make me feel a little more like Cara D in my British heritage get up. For warmth under the light fabric of the Trench I place layers of cashmere to lock in my body heat.
To finish I push up the sleeves and belt tightly above the elbow to keep out of the way whilst also tucking in my hair to the signature printed collar to ensure my hair doesn't blow away on those blustery British Winter days.
See Part Two here.
This post is in collaboration with Farfetch but all opinions and items featured are my own.