summer life & style secrets i learnt from the italians
2th August 2018

As a child I would spend almost 2 months of every Summer with my Nonna and Nonno at our home in the mountains of Parma, Italy which we still have and I desperately need to visit and every time I visit the country the nostalgia is incredibly intense. Mine and my brothers room was right at the top of the house facing the local church and we would sit together, staring out of the window as the sun set to the sounds of the farm behind our house, my Nonno and Nonna drinking wine on the flower covered Terrace and the hushed tones of the few people that lived in our tiny village, if we were careful enough we could hear the sound of our neighbour Giannino laughing and bellowing which would always make my brother and I smile. I don't think I realised how lucky I was to grow up immersed in such colourful Italian culture until my mid twenties where I've kicked myself ever since that I didn't really take learning the language seriously enough. Maybe this year will be the year I do? I say this every year. Along with the Italian language, their general attitude to life and style is an area that has forever fascinated me. It goes without saying that the Italians are known for their impeccable style however, it goes far deeper than their exquisitely tailored wardrobe. It's an attitude and a lifestyle combined. I was recently at my Auntie's 50th birthday party which was full to bursting with the Italian side of my family. Since moving further north I don't often see them as much as I'd like and call me dramatic but it was the first time in a long time that I felt truly at home. They were all […]
As a child I would spend almost 2 months of every Summer with my Nonna and Nonno at our home in the mountains of Parma, Italy which we still have and I desperately need to visit and every time I visit the country the nostalgia is incredibly intense.
Mine and my brothers room was right at the top of the house facing the local church and we would sit together, staring out of the window as the sun set to the sounds of the farm behind our house, my Nonno and Nonna drinking wine on the flower covered Terrace and the hushed tones of the few people that lived in our tiny village, if we were careful enough we could hear the sound of our neighbour Giannino laughing and bellowing which would always make my brother and I smile. I don't think I realised how lucky I was to grow up immersed in such colourful Italian culture until my mid twenties where I've kicked myself ever since that I didn't really take learning the language seriously enough. Maybe this year will be the year I do? I say this every year.
Along with the Italian language, their general attitude to life and style is an area that has forever fascinated me. It goes without saying that the Italians are known for their impeccable style however, it goes far deeper than their exquisitely tailored wardrobe.
It's an attitude and a lifestyle combined.
I was recently at my Auntie's 50th birthday party which was full to bursting with the Italian side of my family. Since moving further north I don't often see them as much as I'd like and call me dramatic but it was the first time in a long time that I felt truly at home. They were all arms flailing, bellowing laughs and totally over the top mannerisms, which I have come to accept as an intrinsic part and quality of who I am. I learnt a lot that night and I've been embracing my Italian side a little more each day since.
ITALIAN STYLE
The understated side of Italian style is something I have unknowingly enjoyed throughout my style evolution, muted tailored trousers and crisp white shirts being a staple in my wardrobe throughout. But the colourful, playful prints seen throughout the Dolce & Gabbana, Versace and Pucci to name a few prints, has been something I have felt somewhat apprehensive about. Muted tones have always been my safe place but has my confidence has grown within my personal style I have finally felt myself venturing beyond that.
On our recent trip to Florence we ventured into the heart of the City for a day of good food, great coffee and even better shopping at the Luisa Via Roma store. As a customer of luisaviaroma.com for many years it was a treat to experience the physical store in all its glory. This Summer I've embraced the fluidity of fashion just a little more, my style doesn't need to be my uniform and I can play with different elements as much as I desire and many of my more playful fashion pieces have come from the endless pages of luxury fashion found on luisaviaroma.com. From the Sicilian Majolica tile prints championed by the Dolce And Gabbana AW18 collection to the must have bag of the season from Fendi, your Italian Summer style is available at the click of a button and delivered from Florence in 2 working days to the UK EU is 1 day and US is 3 days. All the prices are inclusive of taxes and duties and you earn points every time you shop there via the LVR Privilege program, I've built up points worth £500 at the moment so theres a new pair of shoes on their way as we speak.
Shop my playful Summer style essentials below
[show_shopthepost_widget id="3230265″]
REAL ITALIAN COFFEE
We all have our vices and aside from expensive shoes, there is coffee. I mean there's coffee and theres coffee and following my trip I now know the difference. Italian coffee is unrivalled, it's smooth, full flavoured and like no where else in the world. Unfortunately, it just doesn't compare over in the UK and I'm currently going through withdrawals so I've just ordered a cafetiera and I'm taking matters in to my own hands.
But Italian coffee isn't just about the coffee itself, its the social side of life too and I know full well that I'm the number one culprit when it comes to putting work before life so I want to make more time for good coffee and enjoying discovering new places with old faces.
CONFIDENCE
I feel like confidence is a class you never really graduate from, you learn something more or new every day of your life. When I started blogging 7 years ago, I'd have described myself as pretty confident back then but looking back now my insecurities were painfully loud. I now know that perfection simply doesn't exist, I happily enjoy a large plate of pasta unapologetically, tie my hair up in a messy bun in because sometimes I'd rather live my life than spend 20 minutes doing my hair that day and choosing my outfits every morning is something I now enjoy, I worry less and less about how my body looks and listen more to how I feel in the clothes I wear and every day it all feels more liberating.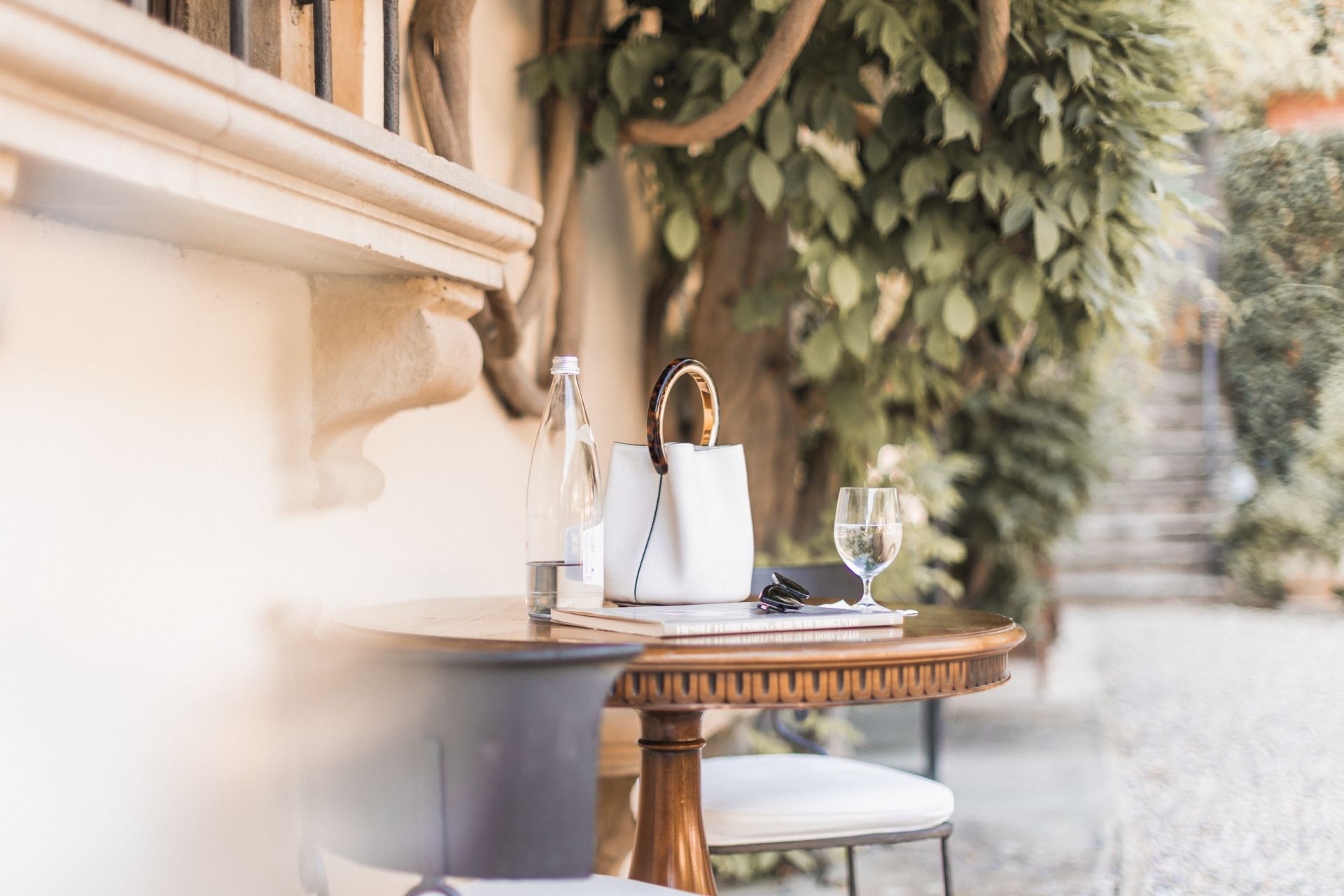 THE BEAUTY IN BALANCE
Oh, Beauty! and I say that with a long drawn out sigh because even though I adore make-up, I spent a fair few years of my life covering up the very things that made me, well, me! I'm in a weird space of feeling like wearing no make-up at all is too little but when I put make up on I feel like it's too much, of all the first world problems hey? But Italian beauty for me has always been the perfect balance of understated glamour. A red lip here or a smoked out eye there, but never two together. However, with all the products in the land you can't correct what stress does to a person so first and foremost I've been focusing on calming, healing and sleeping, adopting more of that Italian laid back attitude wherever possible. It feels good and shows on my face every day.
Shop LVR BEAUTY
[show_shopthepost_widget id="3230284″]
THE ONE PLACE TO INVEST
And finally, if there was one area of your wardrobe to invest in, its sunglasses and I learnt this whilst tentatively people watching in an italian cafe just outside of Torino many moons ago. Not only are a good pair of lenses absolutely paramount to protecting your eyes from the suns harmful rays we both know I'm just using that as justification but a great pair of sunglasses will elevate your look, hide a multitude of sins and hold your hair back on the days that you most need it all whilst making you look effortlessly chic without even trying.
Shop My Sunnies[show_shopthepost_widget id="3230271″]