reasons to be happy this winter
2th November 2017

This post is sponsored by MyTheresa. Every morning I sit myself in front of the window in my office to do my make up. It's not technically an office, it's sort of an office, come beauty room, come Ali Gordon's dressing room, come the room we often find ourself sat on the floor of discussing our hopes and dreams and future lives together. It's the smallest room in the house yet so much happens in here. "I'd say to myself as I applied my mascara "No, this season's my favourite!" I loved them all in very different ways." The windows in our house our quite high so when I sit down I'm often only able to see the trees. I start most of my days here meticulously applying my make-up. Many new products were fallen in love with infront of these windows over the years we have lived here but thats not all. After a few years of living here I began to fall in love with something that wasn't really a "thing" at all. I began to fall in love with the seasons. Each time a new season started to appear, whether it was buds on the branches or falling golden leaves, I'd say to myself as I applied my mascara "No, this season's my favourite!" I loved them all in very different ways. But I realised soon after sharing this revelation with whoever would listen, that not everyone feels the same way about the seasons as I now do. "Oh no! I hate the cold!" I couldn't believe what I was hearing. What was not to love about ice cold mornings with the Sun shining through your window? So what does any blogger do in this situation? They pen a list style blog posts with […]
This post is sponsored by MyTheresa.
Every morning I sit myself in front of the window in my office to do my make up. It's not technically an office, it's sort of an office, come beauty room, come Ali Gordon's dressing room, come the room we often find ourself sat on the floor of discussing our hopes and dreams and future lives together. It's the smallest room in the house yet so much happens in here.
"I'd say to myself as I applied my mascara "No, this season's my favourite!" I loved them all in very different ways."
The windows in our house our quite high so when I sit down I'm often only able to see the trees. I start most of my days here meticulously applying my make-up. Many new products were fallen in love with infront of these windows over the years we have lived here but thats not all. After a few years of living here I began to fall in love with something that wasn't really a "thing" at all. I began to fall in love with the seasons. Each time a new season started to appear, whether it was buds on the branches or falling golden leaves, I'd say to myself as I applied my mascara "No, this season's my favourite!" I loved them all in very different ways.
But I realised soon after sharing this revelation with whoever would listen, that not everyone feels the same way about the seasons as I now do. "Oh no! I hate the cold!" I couldn't believe what I was hearing. What was not to love about ice cold mornings with the Sun shining through your window?
So what does any blogger do in this situation? They pen a list style blog posts with all the reasons why you really should love this season too (and every other season for that matter).
JACK FROST
When I open the blinds first thing in morning, I secretly hope that every day will start with a little bit of 'Jack Frost' as we called it growing up. A thin layer of  frost which covers the world in a sheet of white, the sun shines so it twinkles a little too, and it makes me want to wrap myself up in a big chunky blanket with an oversized mug of tea (which we will get to later). These mornings make me feel so happy and so alive, as truly cringe as that sounds.
SLEEK BLACK BOOTS
Boot weather is good weather in my opinion. Pulling on a pair of cosey socks and slipping your feet into a good pair of Autumn Winter boots is one of those moments often over looked, but I live for those moments. Those first steps out of the front door onto a blanket of crunchy leaves. Gloss black boots are a weakness of mine as this season rolls around, I can never have enough pairs. Over the knee, under the knee, Ankle, chelsea, high heel, low heel, that awkward heel in the middle, I need them all in my wardrobe. Teamed with a great pair of denim and a chunky knit, I'm living my best life.
WINTER WARMERS
And I'm not the knitted kind. Winter beverages are my all time favourite, from pumpkin spiced everything to mulled wine and Belgian hot choc. Preferably consumed outside where the steam is visible grasped within glove covered fingers for extra warmth, these calories don't count, as far as I'm concerned they are our central heating fuel sources.
TEXTURE, LAYERS & COLOUR
Whether thats blankets that you snuggle under or coats that you wrap yourself into the contrast from Summer to winter fabrics and colours is incredible. Chunky cable knits & soft cashmere, Deep reds & dark blacks all layered and mismatched into Autumnal dressing perfection. My favourite online store for my Autumn Wardrobe right now is Mytheresa with Acne Bikers and Cold weather appropriate dresses (for the die hard dress wearers amongst us. i.e. me!) as well as 24h delivery to the UK and 24-48hr to the US, you wont be cold for long this Winter.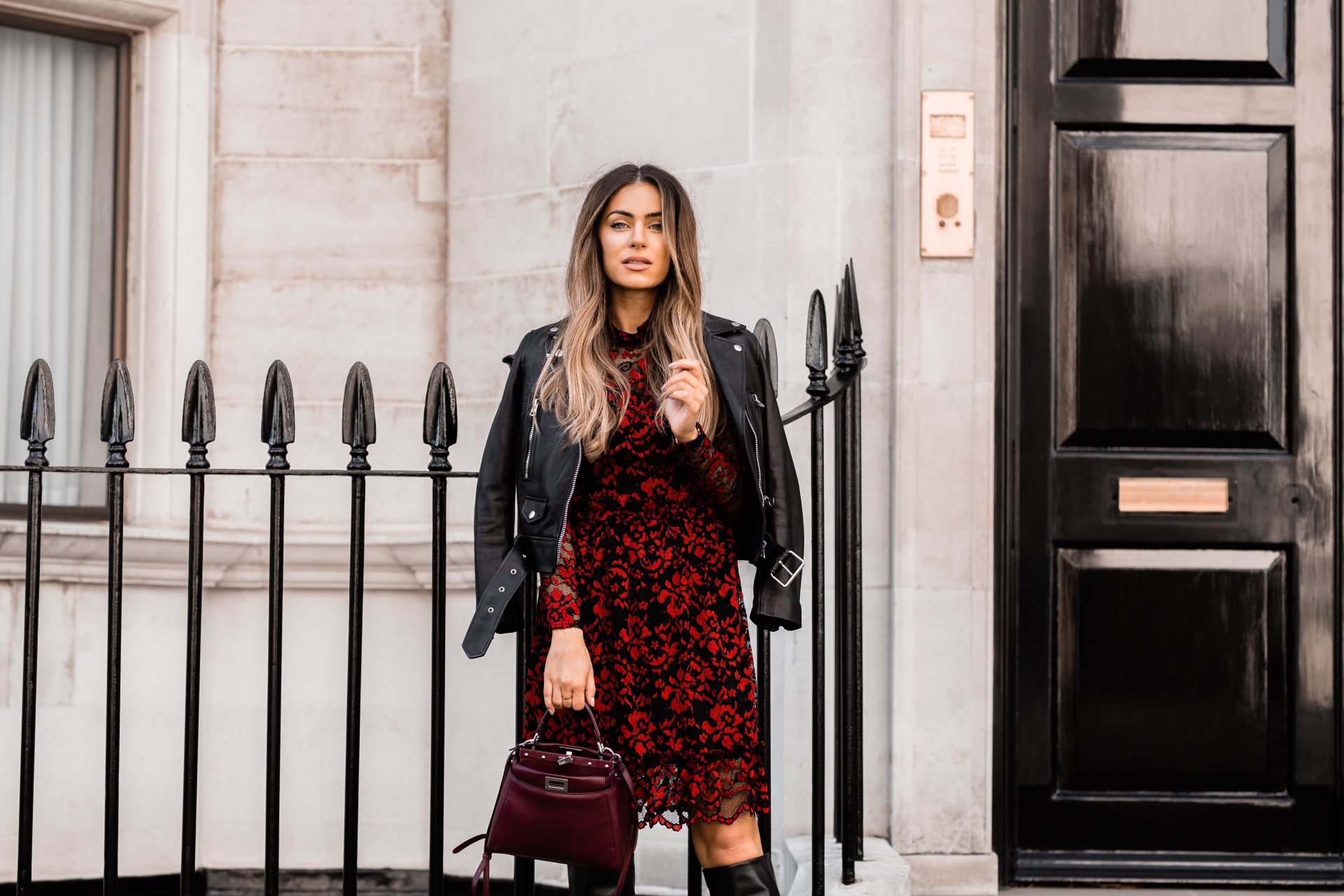 THE SEASON OF FAMILY
If theres one aspect of the Winter season that really stands out and makes me happy, is how much time we spend together. Whether thats with out partners, snuggled on the sofa enjoying a film, or as a family enjoying a Sunday roast on a lazy weekend. Summer is for the free spirit in me whereas winter is when I fly home.
FIRE
If you have one, snuggle in front of it.
HEARTY FOOD
Ah yes, Winter, otherwise know as the Season of eating. Mince pies, Yorkshire puddings, goose fat roast potatoes and ALL of the cheese boards. If ever there was a reason to love Winter it's the fact that you can now unbutton your jeans and have another slice of whatever it is you like.
HUGS
I utilise Ali's expertise in this department, a lot more as soon as the cold snap comes. I hold hugs a little bit longer, I snuggle a little close at night in bed and I savour every moment of it, because as soon as Summer comes back around I'll be pushing him away at night as if he's got the plague.
What makes you happy about Autumn/Winter? And How do you make it through the cold with a smile on your face? Let me know in the comments.