the newest professional beauty on the high-street
22th November 2016

It shocks me sometimes just how the beauty industry has evolved over the years to the point where, is world domination really that far off? It's taken over department stores, duty free, it's even available mile high and let's not get into how satisfying it is to watch someone do their entire make up from start to finish on the World Wide Web. So a natural evolution was for the fashion industry to embrace the moment, heck even I have got into beauty over the last few years. I contour on a regular basis and spend an un holy amount on beauty bits and bobs more often than I show on Snapchat. "My own New Look Beauty Edit of the very best from the collection." It's been an exciting few years seeing what each and every brand brings to the table with every new release and launch so I was eager to find out more about the New beauty Launch from New Look, especially when I saw their affordable collection of my favourite make-up brushes. Having collaborated on their latest beauty video, I decided that it would be good to put together my own New Look Beauty Edit from the very best from the collection. [lem_title]OVAL BRUSHES[/lem_title] Probably one of the biggest beauty innovations to hit my make-up bag. My make up application was never the same after I started using Oval brushes to apply my make-up, quick, easy and efficient, what more is there to want from a new beauty purchase. I've made it my mission to try all of the differing price points since there release and the New Look Oval brush 4 Pack is the best value for money. "For me, they completely changed the game when it came to how I applied my […]
It shocks me sometimes just how the beauty industry has evolved over the years to the point where, is world domination really that far off? It's taken over department stores, duty free, it's even available mile high and let's not get into how satisfying it is to watch someone do their entire make up from start to finish on the World Wide Web. So a natural evolution was for the fashion industry to embrace the moment, heck even I have got into beauty over the last few years. I contour on a regular basis and spend an un holy amount on beauty bits and bobs more often than I show on Snapchat.
"My own New Look Beauty Edit of the very best from the collection."
It's been an exciting few years seeing what each and every brand brings to the table with every new release and launch so I was eager to find out more about the New beauty Launch from New Look, especially when I saw their affordable collection of my favourite make-up brushes. Having collaborated on their latest beauty video, I decided that it would be good to put together my own New Look Beauty Edit from the very best from the collection.
[lem_title]OVAL BRUSHES[/lem_title]
Probably one of the biggest beauty innovations to hit my make-up bag. My make up application was never the same after I started using Oval brushes to apply my make-up, quick, easy and efficient, what more is there to want from a new beauty purchase. I've made it my mission to try all of the differing price points since there release and the New Look Oval brush 4 Pack is the best value for money.
"For me, they completely changed the game when it came to how I applied my make-up every day."
The main difference between these affordable options and the more expensive, really does just fall down to bristle density which means you may find yourself blending a little longer but not really noticeably. They are a great introduction a style of make-up application which can feel slightly foreign despite it making perfect sense. Not everyone gets on with them so won't want to spend a fortune straight up, however for me, they completely changed the game when it came to how I applied my make-up every day.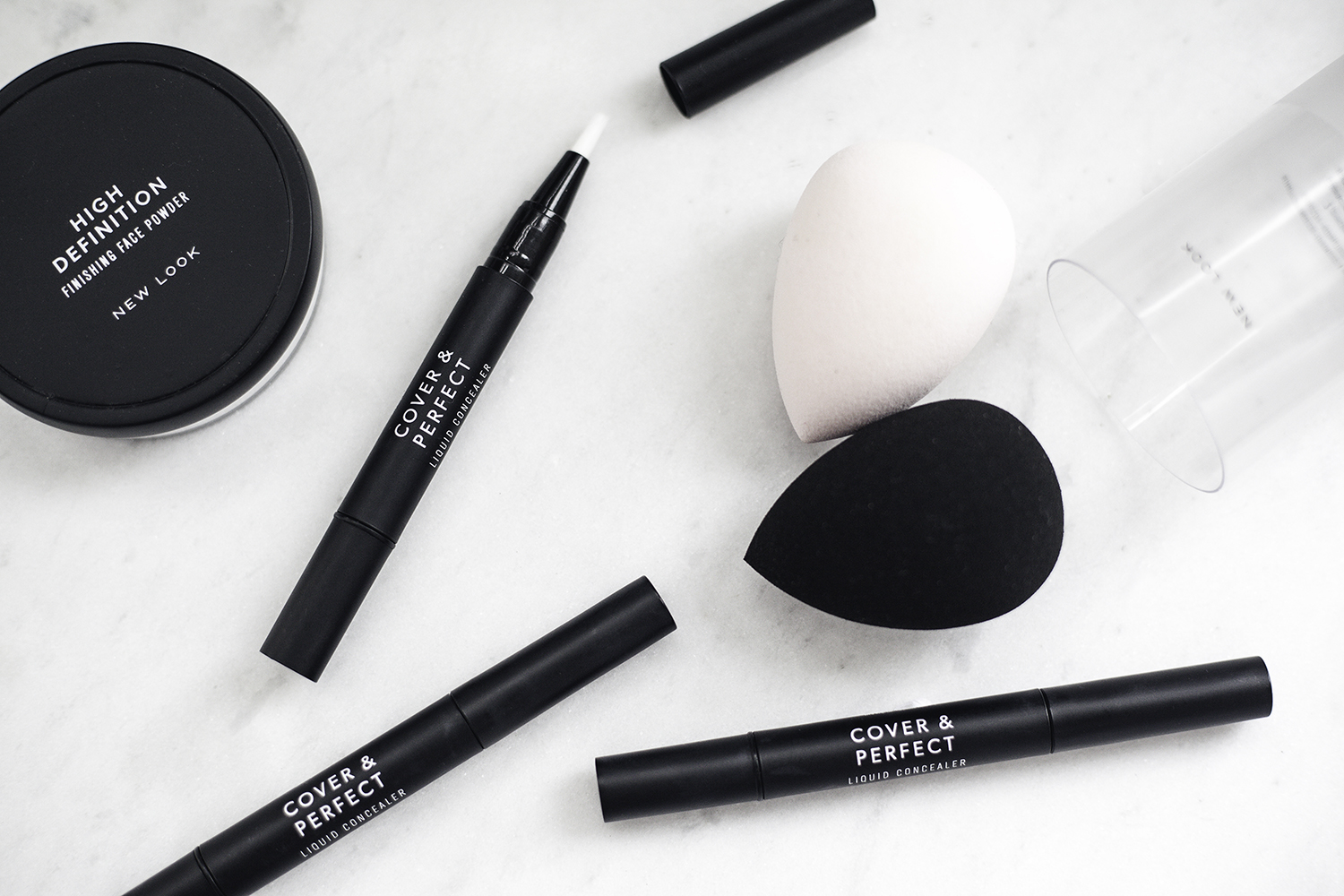 [lem_title]COVER & PERFECT[/lem_title]
The Touche Eclat, invented by my beauty icon Terry De Gunzeberg, was yet another game changer in the beauty world, brightening and perfecting, leaving wide awake beautiful eyes, and the Cover & Perfect is no different.
It comes in 3 different shades to lift and brighten even the most dull and tired of under eye bags, I sure know I need it. The formula offers a medium coverage which isn't drying when applied sparingly, blended well and set to perfection.
[lem_title]BEAUTY SPONGES[/lem_title]
Since these sponges landed in my make-up bag I've not looked back, at less thank £2.50 per sponge, gone are the days where I use sponges for longer than is hygienically acceptable, purely to achieve the cost per use.
The black and pink design is not only beautiful, but functional also with the super soft fibres of the sponges effectively absorbing water and repelling oil to provide a beautiful flawless blend.

[lem_title]BAKED GLOW[/lem_title]
My favourite product from the entire collection has got to be the Baked Highlight Powder in shade 'Pink'. It adds a natural glowing and dewy radiance that can be applied all over the skin or when applied to the cheek and brow bones, can be used as a subtle highlight.
"Non drying, silk like veil with a long lasting finish."
Glowing skin has always been what I strive for, from when I had acne, to today, having a beautiful base of make up is that it's all about and this baked Highlight sweeps over the skin creating a non drying, silk like veil with a long lasting finish.
[lem_title]REFRESH & PREP[/lem_title]
We owe facial sprays a lot. I remember the time when I basically had to reapply my entire face to achieve  a fresh make-up look. But with a spritz over my make face I'm able to breath life back in to my make-up and re-blend where necessary.
"Facial sprays do so much more than just refresh"
But facial sprays do so much more than just refresh, the rehydrate the outer layers of your skin which in turn plumps and rejuvenates not just your make-up but your skin also.
The Refresh & Prep spray from New Look can be applied before or after make-up application.
[lem_title]THE MATTE NUDE[/lem_title]
What is a make up review from me without a matte nude? Of course I couldn't help but fall in love with the Matte Velvet Lip Crayon in shade "Nude" from the New Look Beauty collection. It is incredibly matte, as the name suggests so I use sparingly layered over darker toned lip liners to add dimension and warmth to the lips.
"It's mess free and one of those universal nude shades."
Whilst the Matte Velvet lip pencil is matte, it is also infused with vitamin E to ensure your lips are hydrated and nourished, especially at this time of year.
It's the perfect product to throw in your handbag and refresh your lips on the go, its mess free and one of those universal nude shades that everyone needs in their make-up bag.
Have you tried anything from New Look Beauty? What is your favourite item? What would you like to try?
This post is a sponsored advertorial with New Look.
Photography by Reece Chapman.