my skincare secret weapons
28th October 2015

I love my skin. That's something that I never imagined I would say least of all this side of 25, but I really do. I'm comfortable bare faced, dare I say I even feel a little bit pretty with the right light and angles, I want to ensure I feel like this for as long as possible. My skincare routine used to consist of anything that would dry my oily skin to within an inch of it's life, now I struggle to rid it of its oh-so-matte finish. As mentioned previously, two years ago I underwent the most intense treatment for acne. And whilst many websites claim your oil production returns, I'm still waiting for mine to show it's face and I'm slowly accepting that maybe it's just not coming back. This has meant I've had to completely change my approach to skincare otherwise premature ageing would be sure to take it's place. BEAUTY FROM WITHIN Hydrate Keeping your skin hydrated from within is an absolutely fundamental part of good skin. Aiming to drink between two and three ltrs per day will leave you with noticeably more hydrated skin. If I am too busy to drink my usual amount by the end of the day my throat is raw and my skin is uncomfortably tight. -My top tips for getting the fluids; -Keep a big bottle by your bed to drink throughout the night and ensure it's finished by morning, even if that means you have to drink the majority when you wake. These are valuable fluids to kick start your day. -Take a full ice cold 1ltr bottle to the gym with you, whether you're an early AM or a late evening gym goer. This is a really great time to stay hydrated. -Keep a 2ltr bottle of water […]
I love my skin. That's something that I never imagined I would say least of all this side of 25, but I really do. I'm comfortable bare faced, dare I say I even feel a little bit pretty with the right light and angles, I want to ensure I feel like this for as long as possible. My skincare routine used to consist of anything that would dry my oily skin to within an inch of it's life, now I struggle to rid it of its oh-so-matte finish.
As mentioned previously, two years ago I underwent the most intense treatment for acne. And whilst many websites claim your oil production returns, I'm still waiting for mine to show it's face and I'm slowly accepting that maybe it's just not coming back. This has meant I've had to completely change my approach to skincare otherwise premature ageing would be sure to take it's place.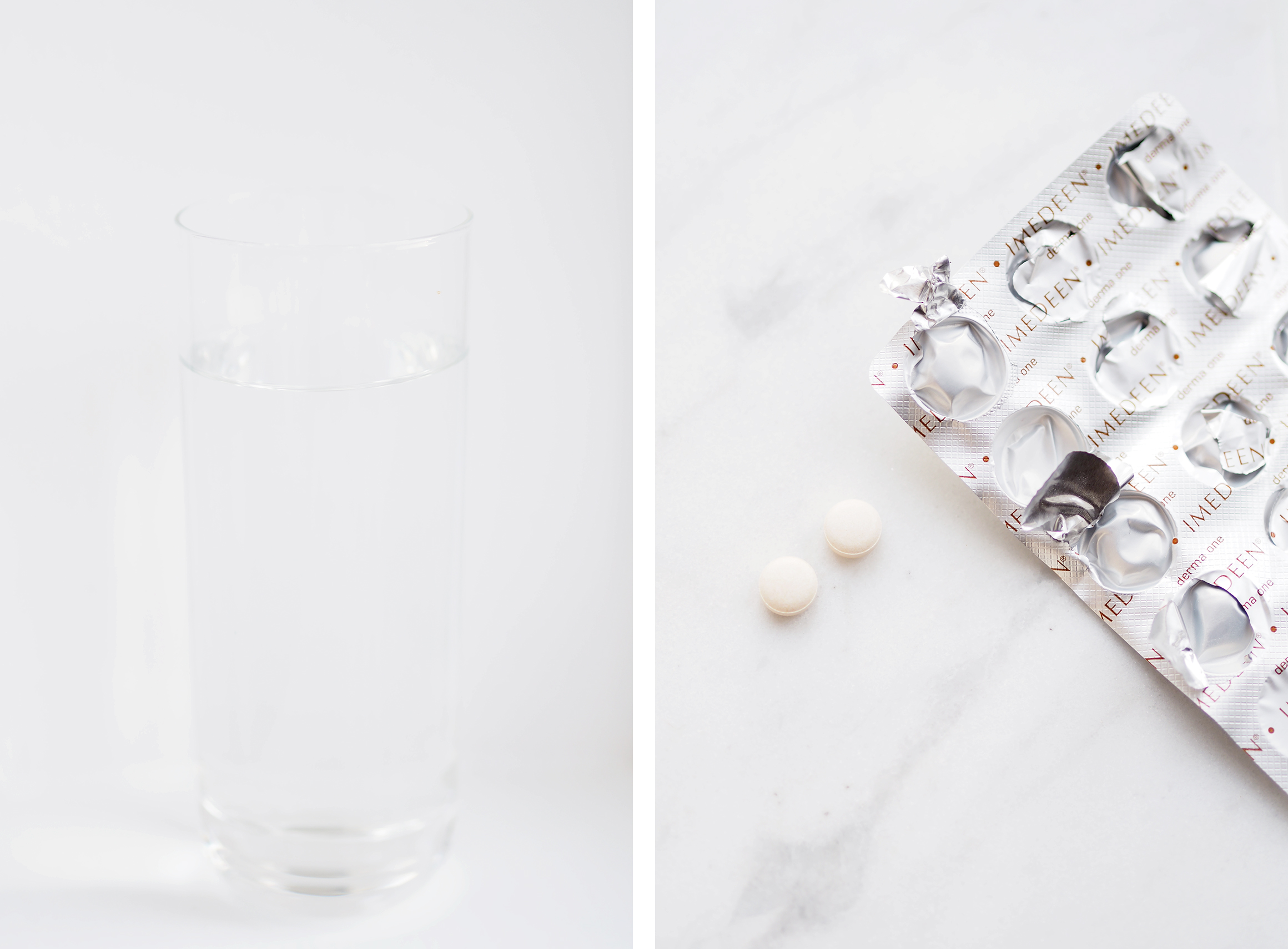 ---
BEAUTY FROM WITHIN
Hydrate
Keeping your skin hydrated from within is an absolutely fundamental part of good skin. Aiming to drink between two and three ltrs per day will leave you with noticeably more hydrated skin. If I am too busy to drink my usual amount by the end of the day my throat is raw and my skin is uncomfortably tight.
-My top tips for getting the fluids;
-Keep a big bottle by your bed to drink throughout the night and ensure it's finished by morning, even if that means you have to drink the majority when you wake. These are valuable fluids to kick start your day.
-Take a full ice cold 1ltr bottle to the gym with you, whether you're an early AM or a late evening gym goer. This is a really great time to stay hydrated.
-Keep a 2ltr bottle of water on your desk, you will be amazed by how much you get through it when it's staring you in your face.
Supplement your skin
This is where you really take your skincare to the next level. I first heard about Imedeen whilst browsing Boots a few weeks ago and my interest was instant. Obviously as a blogger I took to the World Wide Web to find out more and doing so left me eager and excited for my three month course to arrive, so much so that I even made sure Ali had his own. The tablets claim to boost radiance in those up to 30, combat fine lines in those 40 and up and keep the devastating effects of the menopause at bay in those 50+ and judging by the reviews I'm excited to see improved skin quality, moisture balance and smoother more radiant skin whilst also protecting myself against ageing. The tablets include the unique Marine Complex which is similar to the collagen elements found naturally within your skin as well as Vitamin C and Zinc.
I am are currently taking the Derma One tablets twice daily which was established as the best option for my skin following my scan which showed the areas where my skin required extra care. Ali is also taking the same tablets and we are currently going into our second week and I plan on sharing my results with you in a few months time. It feels good to be doing something more for our skin.
---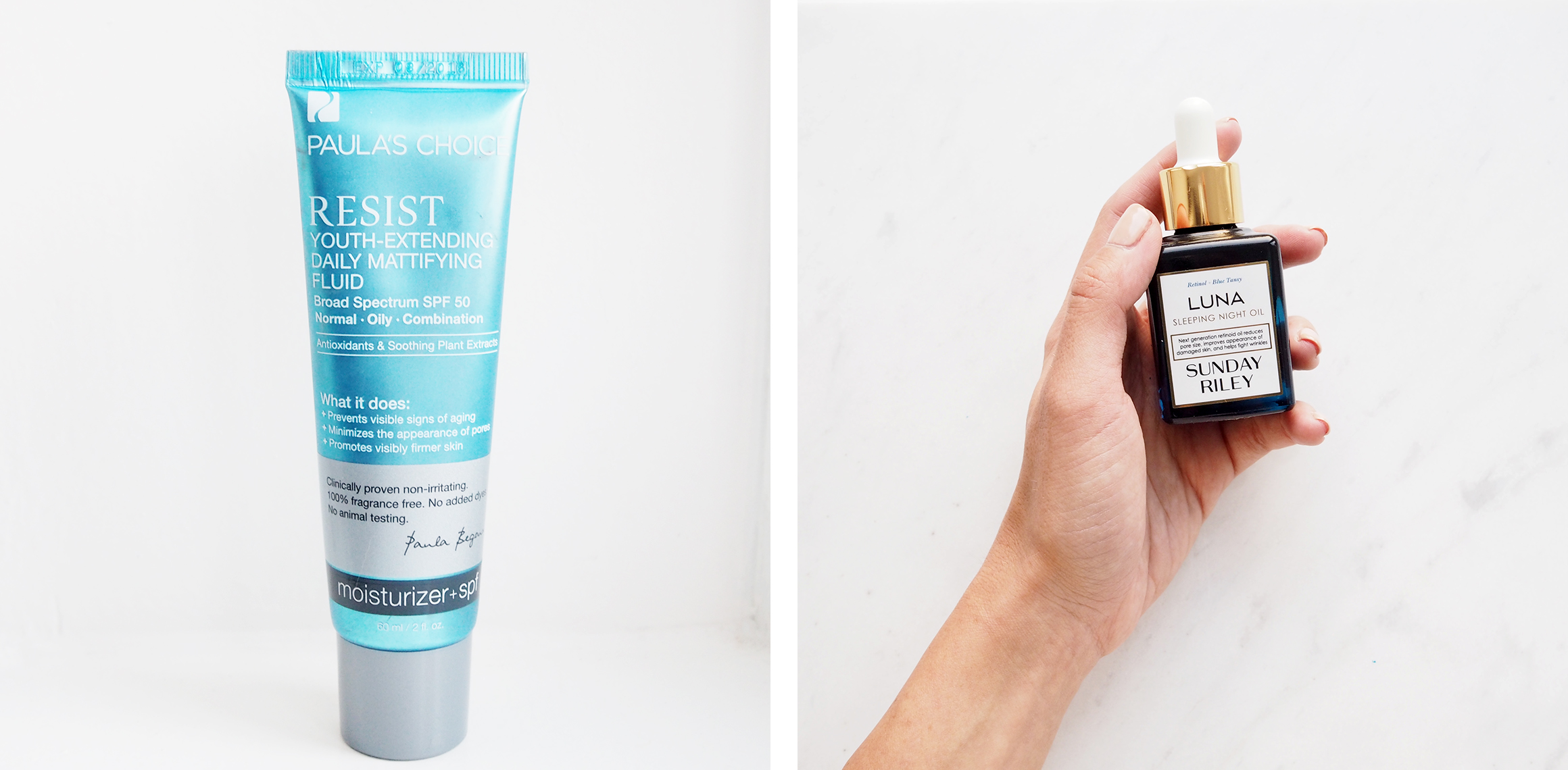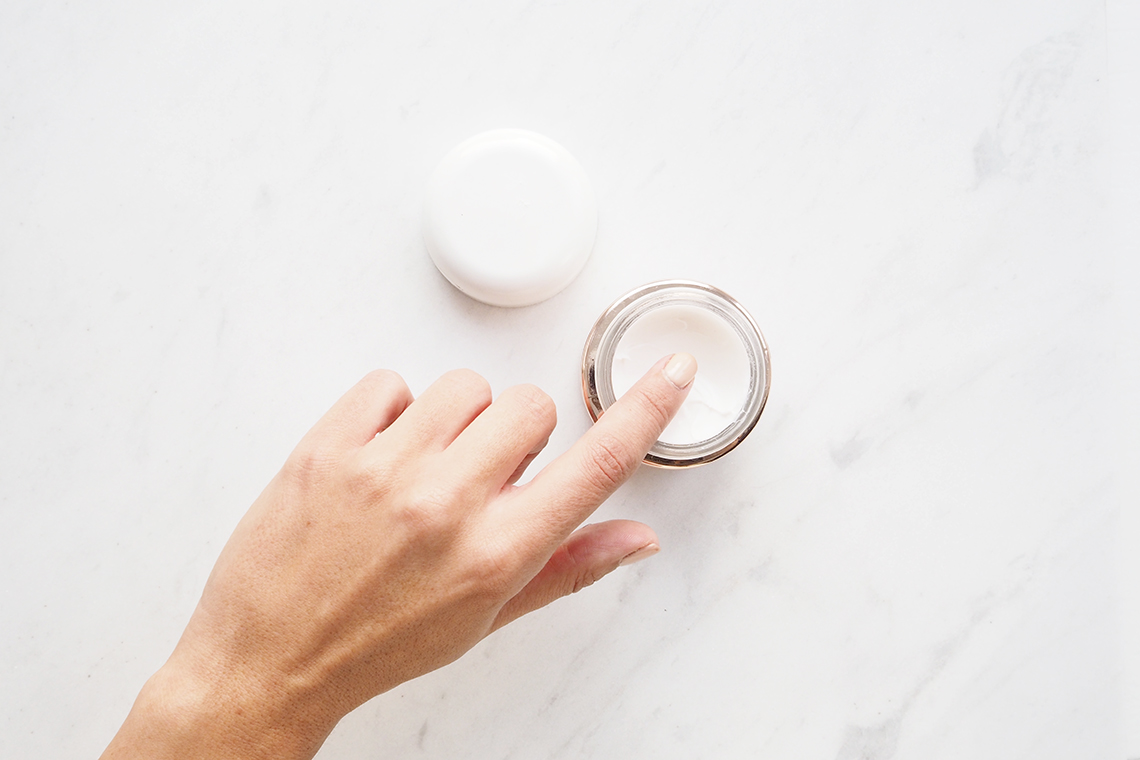 ---
BEAUTY ON THE SURFACE
My eclectic mix of high street and high-end style is something you wont find when it comes to really taking care of my skin's surface. Here you will find my top three products straight from my bathroom cabinet.
Sunday Riley Luna Sleeping Night Oil
This oil is my little night time miracle, packed with antioxidant and moisturising ingredients as well as trans-retinol tester which I find to be a much milder yet effective way to reap the full benefits of retinol without causing any flaking or soreness. It's blue colour comes from the Blue Tansy ingredient which boasts antibacterial, antihistamine & anti-inflammatory benefits. It's amazing stuff!
Creme de la Mer Moisturising Cream
When I first used this cream I wasn't impressed, the texture initially felt like I was spreading the contents of one of those awful blue Nivea body cream tins onto my face which is not what you expect from a cream costing £100. However it's when you walk away and allow it to sink in that you notice how silky smooth and radiant it leaves your skin.  It's ultra rich so I try not to use it too often, try being the key word. But I love how it soothes my skin when my oil production really is playing hard to get.
Paula's Choice Youth Extending 50spf
Factor 50 – if you aren't wearing it then you really should be. Foundation SPF's really don't count and it's important to protect your skin accordingly especially when using lots of different skincare products. This product is light and inoffensive like a lot of high factor products which is great if you don't enjoy the greasy feeling which some SPF's leave behind. I apply this directly under my make up and enjoy the protection all day.
Do you have any skincare secret weapons of your own?
All Imagery shot on the Olympus PEN E-PL7 & 45mm lens.
---
This post was sponsored by Imedeen however all opinions & reviews are very much my own.