my guide to the perfect nude lip
10th February 2016

A nude lip has inadvertently become a signature look of mine. It gives me the definition which my lips unfortunately lack, without leaving the sensation of looking "over done". It softens my features whilst ensuring I feel put together and polished. Just the way I like. The quest for the perfect nude shade is something many of us are on, does it wash me out? Do I suit cooler or warmer nude tones? Tom Ford or M.A.C.? The hurdles we face when attempting to settle on one is arduous and with so much choice, why would you want to settle for just one? Matte, Gloss, liquid or Pencil I've put together my favourite Lip combinations from the top brands to have absolutely nailed it when it comes to Nude. [lem_title]TOM FORD[/lem_title] Nude Vanille from design power house Tom Ford, sits right at the top of my nude spectrum with it's stunning powder peach tones and cream formula, I layer it effortlessly over M.A.C.'s Soar lip liner which transforms this lipstick into a front runner for olive skin tones. It leaves behind a subtle sheen to the lips, keeping them moisturised and hydrated whilst the matte lip pencil provides longevity throughout the day. Price £38 Available at Selfridges [show_shopthepost_widget id="1390680″] [lem_title]CLARINS[/lem_title] The most hydrating of them all, comes from one of the most well respected brands in the business, Clarins and their Joli Rouge collection. Pink Praline is a soft pinky nude shade with a subtle satin finish and is the perfect nude lip for every day wear. Layered over M.A.C.'s Spice lip liner to add depth for my darker toned skin this combination is a delicate pick-me-up for your every day makeup look. Price £19.50 Available at Selfridges, John Lewis & Debenhams [show_shopthepost_widget id="1390676″] [lem_title]KAT VON D[/lem_title] A first in my beauty […]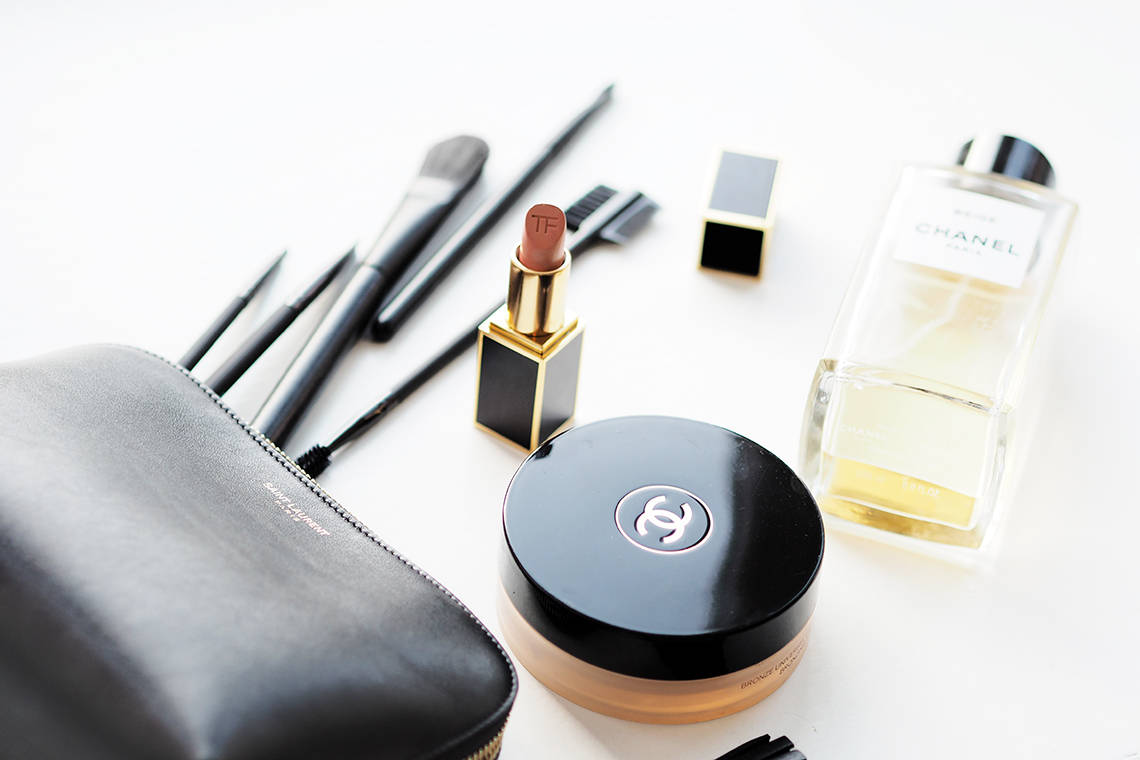 A nude lip has inadvertently become a signature look of mine. It gives me the definition which my lips unfortunately lack, without leaving the sensation of looking "over done". It softens my features whilst ensuring I feel put together and polished. Just the way I like. The quest for the perfect nude shade is something many of us are on, does it wash me out? Do I suit cooler or warmer nude tones? Tom Ford or M.A.C.? The hurdles we face when attempting to settle on one is arduous and with so much choice, why would you want to settle for just one? Matte, Gloss, liquid or Pencil I've put together my favourite Lip combinations from the top brands to have absolutely nailed it when it comes to Nude.
[lem_title]TOM FORD[/lem_title]
Nude Vanille from design power house Tom Ford, sits right at the top of my nude spectrum with it's stunning powder peach tones and cream formula, I layer it effortlessly over M.A.C.'s Soar lip liner which transforms this lipstick into a front runner for olive skin tones.
It leaves behind a subtle sheen to the lips, keeping them moisturised and hydrated whilst the matte lip pencil provides longevity throughout the day.
Price £38
Available at Selfridges
[show_shopthepost_widget id="1390680″]
[lem_title]CLARINS[/lem_title]
The most hydrating of them all, comes from one of the most well respected brands in the business, Clarins and their Joli Rouge collection. Pink Praline is a soft pinky nude shade with a subtle satin finish and is the perfect nude lip for every day wear.
Layered over M.A.C.'s Spice lip liner to add depth for my darker toned skin this combination is a delicate pick-me-up for your every day makeup look.
Price £19.50
Available at Selfridges, John Lewis & Debenhams
[show_shopthepost_widget id="1390676″]
[lem_title]KAT VON D[/lem_title]
A first in my beauty box that would go on to spark an endless love affair, the Kat Von D Everlasting liquid lipstick in shade Bow n' Arrow. No layering necessary except a subtle ombre, this nude lip will last the whole day with one application. It does not budge.
The cool tones are complimented by the warmth of a peach cheek and pitch black lashes. This is the new age of the 'Statement Nude'.
Price $20
Available at Sephora (sold out)
[show_shopthepost_widget id="1390695″]
[lem_title]BYTERRY[/lem_title]
The newest nude addition to my essential combinations comes from Parisienne Beauty Brand ByTerry and I am obsessed. This liquid formula delivers the very best of a lipgloss along side that of a lipstick leaving a plumped and defined lip line with sumptuous hydration, pigment and the scent of Violet and Rose.
Layered over M.A.C.'s Soar lip pencil to add a subtle fullness, a second coat is applied for maximum colour.
Price £30
Available at Net-A-Porter, Very Exclusive & Feel Unique
[show_shopthepost_widget id="1390700″]
[lem_title]M.A.C.[/lem_title]
The shade that started it all and my fail safe every day nude lip, M.A.C. Honey-love layered over the ever versatile Spice lip pencil. The combination that taught me all I needed to know about creating the perfect shade for your skin tone. With it's light beige tone, honey-love was not made for olive complexions but simply introduce the base of warming tones which Spice encapsulates, you are able to tailor make the most perfect matte nude finish.
Price £15
Available at Selfridges
[show_shopthepost_widget id="1390704″]