my code of conduct
3th August 2017

Sometimes I have to admit that it takes me a couple of seconds to process the enormity of it all and how far the Creator Space has come. But there is definitely a change in the way we are accepted by our audiences and the transparency, authenticity and general integrity that we all started off our "Hobbie Blogs" with seems to be even more important in present day. We were girls in our bedrooms with opinions, reviews, styling advice and more and we were the one source you could go to with confidence, that fact is always at the forefront of my mind. As I write this I am sat snuggled under a blanket as the rain hits the window, it's gloomy and cold even though it's August but it has me a little excited for Autumn. This exact set up takes me back to the day, sat on my University apartment sofa, I made the decision to start my blog. A decision that would change my path in life in the most unimaginable way. I treat every day that I work online, with the same importance and excitement as I did that day 6 years ago. Except now it is all so very different. The contracts, the trips, the freebies sound like something meant for rockstars or footballers, not a girl from Croxley Green. The industry has gotten so big that people often ask the question "when will the bubble burst?" and I firmly believe that it's only the people who don't look after their integrity who need worry about anything bursting. With this in mind I wanted to write down what it is that I do, how I do it and the morals, values and beliefs I keep with me every step of the way. SPONSORED CONTENT […]
Sometimes I have to admit that it takes me a couple of seconds to process the enormity of it all and how far the Creator Space has come. But there is definitely a change in the way we are accepted by our audiences and the transparency, authenticity and general integrity that we all started off our "Hobbie Blogs" with seems to be even more important in present day.
We were girls in our bedrooms with opinions, reviews, styling advice and more and we were the one source you could go to with confidence, that fact is always at the forefront of my mind.
As I write this I am sat snuggled under a blanket as the rain hits the window, it's gloomy and cold even though it's August but it has me a little excited for Autumn. This exact set up takes me back to the day, sat on my University apartment sofa, I made the decision to start my blog. A decision that would change my path in life in the most unimaginable way. I treat every day that I work online, with the same importance and excitement as I did that day 6 years ago. Except now it is all so very different. The contracts, the trips, the freebies sound like something meant for rockstars or footballers, not a girl from Croxley Green.
The industry has gotten so big that people often ask the question "when will the bubble burst?" and I firmly believe that it's only the people who don't look after their integrity who need worry about anything bursting.
With this in mind I wanted to write down what it is that I do, how I do it and the morals, values and beliefs I keep with me every step of the way.
SPONSORED CONTENT
It's not going anywhere because when done right, it works. When brands pick Creators with relevant audiences rather than just large audiences, when they work with creators who have integrity rather than just nice pictures and when authentic collaborations come together through sound creator > brand relationships, that is when the magic happens and the full power of what we do is tangible and real.
My approach to sponsored content is always the same, I ask myself one question "Would I tell my family or friends about this product?". Whether the product is a £200 lip balm or a £6 cami from New Look, if it rocked my world, I want it to rock yours too.
Yes, I have a focus on high end fashion because pretty packaging and over priced handbags send me potty but I try not to let "My Brand" lead my integrity too much, it's important to know your limits but if I have something I love that I want to tell you about whether it's from the High-Street or Bond Street, I will tell you about it.
DRAMA/HATE/ONLINE NEGATIVITY
I try to be the best person I know how to be. That won't always be the same for everyone, opinions differ and personalities clash but one thing I will always stand up for is what I believe in. Growing up I was really lucky not to have family who molly coddled me and I always fought my own battles, It meant I've always felt strong enough to stand my ground and speak up even if my voice shakes. Whether directed at me or someone else if I feel something is wrong, unjust or could even remotely be construed as bullying I will make my stance heard. Some prefer to sit out of these things but I've always been that person who speaks up for what they believe in as much as I can but I try to always pick my battles wisely.
I value "my brand" but I value my humility far more.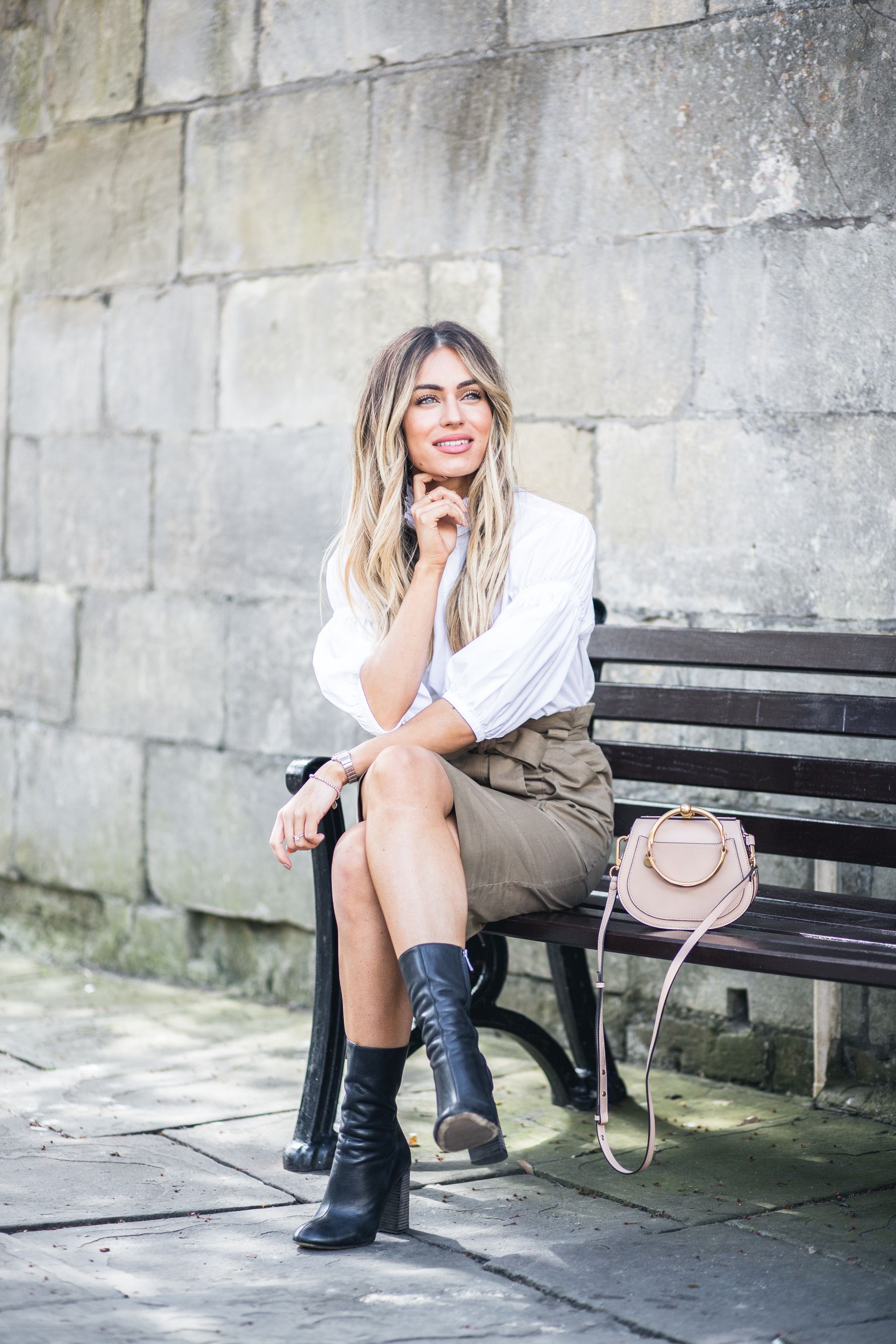 AFFILIATE LINKS
I use them, I have used them for years and never imagined there would be a problem with that. But I understand that transparency is key so I try to be as open and honest about the fact that I use them as possible. Perhaps because I am a creator, it seems quite innocent when I receive £3 for showing you what that Topshop dress looked like on me and how I would style it but  aside from the money factor, it's also a huge indicator for me regarding what you as my audience like to see, where you shop, how you shop and what you like to buy. It was how I knew that there was a lot more space on my channel to talk about higher price point products than I realised despite there being a few voices which thought otherwise, I'll never forget that £200 Baume De Rose special edition and the back lash I received for it vs how many people actually went on to buy it. It was incredible because as a Baume De Rose addict, it was great to see how many of you I shared the obsession with!
Affiliate links also give me the security to be ALOT more picky with the collaborations I undertake which I feel is such a great space to be in. Not feeling the pressure of being able to live comfortably hanging over every collaboration that comes into my inbox is a very nice feeling and if telling you about products that I love (which they always will be) or showing you what I've been buying recently (which I do tend to buy a lot) enables me to do that, well I think thats pretty great. You don't have to buy anything but hopefully I am able to help a little with whether you do or not.
All of my Youtube videos which go out twice a week are clearly labelled as using affiliate links even when not all of the links/sometimes no links at all are affiliate links. For me I would prefer you thought all my links were affiliate links than run the risk of not marking one correctly so I believe this removes any chance of error and the same goes for my Instagram and here on my blog. Basically, everything is an affiliate link unless stated otherwise.
RELATABILITY
I didn't fit in at school and I don't feel I fit in now either but I'm starting to realise that this can be a good thing even if it doesn't always feel like it. I started my blog making content I wanted to read and I started my Youtube making videos I wanted to watch. It wasn't ever about being relatable to the masses and appealing to the biggest audience, if I'm perfectly honest, I didn't think anyone would ever watch so to average 200K views a video genuinely blows my my mind. I have to enjoy making my content first and foremost,  because if I don't, to me this isn't genuine content. But I also want readers and subscribers to enjoy it as well, I listen, I filter and I take on board but I don't cater my content to be relatable but if it is, AMAZING!
PHOTOSHOP
Except for a bit of filter here, some brightness there and maybe a tidy up (pesky cigarette butts) there won't be any.
The beauty of blogging is, you make the rules you do it your way but I personally want everything I put out into the space to have a positive impact in some shape or form, I want my content to inspire and not intimidate and I want to be able to say I stood up for what I believe in without being unnecessarily harsh about it. I want to ensure we are all on the same page and that you know where I stand on matters so I felt, after 6 years of doing this, I knew exactly what it was I wanted to stand for.
I would love to know your code of conduct when it comes to your blog, youtube or simply life in general!