million star motel
16th February 2012

Leopard Body Suit – C/O Motel Rocks Dress (worn as skirt) – C/O InLoveWithFashion Hat – H&M Necklace & Cuffs – H&M Shoes – Jeffrey Campbell So It's taken me a couple of minutes to actually click the post button on this post, I'm not quite sure whats wrong with me but all of a sudden I have the huge wave of self doubt over my blog. I hate feeling like this! It got to the point that I actually deleted my look from yesterday off of lookbook….what the bloomin'eck?! But anyway, When I saw this leopard print on a pair of shorts that Charlene was rockin' in a number of posts I was over the moon when Motel sent it to me, However when I actually tried to outfit post it how I wanted (i.e. without the skirt and thick black tights) I couldn't do it, I just got all self-conscious at the fact that the top of my legs do not look like they belong to the bottom of my legs so sorry guys! But I still absolutely love this print and and shape around the bust, it actually makes me look like there might actually be something in there and that is an achievement! Also the fact that it fit me like a glove is a plus, I'm thinking of teaming it with some sexual high-waisted leather shorts, You down with that? The New Arrivals page of Motel's website fills me with so much excitement for the coming seasons…LOOK AT ALL THE PRETTY COLOURS! But I have a lil bit of a confession when Motel sent me these items, they also gave me a discount code to give to you guys, but it was a first for me and within all the excitement of […]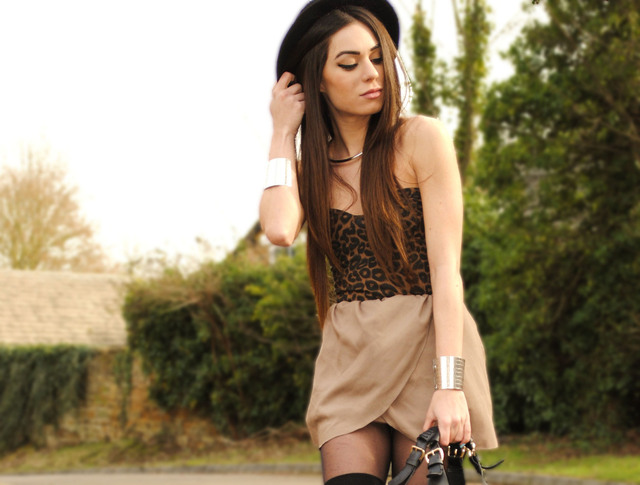 So It's taken me a couple of minutes to actually click the post button on this post, I'm not quite sure whats wrong with me but all of a sudden I have the huge wave of self doubt over my blog. I hate feeling like this! It got to the point that I actually deleted my look from yesterday off of lookbook….what the bloomin'eck?!
But anyway, When I saw this leopard print on a pair of shorts that
Charlene
was rockin' in a number of posts I was over the moon when Motel sent it to me, However when I actually tried to outfit post it how I wanted (i.e. without the skirt and thick black tights) I couldn't do it, I just got all self-conscious at the fact that the top of my legs do not look like they belong to the bottom of my legs so sorry guys! But I still absolutely love this print and and shape around the bust, it actually makes me look like there might actually be something in there and that is an achievement! Also the fact that it fit me like a glove is a plus, I'm thinking of teaming it with some sexual high-waisted leather shorts, You down with that?
The
New Arrivals
page of Motel's website fills me with so much excitement for the coming seasons…LOOK AT ALL THE PRETTY COLOURS! But I have a lil bit of a confession when Motel sent me these items, they also gave me a discount code to give to you guys, but it was a first for me and within all the excitement of posting my look for them…I forgot, I really hope you can forgive me.
Just type
ITSLOVE15 in at the check out to receive 15% off your Order, GO GO GOOOOOOO!
| Follow LydiaEliseMillen on TWITTER | Follow LydiaEliseMillen on BLOGLOVIN |