marlon brando, pocahontas and me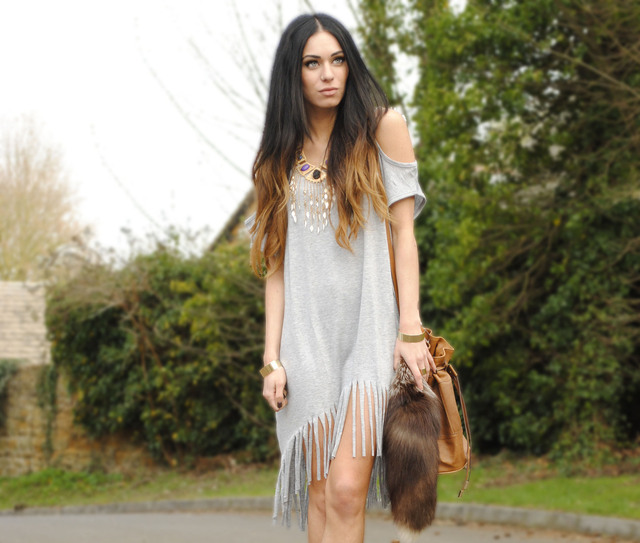 4th April 2012

Dress & Necklace – C/O ROMWE Shoes – Office Bag, Cuffs, Rings – H&M Bag Charm – eBay I cannot believe I now have the pleasure of collaborating with online MEGA store Romwe! In all seriousness this is amazing, it took me like 2 weeks to be able to choose the items because my list was as long as my arm. I ended up settling on this grey jersey dress which I think is me channeling my inner Ibiza-Girl, that's gonna be something I find hard to let go of…News Flash…Last summer as it turns out was my last summer on the White Island…It's time to grow up and get me a proper job…BOO HOO! Gonna keep this post short for you, mainly because I have been non-stop typing for the past 3 days t so gimmie a dayam break!!! MWAH x | Follow LydiaEliseMillen on TWITTER | Follow LydiaEliseMillen on BLOGLOVIN | | Follow LydiaEliseMillen on FACEBOOK | Follow LydiaEliseMillen on GOOGLEFRIENDCONNECT |
In all seriousness this is amazing, it took me like 2 weeks to be able to choose the items because my list was as long as my arm. I ended up settling on this grey jersey dress which I think is me channeling my inner Ibiza-Girl, that's gonna be something I find hard to let go of…News Flash…Last summer as it turns out was my last summer on the White Island…It's time to grow up and get me a proper job…BOO HOO!
Gonna keep this post short for you, mainly because I have been non-stop typing for the past 3 days t
so gimmie a dayam break!!!
MWAH x
| Follow LydiaEliseMillen on TWITTER | Follow LydiaEliseMillen on BLOGLOVIN |