lfw diary | day three
22th February 2016

[lem_title]THE OUTFIT[/lem_title] Today's post comes a little later than intended, however I enjoyed a much needed relaxing evening in my hotel room with room service and the gorgeous Suzie. The outfit I wore for Day three of London Fashion Week was one of those outfits that happen by chance, unplanned and impulsive and also a tad adventurous in regards to my usual style. Again opting for a pair of those beautiful yet comfortable Joseph trousers in nude I decided to team them with a Joseph Silk oversized tee of the same shade with contrasting leather accessories and a cream coat thrown over the shoulders to break it all up, some how it all worked which suited me just fine as I felt comfortable running manically across London for back to back shows. Photography by Joseph Galvin [lem_title]THE SHOWS[/lem_title] DAVID KOMA I think I enjoyed David Koma more than I imagined I would as I felt like so many of his designs were wearable and channeled my own style infusing masculine tailoring with feminine details to a very monochrome heavy spectrum. The hair was loose and untouched with a high gloss finish whilst the beautiful Make-up by NARS' Andrew Gallimore was muted, leaving the attention to detail around the eyes, to do all the talking with a modern day twist given to the classic eyeliner look. The base was created using NARSskin Multi-Action Toner, Optimal Brightening Concentrate and Luminous Moisture Cream for the skin and Pure Radiant Tinted Moisturiser, stick concealer and light reflecting loose setting powder. The "Graphic & slightly futuristic" eyes were created using the Minorque Kohliner, Black Moon Velvet Eyeliner (released AW16) and Black Valley Eye paint. For the brows; Oural Brow Gel and Bianca Pure Sheer SPF Lip Treatment. TOPSHOP UNIQUE The Star studded show, true to […]
[lem_title]THE OUTFIT[/lem_title]
Today's post comes a little later than intended, however I enjoyed a much needed relaxing evening in my hotel room with room service and the gorgeous Suzie. The outfit I wore for Day three of London Fashion Week was one of those outfits that happen by chance, unplanned and impulsive and also a tad adventurous in regards to my usual style. Again opting for a pair of those beautiful yet comfortable Joseph trousers in nude I decided to team them with a Joseph Silk oversized tee of the same shade with contrasting leather accessories and a cream coat thrown over the shoulders to break it all up, some how it all worked which suited me just fine as I felt comfortable running manically across London for back to back shows.
Photography by Joseph Galvin
[lem_title]THE SHOWS[/lem_title]
DAVID KOMA
I think I enjoyed David Koma more than I imagined I would as I felt like so many of his designs were wearable and channeled my own style infusing masculine tailoring with feminine details to a very monochrome heavy spectrum.
The hair was loose and untouched with a high gloss finish whilst the beautiful Make-up by NARS' Andrew Gallimore was muted, leaving the attention to detail around the eyes, to do all the talking with a modern day twist given to the classic eyeliner look. The base was created using NARSskin Multi-Action Toner, Optimal Brightening Concentrate and Luminous Moisture Cream for the skin and Pure Radiant Tinted Moisturiser, stick concealer and light reflecting loose setting powder.
The "Graphic & slightly futuristic" eyes were created using the Minorque Kohliner, Black Moon Velvet Eyeliner (released AW16) and Black Valley Eye paint. For the brows; Oural Brow Gel and Bianca Pure Sheer SPF Lip Treatment.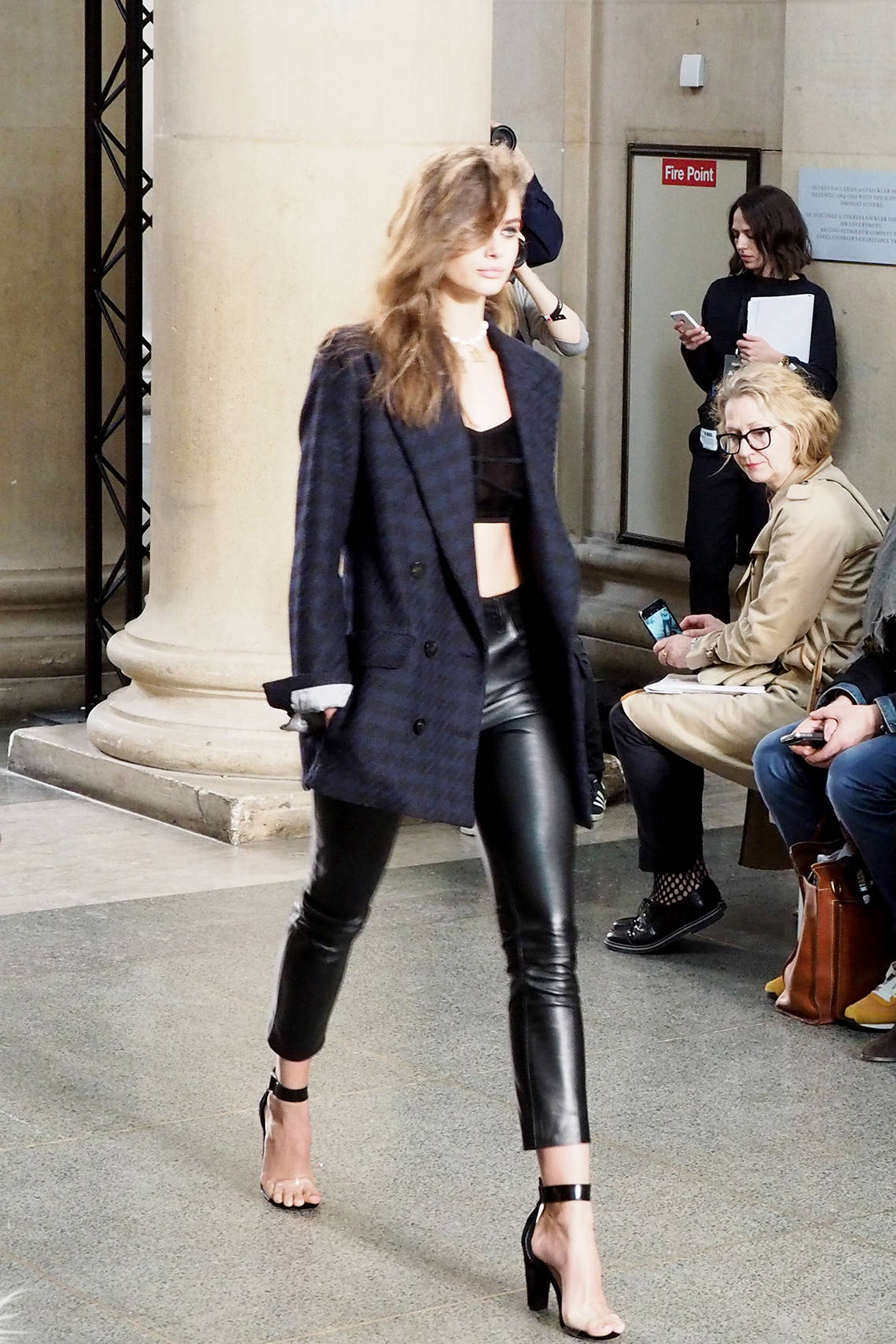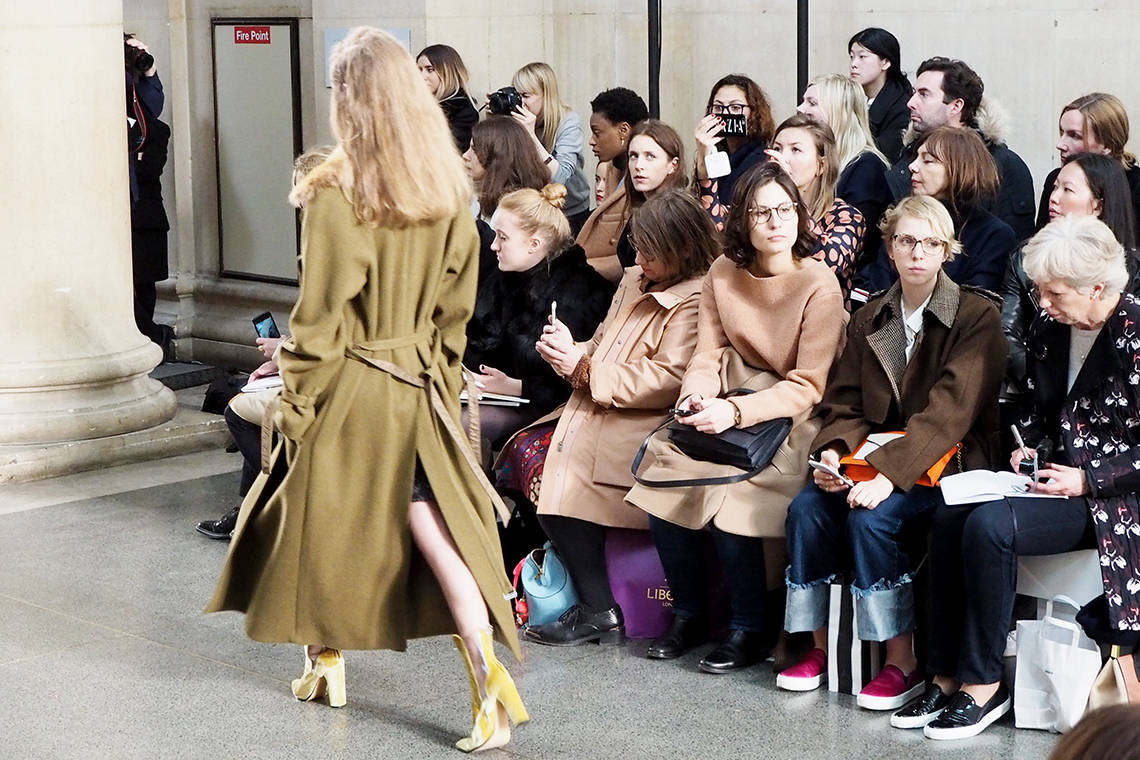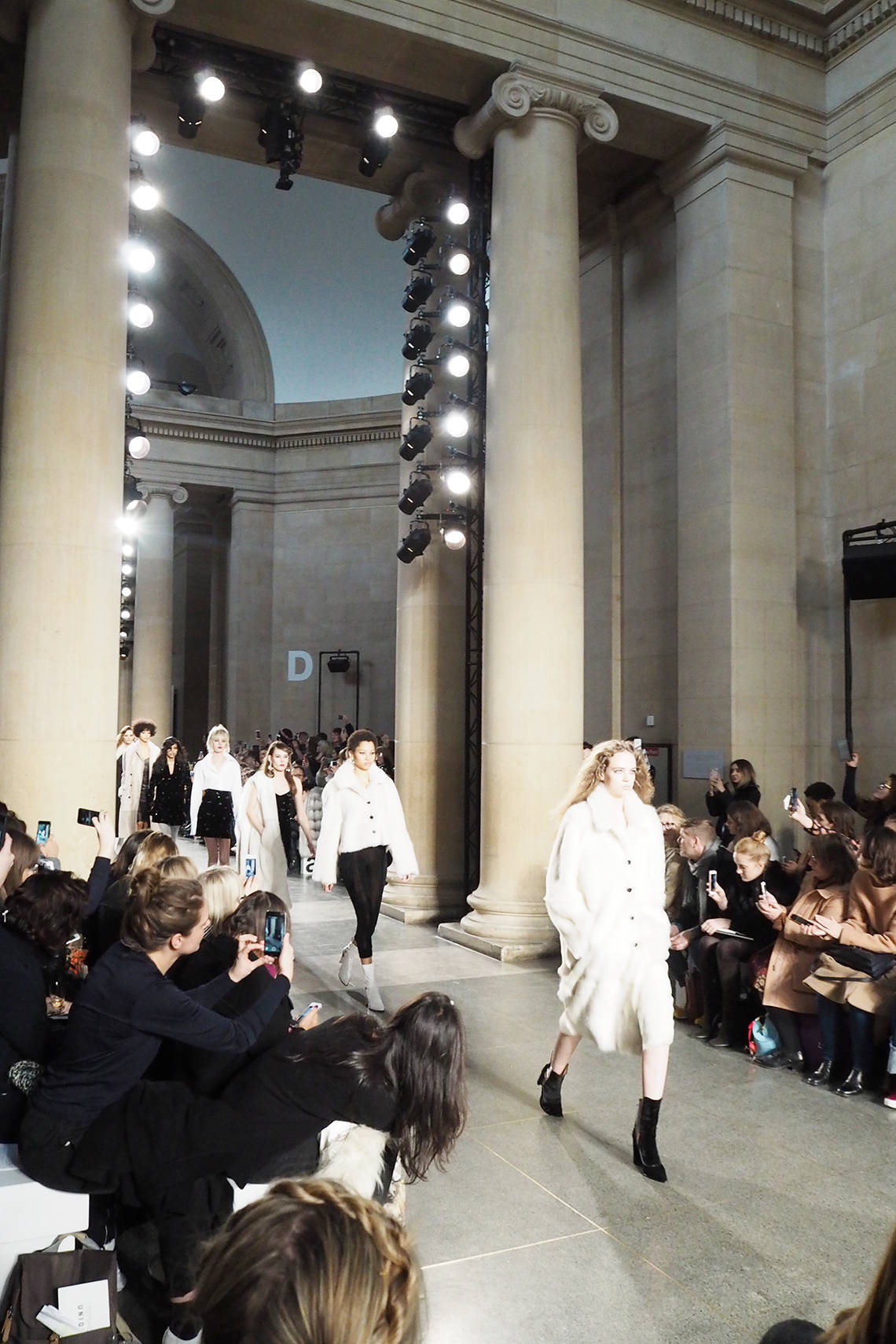 TOPSHOP UNIQUE
The Star studded show, true to form did not disappoint with the absolutely stunning venue of the Tate Modern. A hint of the 80's running throughout the look from hair to clothing. Using the Techni.ART Full Volume Mousse and Pli along side Infinium Hair spray each model was given their own Individual look which complimented the heavy autumnal furs and hues of the collection. The finished look took me back to my favourite childhood story books; The woodland Fairies