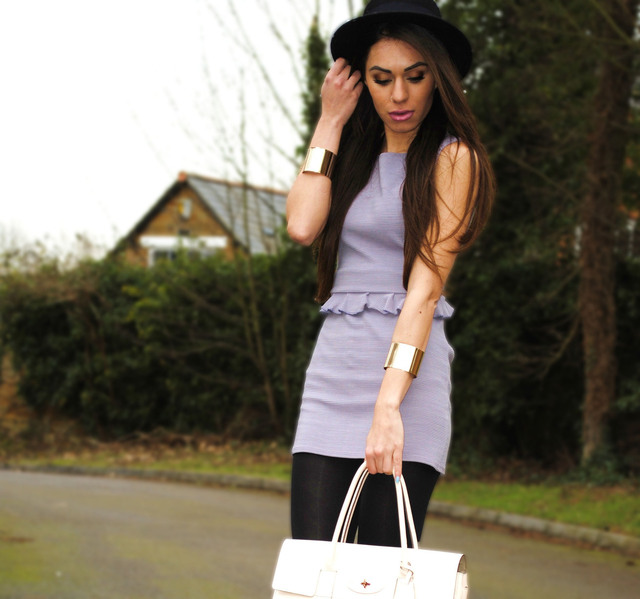 Dress – C/O INLOVEWITHFASHION Hat – H&M Cuffs – H&M Bag – Mulberry C/O Victoria Shoes – Melody Lipstick – M.A.C. Chatter Box
In an ideal world, the pins would most definitely be out in these pictures but even though it isn't subzero outside, I'm still not about to give it ago! I hadn't planned to do this outfit today but I could just about get it to look OK in this grey light, still deserves some sunshine though.
I was feeling very brave when I chose this dress from the ever generous team over at
LOVE
, I decided to start challenging myself a little. This dress is SO pretty and girly I thought I would have a job making it "Lydia". I initially teamed it with a beige floppy sun hat but actually felt my usual head candy dressed it down in terms of me and made me feel more like myself ha-ha. I always think its impossible for
LOVE
to out do themselves but every time I check back over their website there are
new dresses
even more amazing than before, I feel like we should all say a big thank you to them for being soopa doopa fabulous! However if you love this dress as much as I do you can pick it up
HERE
!
On a slightly more depressing note, did you know it was Valentines Day yesterday? It's not like all the tweets and status' with pictures of bunches of roses attached made me vom in my mouth slightly….Yes I know I'm being bitter as I spend yet another year without the most incredible boyfriend in the world as he is still abroad as he works as a Skiss Ski Instructor, I deserve a medal for being able to cope with it haha!
However my beautiful friend Freya and I found ourselves in similar situations as her boyfriend had to work a night shift so we popped out for some cocktails to make ourselves feel better. Feel like sh*t today though haha!
| Follow LydiaEliseMillen on TWITTER | Follow LydiaEliseMillen on BLOGLOVIN |