i can be your china doll
20th February 2012

3D Rose Jumper – C/O China Doll Boutique Shirt – Primark Silver Collar – Topshop Skirt (DIY) – Primark Hat – H&M Bag – H&M Shoes – Jeffrey Campbell Bracelets – eBay & Pandora Wooooaaahhhh!! Image over load, eh? May have got a tad snap happy on this one but I'm head over JC's about this outfit. I haven't worn this skirt (which I made from a dress) in YONKS but when the fabulous team from China Doll Boutique sent me this jumper I knew I'd be diggin' it out. I'd been and eyed up the similar version in America Apparel when it first appeared in stores but for well over £60(?) I wasn't down with it, it was also a tad on the large size whereas when I put this on it fit really nicely, sitting exactly on the waist line, perfect for high-waisted shorts and skirts. Now I want opinions on the bag? I'm a lover of bags that I could sleep in should I ever be homeless so this was a bit of a strange purchase for me, its…..cute?! But I was fed up of lugging my bags-of-death on nights out and people commenting so I thought this was a nice Celine inspired alternative, But you are welcome to try and convince me otherwise! And finally to all you people who attended London Fashion Week. I Hate You! ha ha 😛 x | Follow LydiaEliseMillen on TWITTER | Follow LydiaEliseMillen on BLOGLOVIN | | Follow LydiaEliseMillen on FACEBOOK | Follow LydiaEliseMillen on GOOGLEFRIENDCONNECT |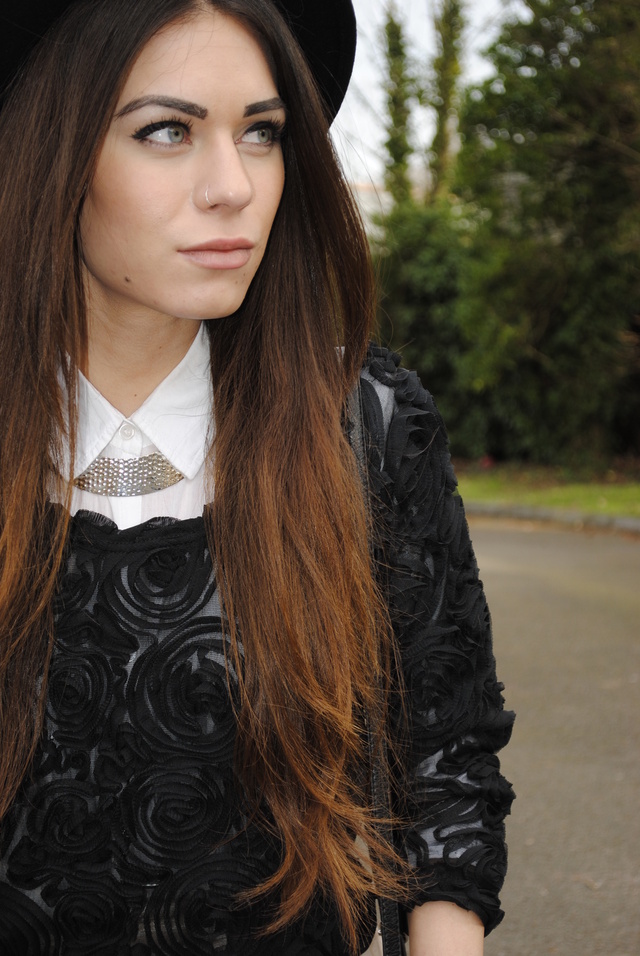 3D Rose Jumper – C/O China Doll Boutique Shirt – Primark Silver Collar – Topshop Skirt (DIY) – Primark
Hat – H&M Bag – H&M Shoes – Jeffrey Campbell Bracelets – eBay & Pandora
Wooooaaahhhh!! Image over load, eh? May have got a tad snap happy on this one but I'm head over JC's about this outfit. I haven't worn this skirt (which I made from a dress) in YONKS but when the fabulous team from
China Doll Boutique
sent me this jumper I knew I'd be diggin' it out.
I'd been and eyed up the similar version in America Apparel when it first appeared in stores but for well over £60(?) I wasn't down with it, it was also a tad on the large size whereas when I put this on it fit really nicely, sitting exactly on the waist line, perfect for high-waisted shorts and skirts.
Now I want opinions on the bag? I'm a lover of bags that I could sleep in should I ever be homeless so this was a bit of a strange purchase for me, its…..cute?! But I was fed up of lugging my bags-of-death on nights out and people commenting so I thought this was a nice Celine inspired alternative, But you are welcome to try and convince me otherwise!
And finally to all you people who attended London Fashion Week. I Hate You! ha ha 😛
x
| Follow LydiaEliseMillen on TWITTER | Follow LydiaEliseMillen on BLOGLOVIN |