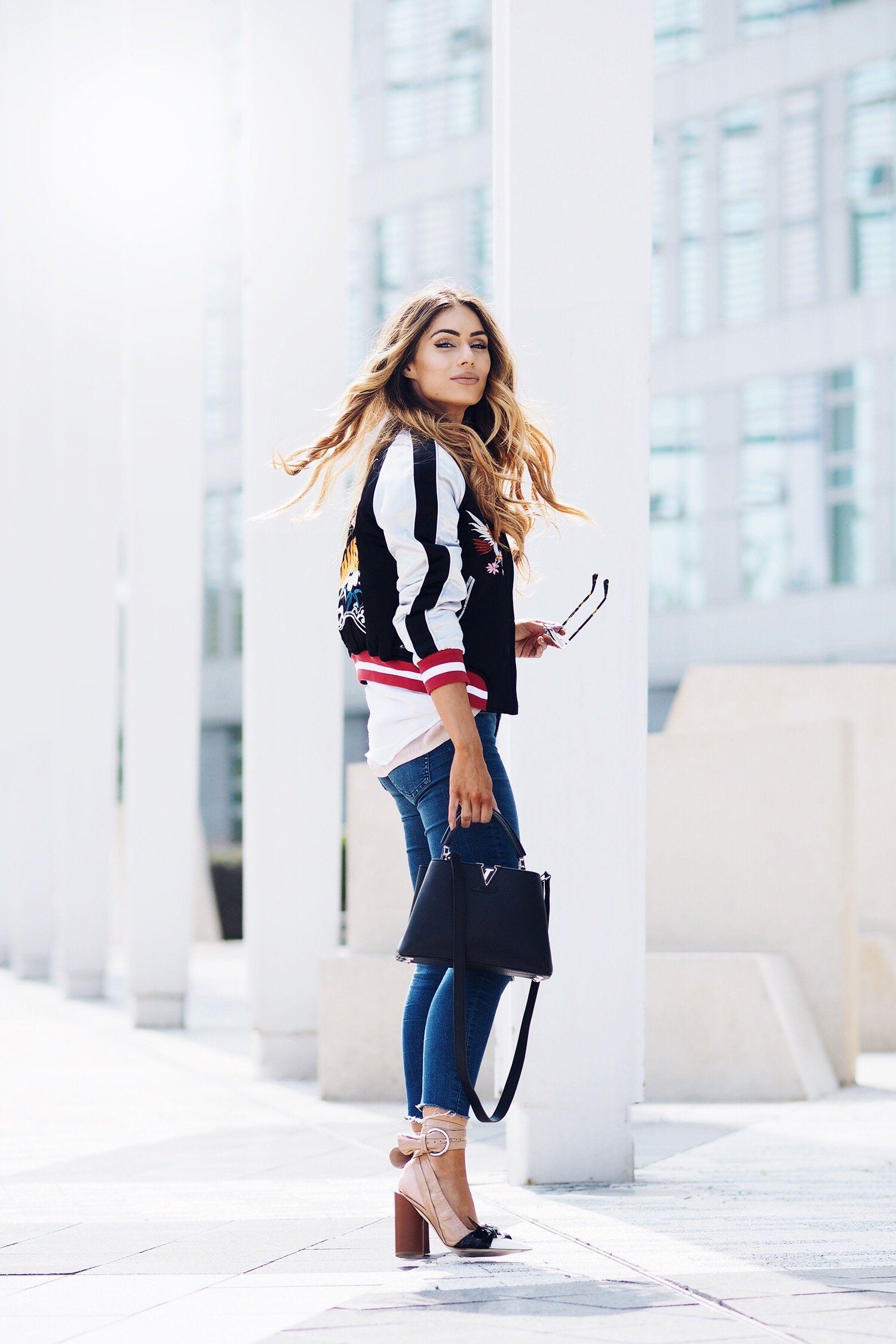 I'd toyed with the idea for a while, a bomber jacket, was it all just a little too "Kylie Jenner" for me? It was until I saw Olivia Palermo rocking this exact style in her very own classically feminine way. I was inspired to say the least and purchased it immediately.
Layered over a "boyfriend shirt" and lingerie, kept me content with my usual contrasting style whilst giving the whole 'shebang' a dressing down with old ripped denim and those infamous Dior shoes. I love the way the deep claret red details of the embroidery contrast with the blushed tones from the peak-a-boo lace cami. So here's what you will need;
[lem_title]The Satin Bomber[/lem_title]
Satin being the most important part. The sheen gives the whole outfit a luxe feel and whether you choose embroidery of not the fabric really does finish the outfit. From Gucci to Boohoo there is a satin bomber for all budgets but by far my favourite so far is this reversible, yes thats two for the price of one, bomber from Topshop with deep black and red tones to one side and bright white and blue to the other making it great value for money and extremely versatile.


[lem_title]Old Denim[/lem_title]
I'm just not a fan of crisp denim. I like mine to tell a story, to have history and character. This pair have travelled the world with me from flights to Las Vegas to being knee deep in mud in the Cotswolds and their imperfections tell their story for them. They cost me £14 and I've loved them as if they were £100.


[lem_title]Boyfriend Shirts[/lem_title]
White, blue or striped, I simply don't care as long as they are dishevelled, worn, still smelling slightly of him. Although these day's he is in luck, as we may not need to steal his as often now there are so many great options available on the high street and the good news is, you can get as much foundation on the collar as you like.