how to style shearling/sherpa this winter
15th December 2016

Since the Acne "Velocity" jacket graced the runway, shearling, faux shearling and sherpa have become staple items in Winter wardrobes the world over. Having searched high and low online, in vintage stores and the usual high end suspects, the cream style Sherpa coat which currently only existed in my mind, was no where to be found. "I wanted knee length, I wanted cream, and I wanted black buttons." I wanted knee length, I wanted cream, and I wanted black buttons. I didn't think that was too much to ask, and neither did Abercrombie. It's both snuggly, technical term, and exactly what I wanted. The black buttons compliment the black leather details of my trousers, bag and boots whilst the Sherpa provides texture and warmth for the days that I need to stride, like a gazelle, across a cold and wintery London. To finish the outfit off, I keep things simple with a cream ribbed roll neck from Abercrombie and a classic patterned Burberry scarf. [lem_title]SHOP SHEARLING[/lem_title] The collection of faux shearling available from Abercombie at the moment it one of my favourite. Rather than recreating classic high end styles they have introduced a different spin to the usual Aviator style. From vintage inspired Oak shades to faux Mongolian fur gilets, it might be difficult to choose just one but a high quality, on tend and functional Shearling/Sherpa coat is within reach. [show_shopthepost_widget id="2251212″] [lem_title]NEUTRAL KNITS[/lem_title] If its one thing Abercrombie does well, it is knitwear, Cable knit classics and Chloe inspired cardigans adorn the page upon page of cashmere and wool Winter wear. With the below being some of my essentials. [show_shopthepost_widget id="2251232″] [lem_title]BIKER ACCESSORIES[/lem_title] Faux leather biker trousers, some killer heels and a statement "It" Bag finish of any Winter look with any […]
Since the Acne "Velocity" jacket graced the runway, shearling, faux shearling and sherpa have become staple items in Winter wardrobes the world over.
Having searched high and low online, in vintage stores and the usual high end suspects, the cream style Sherpa coat which currently only existed in my mind, was no where to be found.
"I wanted knee length, I wanted cream, and I wanted black buttons."
I wanted knee length, I wanted cream, and I wanted black buttons. I didn't think that was too much to ask, and neither did Abercrombie.
It's both snuggly, technical term, and exactly what I wanted. The black buttons compliment the black leather details of my trousers, bag and boots whilst the Sherpa provides texture and warmth for the days that I need to stride, like a gazelle, across a cold and wintery London.
To finish the outfit off, I keep things simple with a cream ribbed roll neck from Abercrombie and a classic patterned Burberry scarf.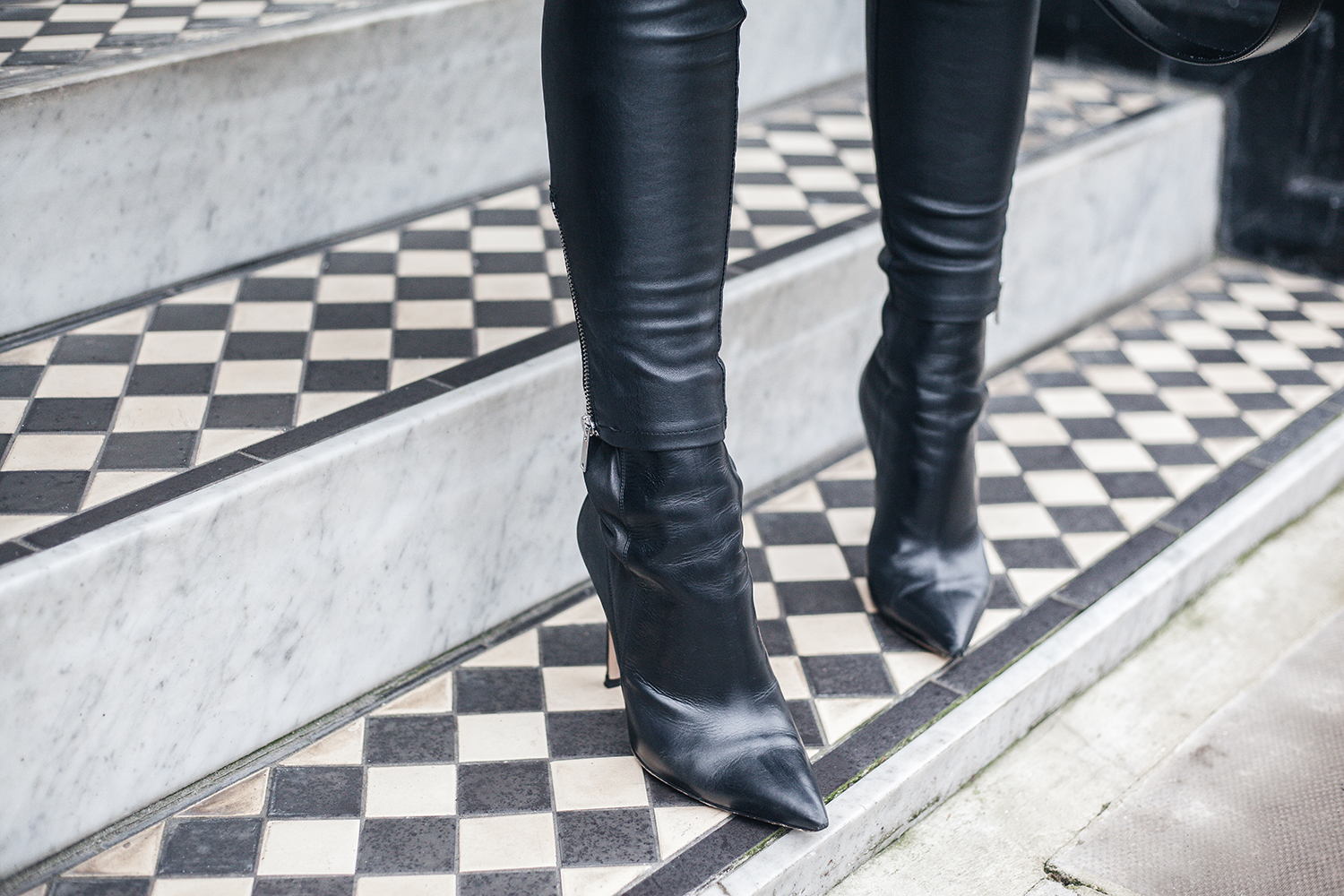 [lem_title]SHOP SHEARLING[/lem_title]
The collection of faux shearling available from Abercombie at the moment it one of my favourite. Rather than recreating classic high end styles they have introduced a different spin to the usual Aviator style. From vintage inspired Oak shades to faux Mongolian fur gilets, it might be difficult to choose just one but a high quality, on tend and functional Shearling/Sherpa coat is within reach.
[show_shopthepost_widget id="2251212″]
[lem_title]NEUTRAL KNITS[/lem_title]
If its one thing Abercrombie does well, it is knitwear, Cable knit classics and Chloe inspired cardigans adorn the page upon page of cashmere and wool Winter wear. With the below being some of my essentials.
[show_shopthepost_widget id="2251232″]

[lem_title]BIKER ACCESSORIES[/lem_title]
Faux leather biker trousers, some killer heels and a statement "It" Bag finish of any Winter look with any Winter coat perfectly, this really is my fail safe Go-To Combination when styling up statement coats.
[show_shopthepost_widget id="2251256″]
Photography by Reece Chapman.