how to style jewellery in a classic, modern way
7th November 2016

I've always been some what of a rebel. Throughout school, University and now into being a career girl. I'm not good with rules, following, abiding, you name it, I don't tend to do it. So it's only natural that I apply my same rebellious ethos when it comes to what I wear. Black and blue? I'm all for it. Socks with sandals? Maybe not for me but you do your thing, girl! and most notably, Mixing Metals, I simply cannot get enough of it. In fact, I actively seek it. "So we are gonna kick things off by throwing out the rule book." I'm not big when it comes to colour, which I guess is no news. But injecting different tones and textures to every day outfits is something I very much enjoy and for this particular outfit I have teamed up with one of my favourite Jewellery brands, Thomas Sabo, give the low down when it comes to how I bring Jewellery styling in to 2016. So we are gonna kick things off by throwing out the rule book! Stacking Stacking is the art of fitting as many bracelet or bangle variations on to ones wrist as one can physically handle, so to speak. Bangles, bracelets, cuffs, watches, you name it I have it on my wrist. I love the way the differing styles merge to create a theme thats mis-matched but works perfectly. Play with different sizes and styles to create a "I just threw this stack together" kinda vibe. Thomas Sabo currently offer a extensive range of arm candy to choose from to make your own stack to suit your style. Tones Mixing tones is by far my favourite rule to break in fashion. Whether […]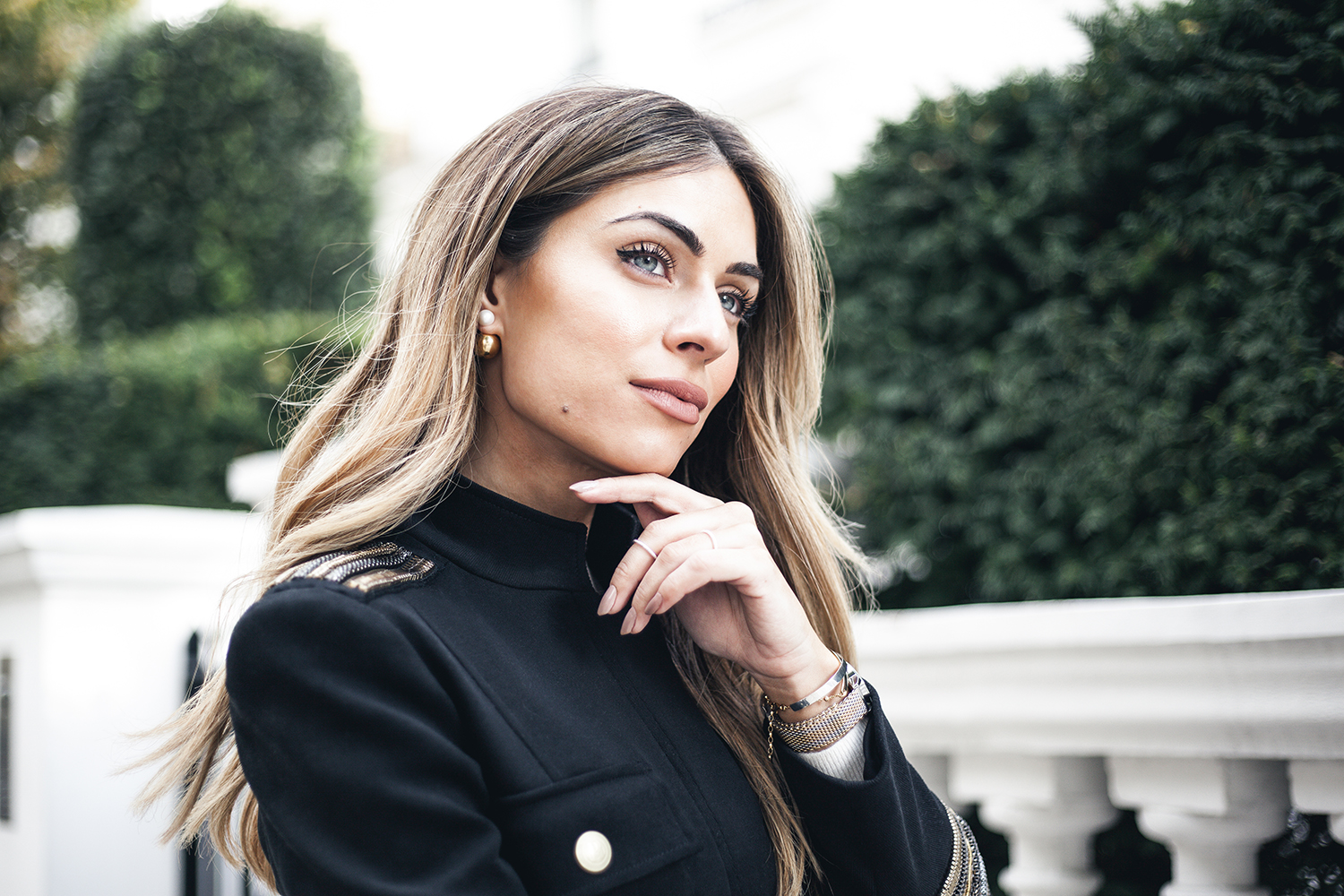 I've always been some what of a rebel. Throughout school, University and now into being a career girl. I'm not good with rules, following, abiding, you name it, I don't tend to do it. So it's only natural that I apply my same rebellious ethos when it comes to what I wear.
Black and blue? I'm all for it.
Socks with sandals? Maybe not for me but you do your thing, girl!
and most notably, Mixing Metals, I simply cannot get enough of it. In fact, I actively seek it.
"So we are gonna kick things off by throwing out the rule book."
I'm not big when it comes to colour, which I guess is no news. But injecting different tones and textures to every day outfits is something I very much enjoy and for this particular outfit I have teamed up with one of my favourite Jewellery brands, Thomas Sabo, give the low down when it comes to how I bring Jewellery styling in to 2016.
So we are gonna kick things off by throwing out the rule book!
Stacking is the art of fitting as many bracelet or bangle variations on to ones wrist as one can physically handle, so to speak.
Bangles, bracelets, cuffs, watches, you name it I have it on my wrist. I love the way the differing styles merge to create a theme thats mis-matched but works perfectly. Play with different sizes and styles to create a "I just threw this stack together" kinda vibe.
Thomas Sabo currently offer a extensive range of arm candy to choose from to make your own stack to suit your style.
Tones
Mixing tones is by far my favourite rule to break in fashion. Whether my bag has gold hardware and my coat has silver, never bothers me. I simply mix up exactly how I like it. However, this coat from Pierre Balmain was made for me with its silver and gold chain mail detailing to the sleeves and shoulders pulling my multi tonal look together perfectly.
Gold and Silver are most definitely my go-to, I've never really been into Rose Gold but it's all about working it to your style.
Classic Twists
Coco Chanel once said, "A woman needs ropes and ropes of Pearls" and I'm pretty sure she was absolutely right. Pearls are the embodiment of classic style and although my own personal style might sometimes be more modern, I love to incorporate aspects of real classic femininity. The Classic Pearl Double stud from Thomas Sabo is the modern day Pearl earring with a total design twist which I fell so deeply for, that I had to get have it in both gold and silver. I mix it up with an odd earring to keep all the focus on the double stud.
Personal Touches
Although I find writing quite challenging, I am completely enchanted by the written word. A song, a poem, a quote, sometimes even just a short sentence can be incredibly symbolic. I often find myself jotting them down on random scraps of paper to ensure I don't forget them. Now I can have them written on my favourite pieces of jewellery to ensure I never forget them. Sometimes it's just a simple reminder like my on Love bridge from Thomas Sabo, I have "Positivity" scrawled across it as a gentle reminder to always think, live and be positive.
See the engraving collection from Thomas Sabo, here.
Keep it simple
The beauty of having your own style is that, in short, you make your own rules. But don't over complicate yourself with it. Try to steer clear of trend driven pieces and look out for modern day classics to keep your jewellery style current.
This post is a Sponsored Advertorial with Thomas Sabo.
Imagery by Reece Chapman