how to make a summer style statement
22th June 2016

As the sun rises earlier and sets later, we are blessed with so many more hours of light. Sunlight is truly magical and it is near impossible to feel low with its presence. With my mood forever reflected in my fashion, there are currently no dull and dark colours to be found in my wardrobe. But I am a creature of subtlety, I don't like to make too much of a fuss of myself and I prefer to move under the radar therefore my pallet is somewhat safe. This doesn't mean I don't like to play with my style and introduce textures, colours and styles but it must always be in my own subtle way which is incredible important to me. So whilst I swap out my dull sombre Winter wardrobe, how do I plan on making my Summer Style Statements this season. [lem_title]FABRIC DETAILS[/lem_title] Texture is one of the biggest changes I make in my style, aside from colour, when Summer rolls around. I introduce crochet, lace, cottons and silks to contrast each other and add some detail to the outfit whilst also proving breathable and comfortable fabric choices when it starts to hot up. This top from The End in Watford as been one of my ultimate fabric detail finds of the season with its laser cut fabric and flute sleeves providing a Self Portrait vibe on the high street. [lem_title]LUXE ACCESSORIES[/lem_title] Of course, what is a Lydia Elise Millen outfit without a little luxe thrown in the mix. Accessories this Summer offer floral fancies and flirtatious barely there hues such as this matching pair from the coveted Valentino "Rockstud" family from Farfetch. The tone is subtle and feminine mixing gloss and matte finishes with a rock & roll twist to the signature hardware. Teamed with distressed denim […]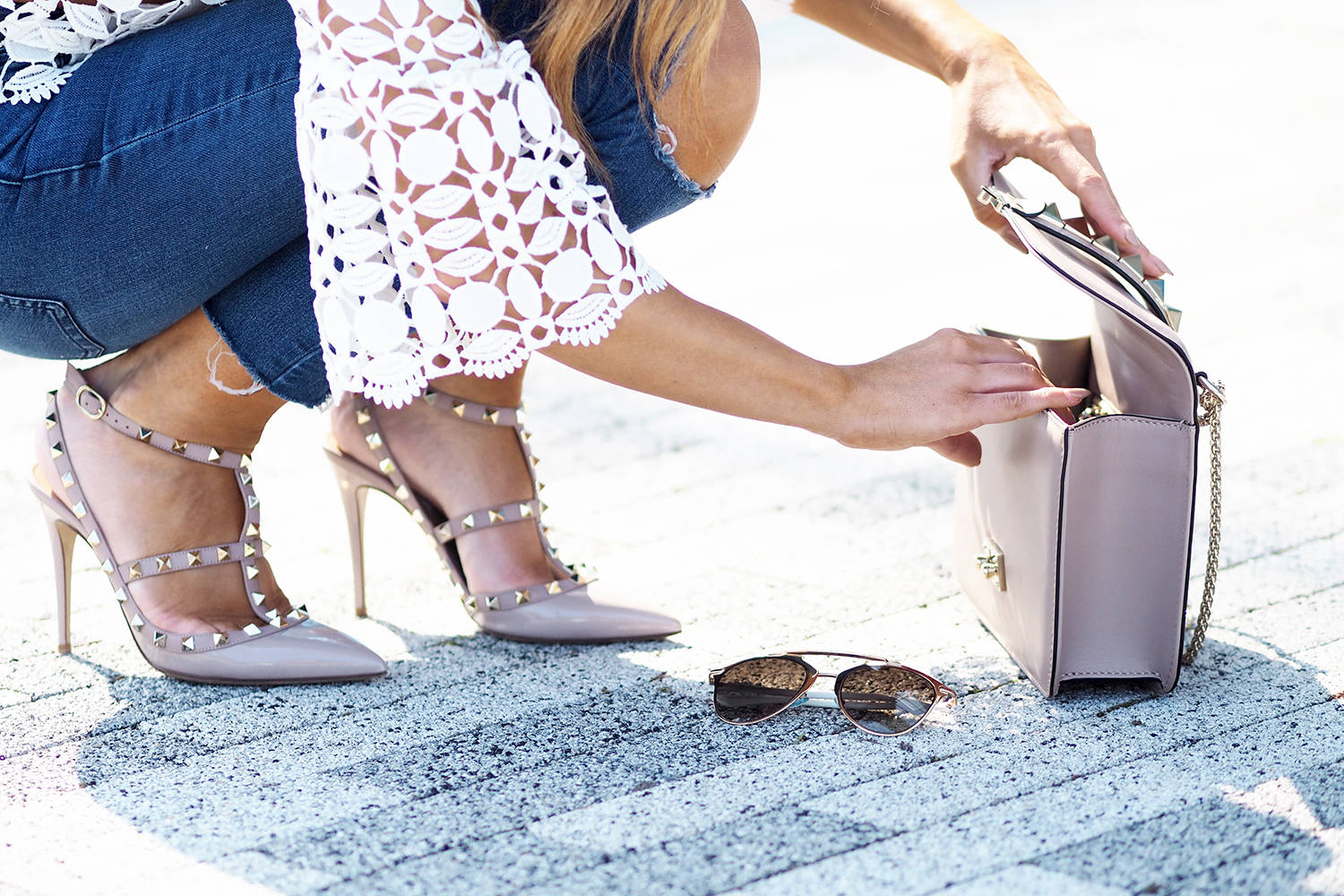 As the sun rises earlier and sets later, we are blessed with so many more hours of light. Sunlight is truly magical and it is near impossible to feel low with its presence. With my mood forever reflected in my fashion, there are currently no dull and dark colours to be found in my wardrobe. But I am a creature of subtlety, I don't like to make too much of a fuss of myself and I prefer to move under the radar therefore my pallet is somewhat safe.
This doesn't mean I don't like to play with my style and introduce textures, colours and styles but it must always be in my own subtle way which is incredible important to me. So whilst I swap out my dull sombre Winter wardrobe, how do I plan on making my Summer Style Statements this season.
[lem_title]FABRIC DETAILS[/lem_title]
Texture is one of the biggest changes I make in my style, aside from colour, when Summer rolls around. I introduce crochet, lace, cottons and silks to contrast each other and add some detail to the outfit whilst also proving breathable and comfortable fabric choices when it starts to hot up. This top from The End in Watford as been one of my ultimate fabric detail finds of the season with its laser cut fabric and flute sleeves providing a Self Portrait vibe on the high street.
[lem_title]LUXE ACCESSORIES[/lem_title]
Of course, what is a Lydia Elise Millen outfit without a little luxe thrown in the mix. Accessories this Summer offer floral fancies and flirtatious barely there hues such as this matching pair from the coveted Valentino "Rockstud" family from Farfetch. The tone is subtle and feminine mixing gloss and matte finishes with a rock & roll twist to the signature hardware. Teamed with distressed denim fabrics and a flirty crisp white they really glam up an every day  look making it Roof terrace appropriate for those dreamy hot London evenings. Not to mention these heels are the most comfortable designer heels I have ever owned, worth every single penny, statement or no statement.
[lem_title]SUBTLE SHADES[/lem_title]
Summer hues are what excite me most about the season, everything becomes brighter, fresher and far more feminine. Pinks are back with a bang, but if like me you can go from nought to Barbie as the sight of hot pink, you might want to stick to the more subtle hues from the spectrum.
Nude is and always will be my ultimate style staple providing me with the window of opportunity to add that colour, that fun and that playfulness into my style without being garish or imposing. My shoes and handbags are where I get to play the most with colour currently as they enable even the most basic jeans and tee combo to come to life.
[lem_title]LIP COLOUR POPS[/lem_title]
If in doubt, raid the lipstick draw because a carefully chosen lip colour can bring to life and finish an outfit perfectly and can be fairly inexpensive too. When I'm feeling daring organgy red hues are my favourite.
This post is in collaboration with Farfetch.