how to dress really really ridiculously well this winter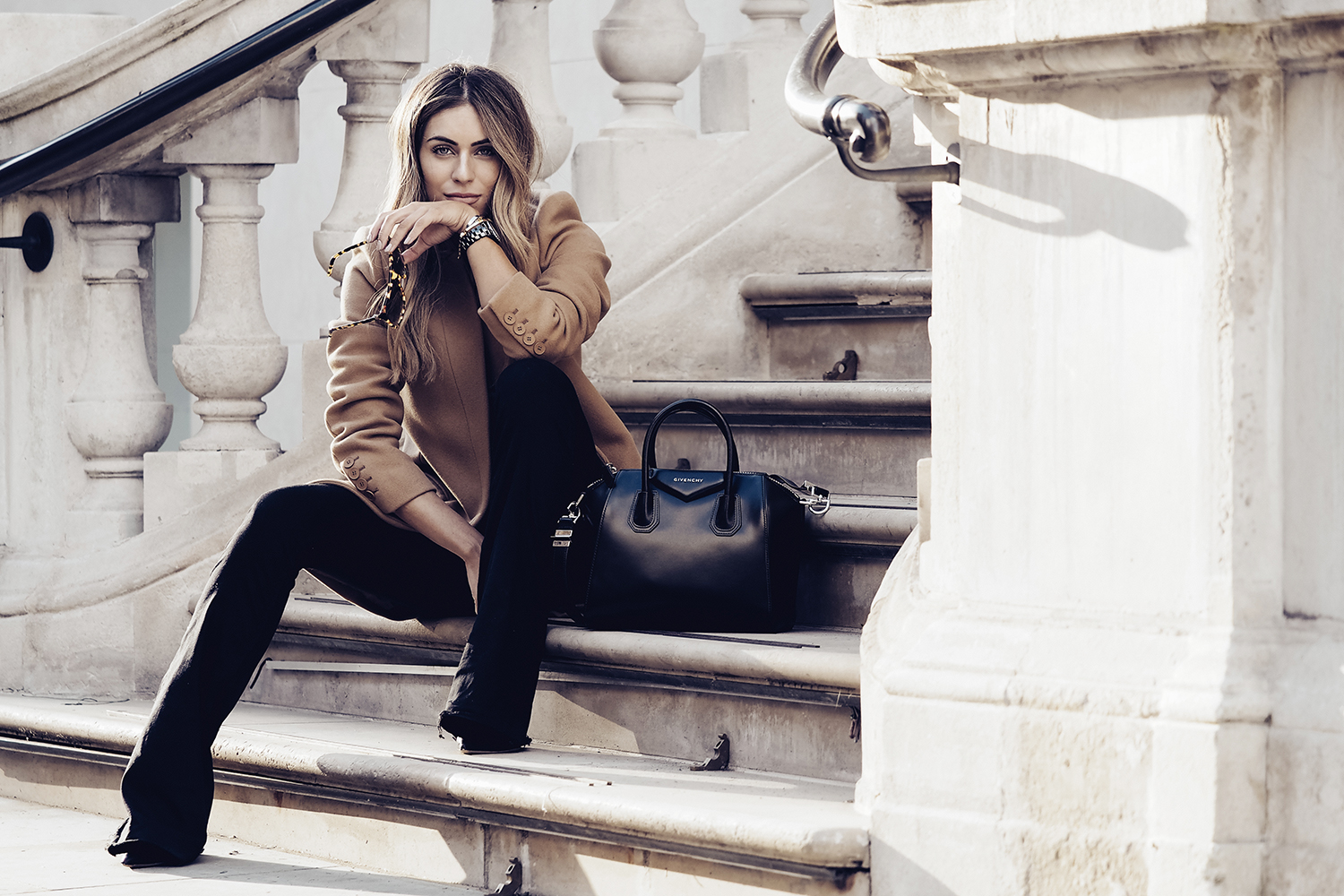 30th November 2016

I cannot tell you how long I have wanted to use that quote as a title for one of my blog post for and no outfits have ever quite fitted the bill, that was until this one. I felt Classically on trend, I felt Smart/Casual in every sense of the word, but most importantly I felt warm, yes warm! Autumn/Winter dressing is an art form. There's so much to consider, does this layer compliment that layer? How many clashing prints are too many clashing prints and of course not forgetting, just how quickly can one remove each layer before one cooks to death on the underground? These are all important factors to consider before dressing each morning, because who has time to be caught out unprepared. Bye Felicia! First things first it's time to get rid of your Summer wardrobe, bin it, bag it or even vacuum pack it away for next year. Space is limited and as much as I love seeing every last thread in my wardrobe, I'd end up wearing the same thing day in day out if I didn't have a seasonal clear out so that's where it all starts. I bag up the Spring/Summer attire and label accordingly, all the while Depopin', throwing or gifting piles begin to mound up. Be brutal! It is the only way to make room for Stella. Be Still My Beating Heart. Buy only the stuff you can't wait to get your hands on because 9 times out of 10, if you "ummmm" and "ahhh" about it, there's a good reason as to why. I apply this most when buying high end items to avoid making as many mistakes. The Stella McCartney "Bryce" coat from Farfetch had been on my radar since last Autumn, but was a bit out of […]
I cannot tell you how long I have wanted to use that quote as a title for one of my blog post for and no outfits have ever quite fitted the bill, that was until this one. I felt Classically on trend, I felt Smart/Casual in every sense of the word, but most importantly I felt warm, yes warm!
Autumn/Winter dressing is an art form. There's so much to consider, does this layer compliment that layer? How many clashing prints are too many clashing prints and of course not forgetting, just how quickly can one remove each layer before one cooks to death on the underground? These are all important factors to consider before dressing each morning, because who has time to be caught out unprepared.
Bye Felicia!
First things first it's time to get rid of your Summer wardrobe, bin it, bag it or even vacuum pack it away for next year. Space is limited and as much as I love seeing every last thread in my wardrobe, I'd end up wearing the same thing day in day out if I didn't have a seasonal clear out so that's where it all starts. I bag up the Spring/Summer attire and label accordingly, all the while Depopin', throwing or gifting piles begin to mound up. Be brutal! It is the only way to make room for Stella.
Be Still My Beating Heart.
Buy only the stuff you can't wait to get your hands on because 9 times out of 10, if you "ummmm" and "ahhh" about it, there's a good reason as to why. I apply this most when buying high end items to avoid making as many mistakes. The Stella McCartney "Bryce" coat from Farfetch had been on my radar since last Autumn, but was a bit out of my price range. This year though, this year I was going to make "Bryce" mine after an entire year of lusting after him. His classic tailored silhouette makes me feel all kinds of cool whilst the inverted lapel ramps it up a notch or 10. It's also just a tad on the classic side, which means expect to see this stud next year.
Bigger is sometimes better
Only sometimes, mind. But in the case of Autumn/Winter Arm candy, you are going to need some storage space to pop those scarves and cardigans you will inevitably be layering up with to beat the chill and there is none more timeless, spacious and down right gorgeous than the Givenchy "Antigona". The most "Pinterestable" and practical bag on the block, I reach for it every year without fail.
Umberella? Check!
Notepad? Check!
Extra pair of tights? Check! check! check!
Even the size small is perfect for every day essentials so if you plan on getting a bigger size, I honestly think it might double up as a shelter if the Great British weather has a turn for the worst, so whatever the size, you win!
Secret Squirrel 
I've got a secret Pinterest board. In fact, I have about 10. It's where I curate inspiration for my outfits, from textures to layers to tones it's all in there and it has really enabled me to steer clear from the "mish-mashed and hope for the best" outfits which can sometimes occur. My outfits are curated, planned and carefully selected.
HARDWARE
I'm loving playing with hardware as a key part of my outfits. I'm no longer being dictated by my accessories as to which tone I have to wear, it's all happening at once. Gold, Silver, Fresh Water Pearls and gloss black Ceramic. I wear my hardware how I want and none is more statement that my Shaun Leane Tusk from FarFetch.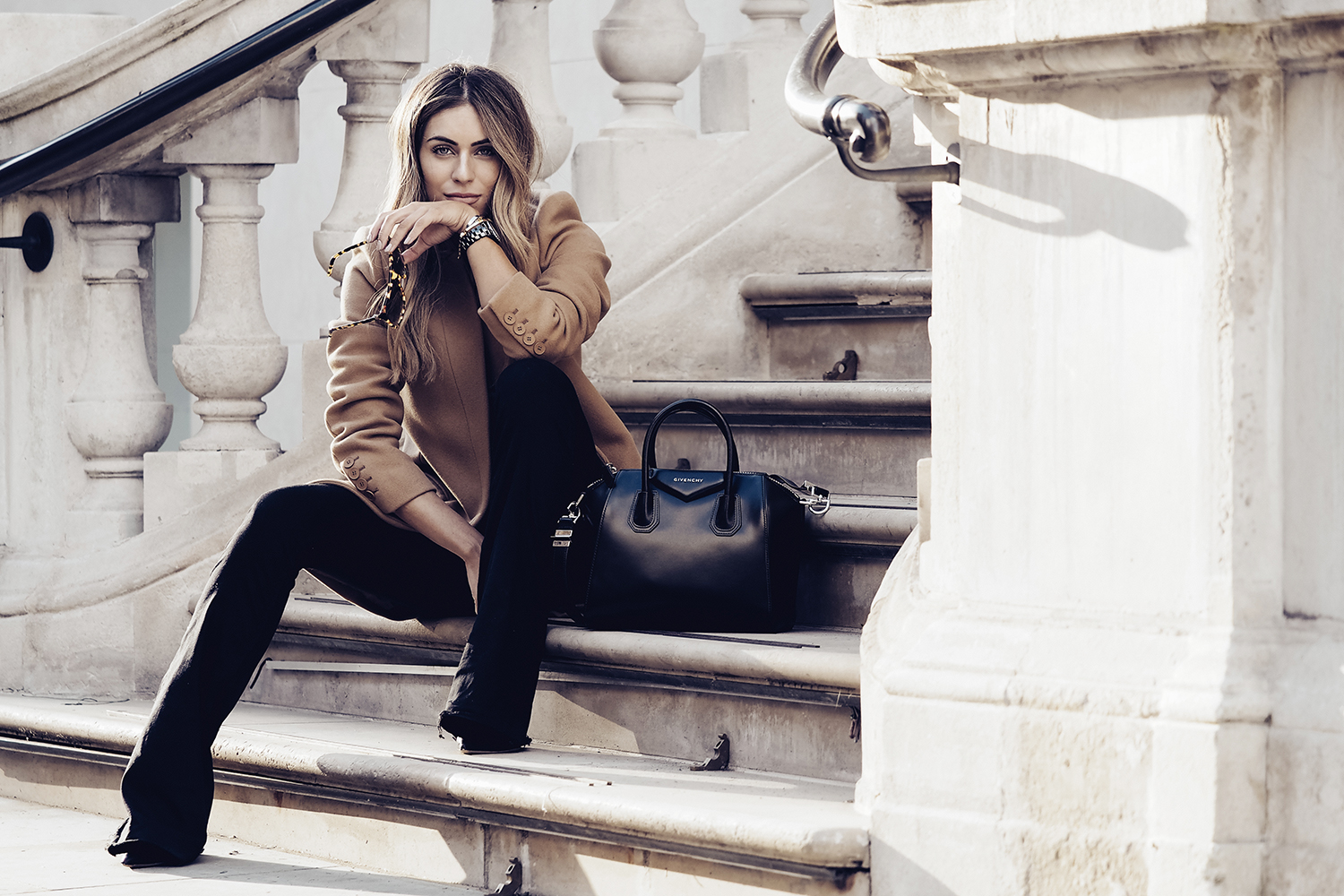 What does dressing well mean to you? How do you set yourself apart in the sea of Autumnal outfits? What inspires you about another's style? Share and discuss in the comments below.
Shop THE Post
Coat – Stella McCartney
Bag – Givenchy
Top – Me + Em
Denim – Last season H&M Trend
Boots – Gianvito Rossi
Earrings – Links Of London,  Shaun Leane
Bracelets – Thomas Sabo, Monica Vinader
Sunglasses – Loewe
This post is a sponsored advertorial with FarFetch.