how to achieve the perfect off-duty model look
20th February 2017

This post is a sponsored Editorial with YSL. Recounting my journey with make up is one of my favourites. To think of where I started, as a 20 something year old with no clue on the difference between a tinted moisturiser and a matte foundation, to today, a woman who knows exactly what she wants out of her make up bag. It's quite daunting talking make up on the internet with such an incredibly large and diverse collection of women and men sharing their views, techniques and trends. I'm not going to lie, I didn't think there was a space for me in all this. I wouldn't dream of attempting a "Sun-set eye" as much as I look on with wonder at their beauty and I certainly am too much of a wuss to bake anything when it comes to my face. But what I have done is found my identity in all the palettes and products on offer, I found my style, I found my signature look. I know what I want out of a good foundation, I know what makes a game changing mascara and I know what fragrances work with my style. For this post I have teamed up with YSL to tell you about all of the above. My signature make-up look, my style identity and my love affair with YSL Beaute. It all started when I was 18 and I worked in that beautiful boutique in my home town. regular readers might remember it as the place where my interest in fashion and style began. Robin, my boss bought us Christmas presents every year and this one year our gifts came wrapped in a beautiful black and gold YSL bag. That year, she gave us the gift of incredible lashes in the form of the YSL […]
This post is a sponsored Editorial with YSL.
Recounting my journey with make up is one of my favourites. To think of where I started, as a 20 something year old with no clue on the difference between a tinted moisturiser and a matte foundation, to today, a woman who knows exactly what she wants out of her make up bag. It's quite daunting talking make up on the internet with such an incredibly large and diverse collection of women and men sharing their views, techniques and trends. I'm not going to lie, I didn't think there was a space for me in all this.
I wouldn't dream of attempting a "Sun-set eye" as much as I look on with wonder at their beauty and I certainly am too much of a wuss to bake anything when it comes to my face. But what I have done is found my identity in all the palettes and products on offer, I found my style, I found my signature look.
I know what I want out of a good foundation, I know what makes a game changing mascara and I know what fragrances work with my style. For this post I have teamed up with YSL to tell you about all of the above. My signature make-up look, my style identity and my love affair with YSL Beaute.
It all started when I was 18 and I worked in that beautiful boutique in my home town. regular readers might remember it as the place where my interest in fashion and style began. Robin, my boss bought us Christmas presents every year and this one year our gifts came wrapped in a beautiful black and gold YSL bag. That year, she gave us the gift of incredible lashes in the form of the YSL Faux Cil Mascara. This was my first ever high end beauty product and it would go on to define my make-up bag forever. Proof, that a good mascara really can change your life.
But the love affair with YSL doesn't end there. From walking the Jardin Majorelle encapsulated in the scent of Black Opium and a Summer spent obsessing over the game changing Mascaras right through to today, where the day doesn't start without a base of the Touche Eclat Blur Primer, a Subtle glow from the Les Saharienne bronzer and the brightening touch of the iconic Touche Eclat. YSL always has been a staple in my every day beauty bag and for this look I'm walking you through my "Off Duty Model" style, from make up, to fragrance, to outfit.
This post encapsulates the vision, the inspiration and the girl behind the newest edition of the Black Opium Fragrance. Black Opium Floral Shock is the first day time edition of the fragrance which embodies all the beauty of the original scent but with a floral twist to get you excited for the Spring season and banish those Winter blues.
This my guide to creating the perfect Off-Duty Model look inspired by the Black Opium Girl.
[lem_title]PRIMER[/lem_title]
The newest addition to my make up bag is the Primer, I just didn't see the point for so long. But long 12 hour days in London, meeting after meeting, rushing across London, I needed something to give me confidence in my foundation.
The Touche Eclat Blur Primer is an illuminating and blurring primer which smoothes visible pores and fine lines. I have larger than average pores and this product gifts me with flawless yet secure make-up application for the entire day.
[lem_title]FOUNDATION[/lem_title]
Foundation is one of my favourite products to apply. I love watching a perfectly matched veil of product sweep over my complexion, perfecting and smoothing the surface. My main reason for using foundation is to enhance my natural complexion but a lot has to be said for the effects when you are having one of those days when you really don't feel like yourself. I like to build on confidence from the inside but a lot has to be said for a good face of make up.
The Touche Eclat Le Tient foundation stays true to my love of full coverage foundations but with added radiance leaving your skin perfected and glowing. I applied using the Touche Eclat Y brush for fully customisable coverage: today was a full coverage kind of day so I filled it up to the top and applied in circular motions all over my face. I always give my foundation time to set on its own which is a perfect time to have a quick Insta-scroll.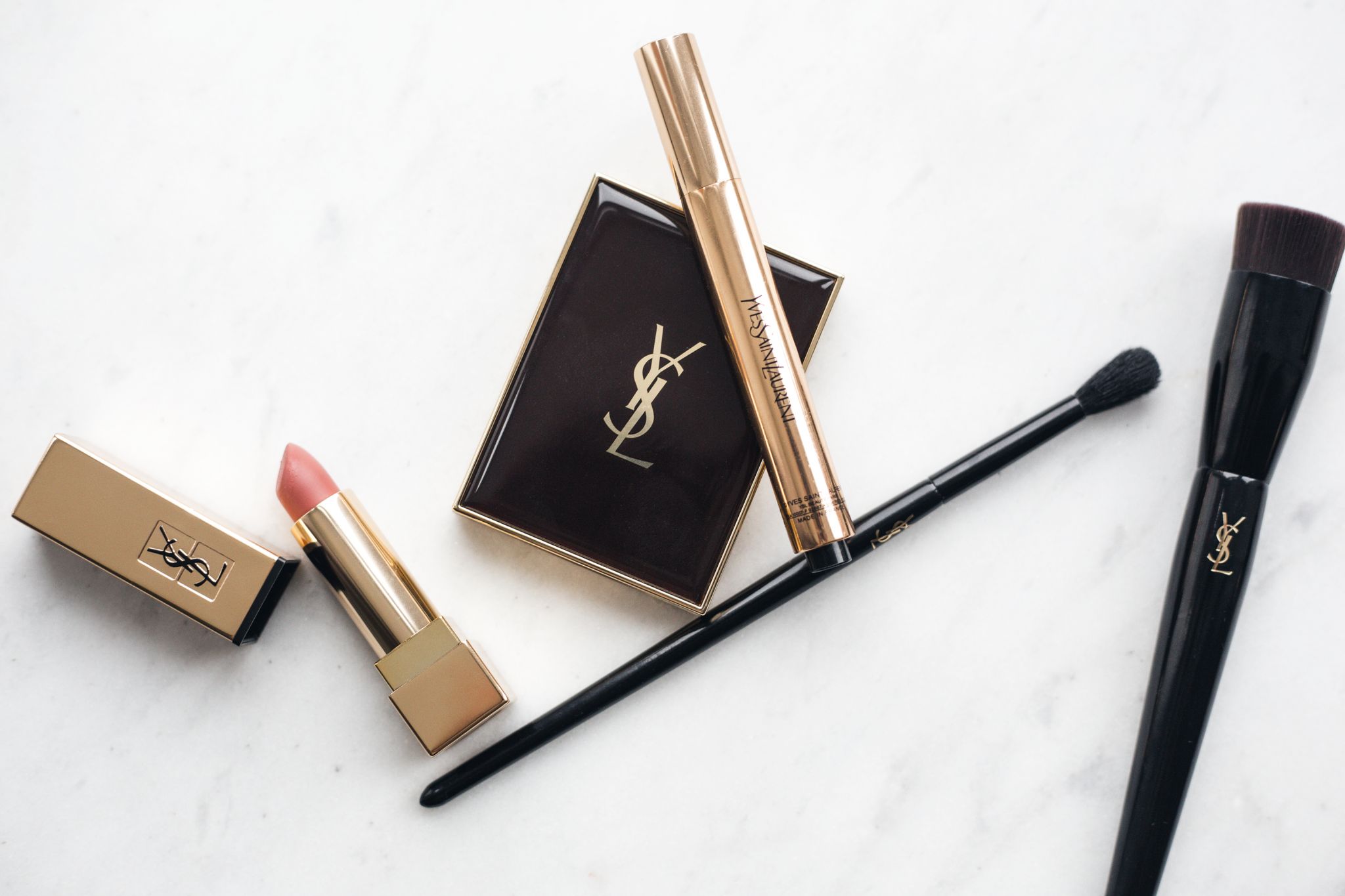 [lem_title]CONCEAL & GLOW[/lem_title]
I'm going through a "good skin stage" as I like to call it, where concealer isn't high on my priority list. Instead I'm looking to brighten the face and really enhance the natural complexion and for me there are only two products which come to mind.
First, the iconic Touche Eclat which single handily changed the make-up game with its brightening and enhancing highlighting properties in a convenient "throw-in-your-handbag" package is currently my saving grace. I spent 96% of January out of the country and this product made tired eyes look brighter and more awake with one swipe.
Secondly, the Les Saharienne Bronzer is the newest YSL product to rock my world. I generally prefer a cream bronzer for a more natural and healthy glow and most tend to come in large bulky packaging. The Les Saharienne Bronzer fits into even my tiniest of handbags and brings my skin back to life with it's glowy, blurring properties.
When I travel I give foundation a miss and opt for these two products on their own.
[lem_title]BLUSH![/lem_title]
Everything in my life is quite neutral and my make-up is no exception, except that is when it comes to my blush. It's wear I get to inject, albeit a subtle pop of colour to my skin in the form of fully flushed cheeks from the Limited Edition Healthy Glow Powder blush.
[lem_title]EYES[/lem_title]
The eyes are where the real magic happens when it comes to this Off Duty look. Just a subtle smokey finish transforms the focus of the look to that of an edgy yet effortless finish.
"an edgy yet effortless finish."
Using the YSL Eye Duo Smoker in shade Smokey Grey which is the perfect eye shadow on the go, I smudge out the lash line to leave a smokey yet feline contour to the eye, graduating the intensity of the pigment from strong black at the root of the lash to a perfectly blended ombre using the blending brush, in a matter of minutes. Perfect for the girl on the go who doesn't have time to do her make up, you can pack the Eye Duo Smoker in your bag and smudge it out in the toilets taking your make up look from day to night, without anyone knowing. It's the perfect handbag accessory to create a quick and simple smokey eye!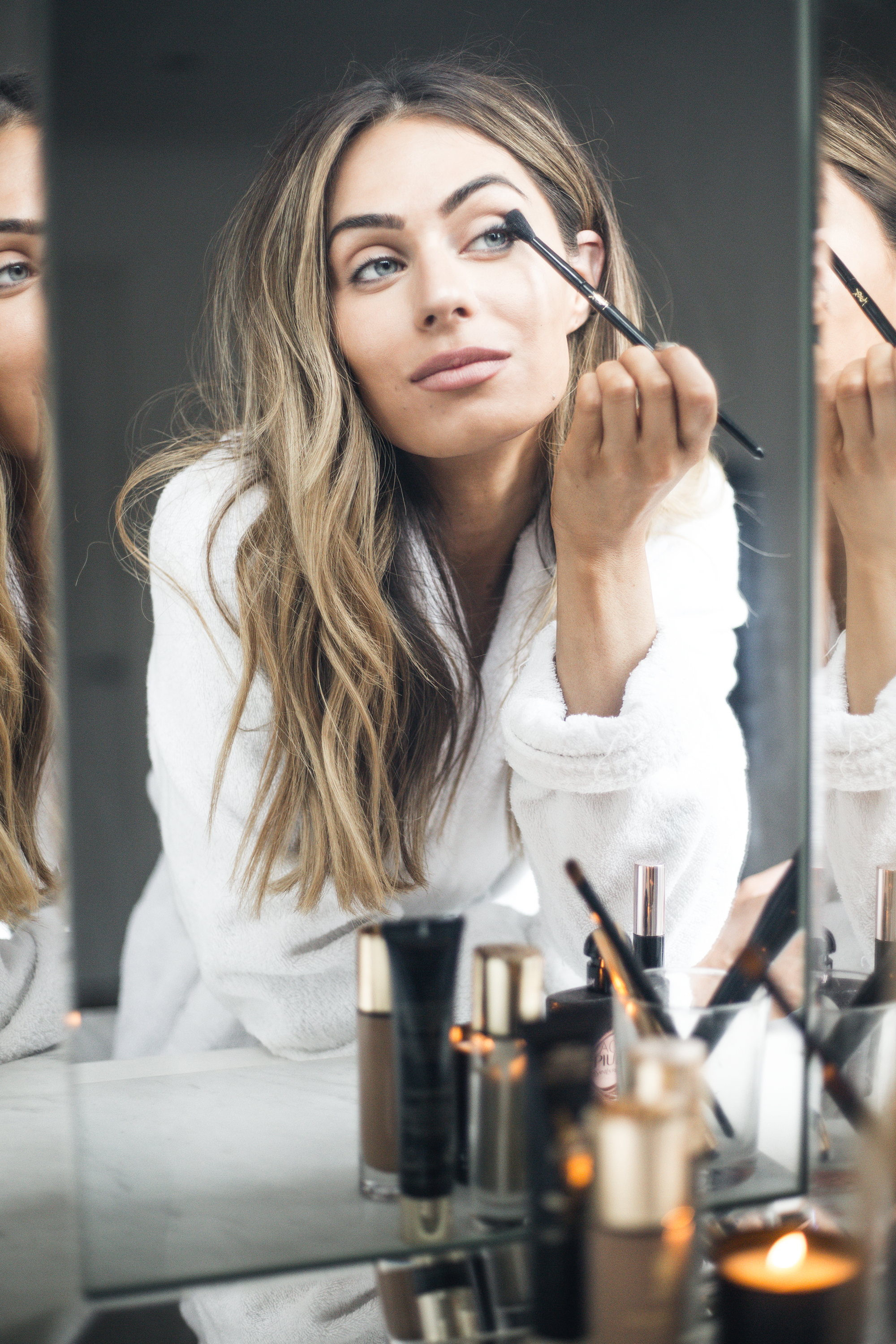 [lem_title]MASCARA[/lem_title]
And finally, the piece de resistance, the item every girl everywhere agrees as there desert island make up essential. The item that no make up look is complete without. The one item taking you from tired "back-to-bed" eyes to sultry "come-to-bed" eyes Mascara! Us guys and girls owe it a lot. And true to YSL form, The Shock mascara, like all the others in their range, does not disappoint.
"The one item taking you from tired "back-to-bed" eyes to sultry "come-to-bed" eyes Mascara!"
Intense colour, dramatic length and full impact volumized lashed which don't transfer on to your eyelids and finishes the smudged out smokey eye look, flawlessly. Are they falsies? Aren't they falsies? They won't be able to tell.
[lem_title]BLACK OPIUM FLORAL SHOCK[/lem_title]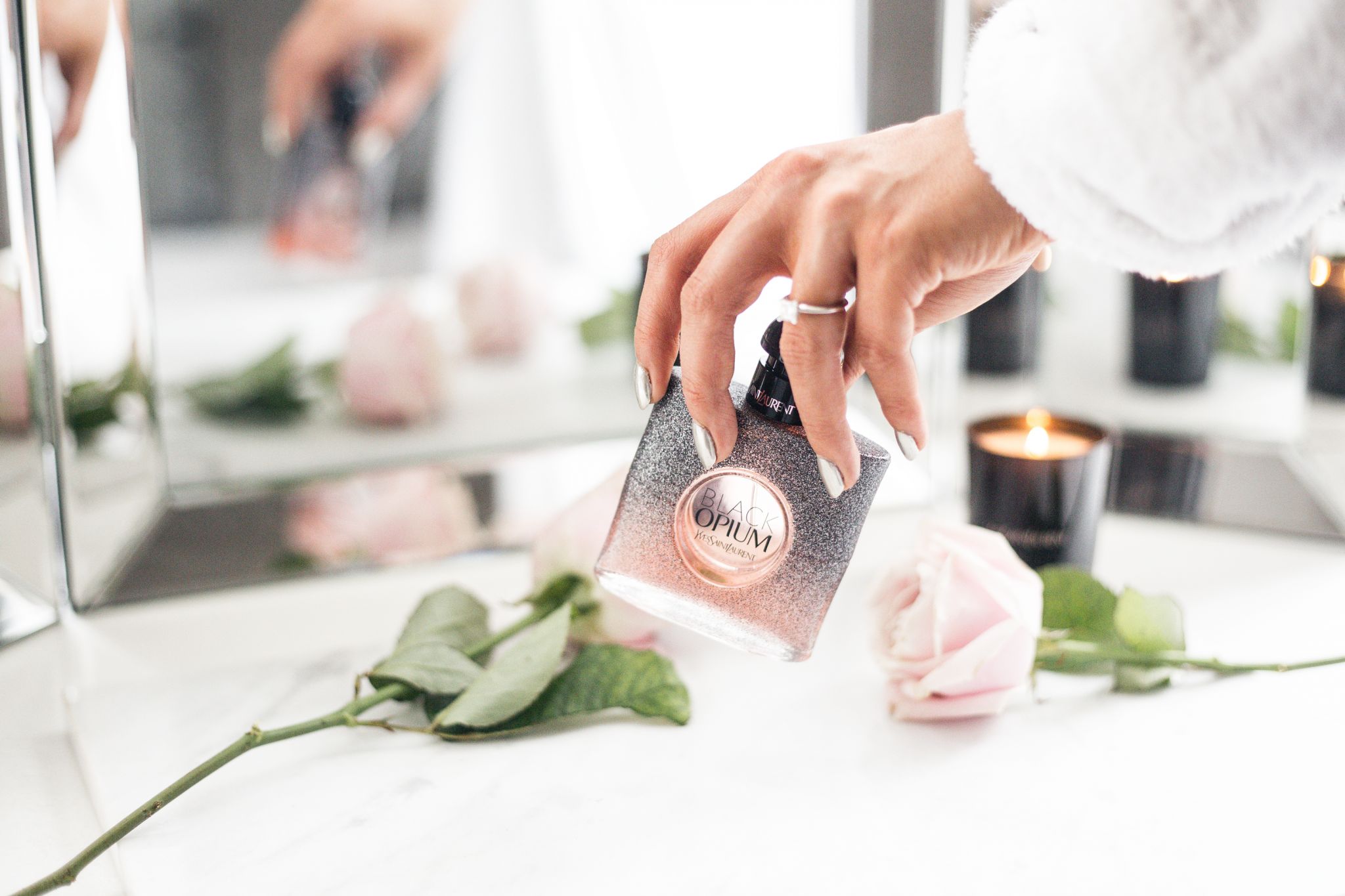 A fragrance for the girl who knows what she wants. She's confident yet feminine, strong with an air of vulnerability and she wears it all with a mischievous smile and a strong black outfit.
"A biting oriental freshness that blows the mind but leaves you wanting more."
Black Opium Floral Shock Eau de Parfum is a shockingly fresh fragrance of strong citrus notes blended with the sensuality of black coffee and finished with the freshness of white musk all captured and enclosed within the walls of a glam rock bottle.
Black Opium Floral Shock is the finishing touch and partner in crime to YSL's The Shock Mascara, a bold and sensual match made in heaven.
[lem_title]THE FINAL LOOK[/lem_title]
The shirt is four sizes too big, it's worn and smells of my boyfriend but I'm too late to care. To hide the tale tell creases of a late night come early morning, my black blazer perfectly hides a multitude of sins.
"my black blazer perfectly hides a multitude of sins."
These leather trousers have travelled the world with me, they have seen the bright lights of cities far and wide, they are loved and complete this Off-Duty look with an effortless rock and roll air.
The finished look is effortless. I may or may not have brushed my hair and it all looks perfectly imperfect together. It's easy and care free and yet impactful. I love the way the make-up look remains fresh and youthful, whilst still embracing the boldness and sensuality of the Black Opium Floral Shock Fragrance.
 "I may or may not have brushed my hair and it all looks perfectly imperfect together."
The outfit itself compliments the make-up and stays true to my favourite tailored silhouette with the added injection of cool leather fabrics and biker accessories.
SHOP THE MAKE-UP
Touche Eclat Le Tient Foundation
Touche Eclat Reservoir Foundation Brush
Healthy Glow Powder Blush
SHOP THE FRAGRANCE
SHOP THE OUTFIT
My Boyfriends Shirt
Joseph Blazer
Zara Biker Trousers
Gianvito Rossi boots
Handbag