hippie dream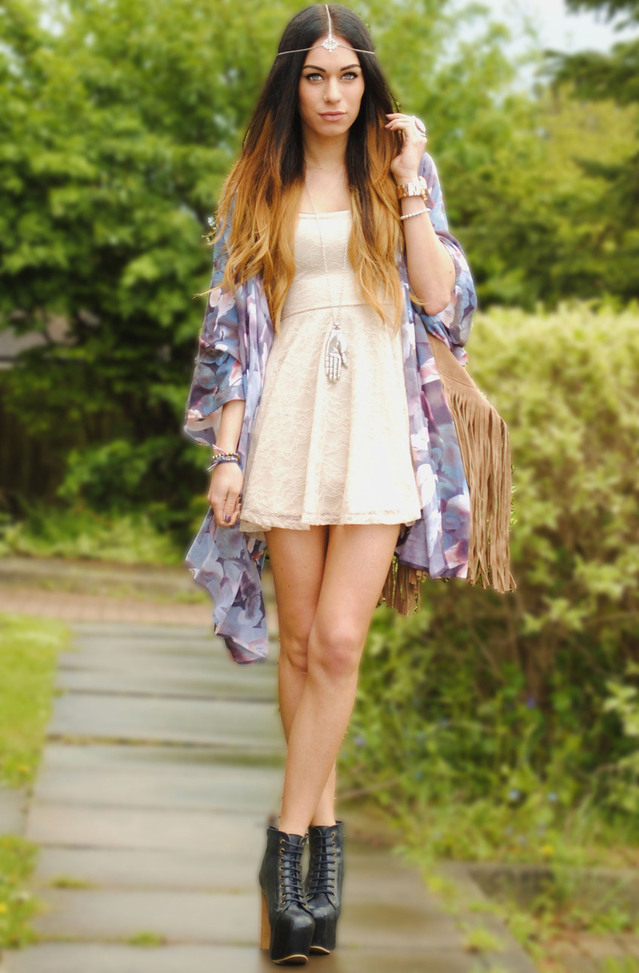 27th April 2012

Kimono – C/O YAYER Head Chain – C/O LITTLE TEACUP Bag – GIFT Dress – H&M Trend Ring – H&M Necklace – Some random boutique in Watford with really rude sales women Watch – Gift Shoes – Jeffrey Campbell THIS. WEATHER. IS. KILLING. ME! Seriously, if it's not raining, it's too sunny to get good pictures or if those two issues don't cut the mustard it just decides to rain as well as be really sunny….I die, I really do! That was my lame attempt at justifying my absence this week, however dissertation is all handed in and I kinda feel a lil lost I'm not gonna lie. I feel like….Now what do I do? Do I get a Job? Do I move back to London or vice versa?! Somebody please shed some light because its dark in here. I'm still holding out for the Summer and not buying Winter clothes so I've not actually worn this ensemble just yet (I wanted to wear it out on Wednesday night but once again Rain 1 – Lydia 0) I've wanted a kimono for a while now but needed one that was both beautiful and not tassly as I know I tend to over do things (i.e. studs) so my beautiful beige bag was just enough tassly lushness for one outfit, So when I got to pick an Item from YAYER this month, the beautiful pastel fabric just couldn't be over looked, I cannot wait to be able to float about places in this beaut! If you follow my instagram (@lydiaelisemillen) you will have seen this head chain a number of times already seeing as its practically surgically attached to my head right now, it was sent to me from LITTLE TEACUP but it wasn't […]
THIS. WEATHER. IS. KILLING. ME!
Seriously, if it's not raining, it's too sunny to get good pictures or if those two issues don't cut the mustard it just decides to rain as well as be really sunny….I die, I really do!
That was my lame attempt at justifying my absence this week, however dissertation is all handed in and I kinda feel a lil lost I'm not gonna lie. I feel like….Now what do I do? Do I get a Job? Do I move back to London or vice versa?! Somebody please shed some light because its dark in here.
I'm still holding out for the Summer and not buying Winter clothes so I've not actually worn this ensemble just yet (I wanted to wear it out on Wednesday night but once again Rain 1 – Lydia 0)
Have you noticed the change of scenery? That's how much I love you guys, I lugged my camera, tripod, laptop as well as copious amounts of clothes all the way down to Hertfordshire…my poor car!
HAPPY FRIDAY LOVELIES!!
P.s. Who thinks I need my roots doing? LOL yeah?! whose up for the challenge?!
| Follow LydiaEliseMillen on FACEBOOK | Follow LydiaEliseMillen on GOOGLEFRIENDCONNECT |