perfect frills
25th May 2015

Spring is the season where I really get to embrace some femininity in my personal style, going back to my love of girly frills and full skirts. This modesty maintaining pair of frilly pleated shorts are such an asset to my spring wardrobe. Much like my current love affair with playsuits, they give me the piece of mind that skirts and dresses cannot. In other words, these babes have got my back(side)…literally. I also finally plucked up the courage to start wearing my Valentino Rockstud ballet flats, they had sat all perfect and leathery in my shoe rack since I bought them, I'd been too afraid to wear them incase I ruined their perfectness. As a self confessed perfectionist I don't like the thought of being responsible for ruining something that was once so perfect, I'm sure in there lies some deep rooted issues but for now I'll just go with blaming my love of luxury leather accessories and leave it firmly at that. But I wore them, and it felt good. I looked so proudly down at those shiny little rockstuds last week as I gave a speech at my old University about my career and smiled to myself. You worked hard for those….You earned those all by yourself, You! The girl, whose parents were once told by teachers not to expect too much from. Shop The Post [show_shopthepost_widget id="753111″]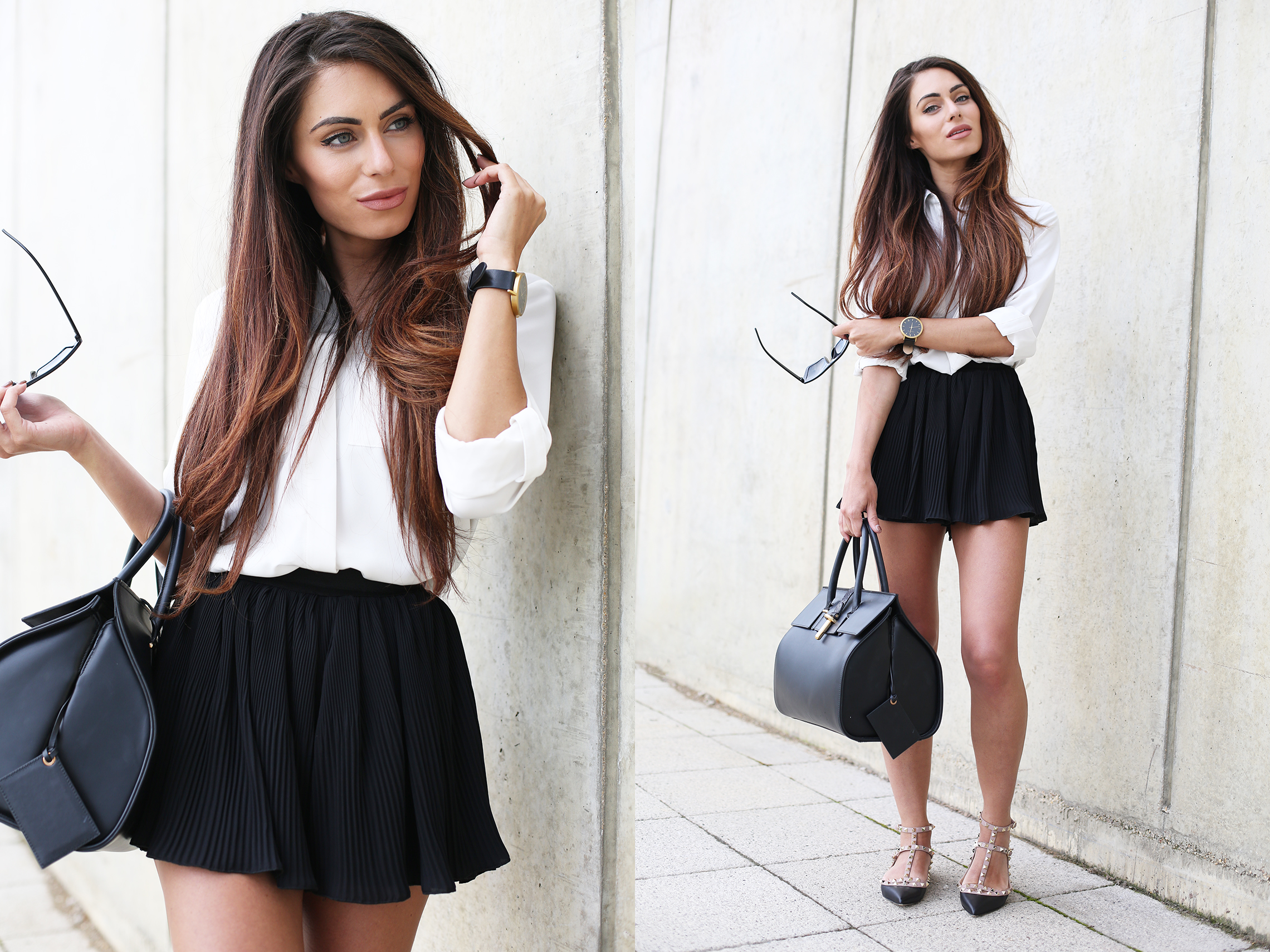 Spring is the season where I really get to embrace some femininity in my personal style, going back to my love of girly frills and full skirts. This modesty maintaining pair of frilly pleated shorts are such an asset to my spring wardrobe. Much like my current love affair with playsuits, they give me the piece of mind that skirts and dresses cannot. In other words, these babes have got my back(side)…literally.
I also finally plucked up the courage to start wearing my Valentino Rockstud ballet flats, they had sat all perfect and leathery in my shoe rack since I bought them, I'd been too afraid to wear them incase I ruined their perfectness. As a self confessed perfectionist I don't like the thought of being responsible for ruining something that was once so perfect, I'm sure in there lies some deep rooted issues but for now I'll just go with blaming my love of luxury leather accessories and leave it firmly at that. But I wore them, and it felt good. I looked so proudly down at those shiny little rockstuds last week as I gave a speech at my old University about my career and smiled to myself.
You worked hard for those….You earned those all by yourself, You! The girl, whose parents were once told by teachers not to expect too much from.
---
Shop The Post
[show_shopthepost_widget id="753111″]