designer accessories for your olympus pen e-pl7
14th December 2015

A few weekends ago Ali & I made our way up to the Birmingham NEC to hang out with the people from Olympus at the Clothes Show 2015. They were one of the sponsors of the event and whilst there, they were also celebrating the launch of their new accessories line for the Olympus PEN E-PL7. Made from luxury leathers and suedes with designs inspired by timeless designer, classics the collection is the answer to the fashion forward PEN Generation's prayers. I teamed my camera bag with it's grained leather finish, nude suede lining and silver hardware with an all black outfit of varying textures. Cashmere on my skin, shearling on my body and coated denim on my legs. The camera bag takes inspiration from the Celine Box bag but with adjustable panels to ensure the bag fits everything you need perfectly which results in a handbag which is both functional and fashionable for the every day fashion blogger. But the new collection doesn't stop at camera bags, there are now Chanel inspired neck chains, butter soft wrist straps and camera bag clutches for those evenings out where you don't want to miss a moment! This post is in collaboration with Olympus however all opinions are my own. Images by Jay McLaughlin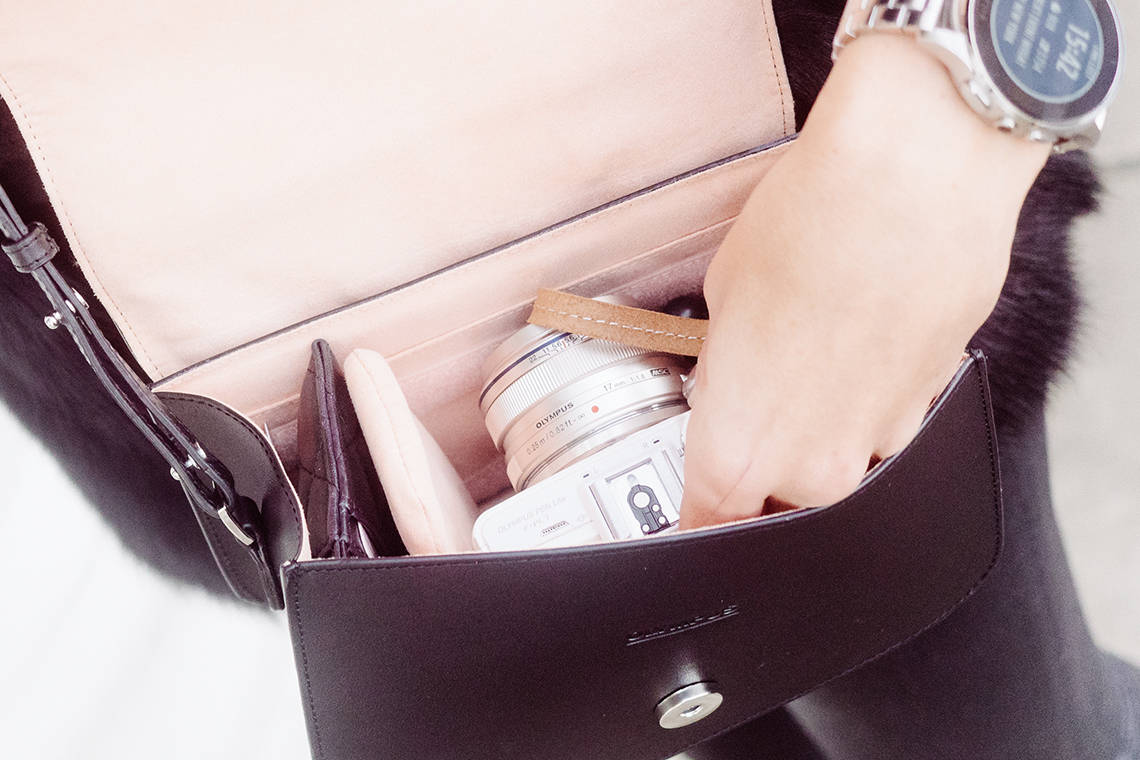 A few weekends ago Ali & I made our way up to the Birmingham NEC to hang out with the people from Olympus at the Clothes Show 2015. They were one of the sponsors of the event and whilst there, they were also celebrating the launch of their new accessories line for the Olympus PEN E-PL7. Made from luxury leathers and suedes with designs inspired by timeless designer, classics the collection is the answer to the fashion forward PEN Generation's prayers.
I teamed my camera bag with it's grained leather finish, nude suede lining and silver hardware with an all black outfit of varying textures. Cashmere on my skin, shearling on my body and coated denim on my legs. The camera bag takes inspiration from the Celine Box bag but with adjustable panels to ensure the bag fits everything you need perfectly which results in a handbag which is both functional and fashionable for the every day fashion blogger.
But the new collection doesn't stop at camera bags, there are now Chanel inspired neck chains, butter soft wrist straps and camera bag clutches for those evenings out where you don't want to miss a moment!
This post is in collaboration with Olympus however all opinions are my own.
Images by Jay McLaughlin