6 years of lydiaelisemillen.com
1th December 2017

Shop the Burberry collection at Farfetch Six years…Six whole years. 71 months, 313 weeks, 2190 days, 52,560 hours. Looking at that as I write this, it doesn't actually sound all that long, but when you are living it, it feels like an eternity. I remember exactly where I was when I decided to take a chance. I was sat on my dads old black leather recliner that he'd given me for my University apartment. I was wrapped up in blankets because the heating wasn't on gotta save the pennies for jaeger bombs and I was all alone. Everything seems to be covered in a grey filter but I think thats my mind trying to remind me of how un happy I was at that moment. I was working at Topshop, my uncles bar and another bar down the road to keep me occupied whilst studying and being in a long term, long distance relationship, I know now that I was painfully lonely. The decision that I made that day would change my life forever and I often think to myself, where would I be right now? The blogging space gave me the ability to carve a career and a life for myself in a time when the odds were stacked considerably against me and today I work along side many of my most favourite brands including signing with L'Oreal as part of their innovative Beauty Squad, launching globally, the newest vehicle along side Jaguar Landrover and incredible campaigns for brands such as Armani, Yves Saint Laurent, Balmain, Net-a-Porter and La Perla, something I would never have dreamed possible. That is the beauty of this industry! And here we are on the first of December 2017, a month where so many new chapters of my life are about to […]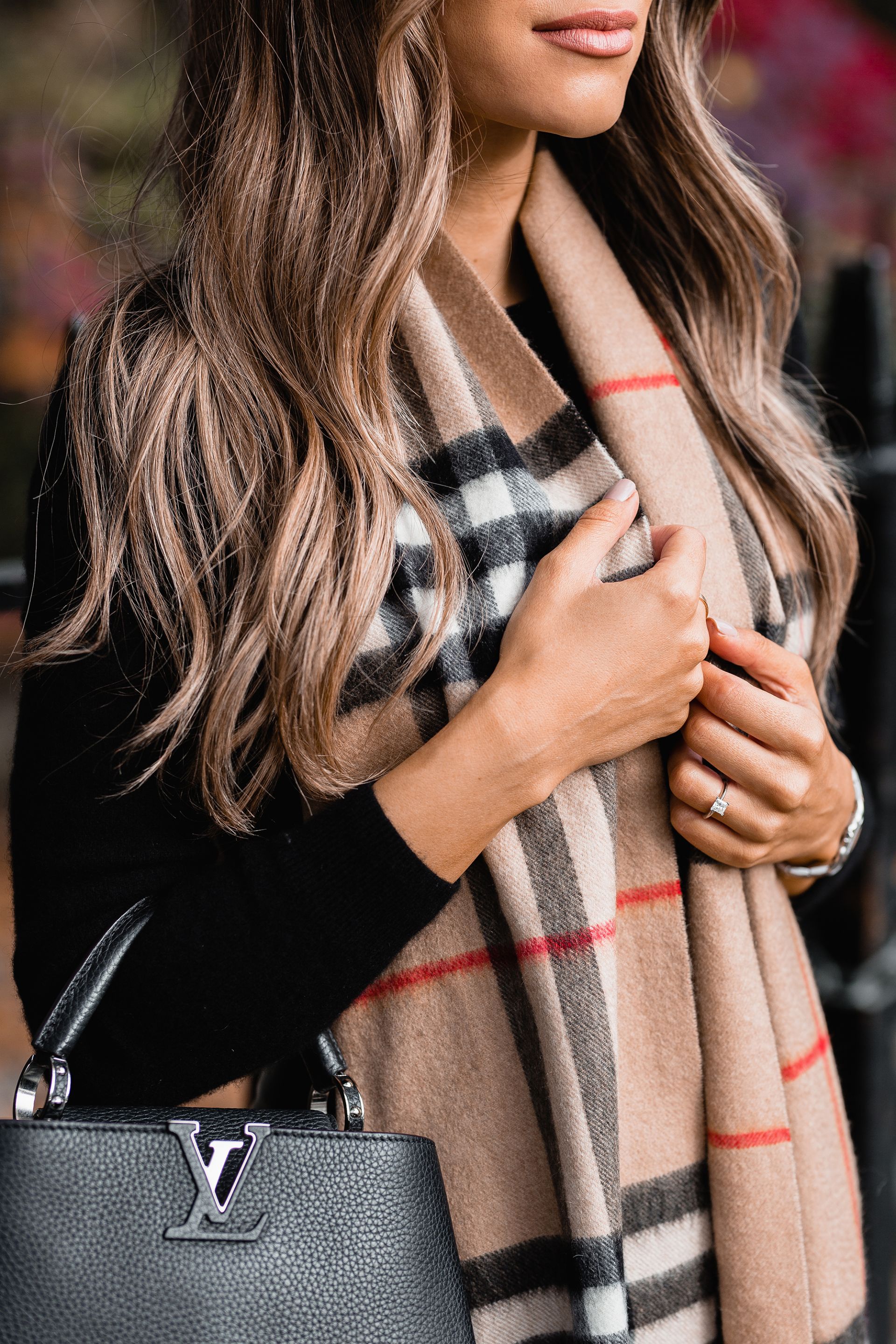 Shop the Burberry collection at Farfetch
Six years…Six whole years.
71 months, 313 weeks, 2190 days, 52,560 hours.
Looking at that as I write this, it doesn't actually sound all that long, but when you are living it, it feels like an eternity.
I remember exactly where I was when I decided to take a chance. I was sat on my dads old black leather recliner that he'd given me for my University apartment. I was wrapped up in blankets because the heating wasn't on gotta save the pennies for jaeger bombs and I was all alone. Everything seems to be covered in a grey filter but I think thats my mind trying to remind me of how un happy I was at that moment. I was working at Topshop, my uncles bar and another bar down the road to keep me occupied whilst studying and being in a long term, long distance relationship, I know now that I was painfully lonely.
The decision that I made that day would change my life forever and I often think to myself, where would I be right now? The blogging space gave me the ability to carve a career and a life for myself in a time when the odds were stacked considerably against me and today I work along side many of my most favourite brands including signing with L'Oreal as part of their innovative Beauty Squad, launching globally, the newest vehicle along side Jaguar Landrover and incredible campaigns for brands such as Armani, Yves Saint Laurent, Balmain, Net-a-Porter and La Perla, something I would never have dreamed possible.
That is the beauty of this industry!
And here we are on the first of December 2017, a month where so many new chapters of my life are about to start and the first being the shiny new design and branding of Lydiaelisemillen.com.
THE SIMPLICITY OF THE DESIGN
I listen too much, sometimes it's to my own detriment but it does also have it's uses and it helped me to design a space that was much more simple, no fancy bells or whistles whilst still fitting with the fluidity and simplicity of todays apps and websites. I love a good swipe function so from your mobile you can now navigate the site with a swipe of your thumb, left to Shop my Wardrobe, right to learn a little more about me and up to read the blog, watch my youtube and browse my Instagram.
It's a much more visual space mainly because I'm more of a visual person.
THE BRANDING
The new logo design, albeit totally unintentional, represents me perfectly within the online space. The font is the font which has been with me since I launched my first bespoke website back in 2013 and this new logo and branding will be rolled out from my blog across my youtube and social channel today for a 360 degree rebrand.
SHOPPING
How frustrating is it when you see someone wearing something that you needed in your wardrobe yesterday but the Instagram image isn't tagged and theres no way of finding it. Well wanted my blog to be as easy to shop as it is to read and whilst my Instagram shop is currently being built, you are now able to shop my wardrobe season on season with a quick easy edit by simply swiping left on your phone, clicking right on your desk top or via the Menu tab under "Shop". There you will find categories to make it even easier with Handbags, shoes, beauty and all the new in items I've been buying. If it's on my instagram, youtube or twitter, chances are it's ready to shop here.
Theres a fair few thank you's as I certainly haven't done this on my own.
Phil and the team at Pipdig have been absolutely incredible throughout the entire process and they deserve a medal for their unwavering patience whether I'm silent for days on end or sending 20 e-mails full of incoherent ramblings, they were always on hand to help whenever I needed it.
Carrie, my maid of honour, work wife and most of all Best Friend, thank you for taking the leap of faith by my joining my team and giving me my life back and enabling me to have the time to get this website design finished. Its such a scary prospect going from best friend to colleague but I think it's such a true testament to our friendship that we always find time for gin, like tonight where we will be celebrating your birthday for the second time this week. Because why not?
Ali, its safe to say Lydiaelisemillen.com would not be here today if it wasn't for you. You were and still are a driving force behind everything that I have achieved since starting. Your belief in me is unwavering and I am so endlessly grateful to have you with me every day. I am so proud of everything you have achieved and your work ethics, creativity and professionalism inspire me every single day. I can't wait for our next chapter together!
And So, I guess that leads me you, because never, in a million years did I think I would be sitting here writing about 6 years of blogging. My mind is blown with every comment, tweet, follow and like and I am so grateful to each and every one of you. Your support really is what drives me and has driven me, every day for the last 6 years and will continue to do so for many more years to come. Thank you for sticking with me and I truly hope you enjoy the new Lydiaelisemillen.com.