This post is a sponsored editorial with ELEMIS.

I've been out of the office a fair bit over the last few weeks, a brief stint at LFW, meeting after meeting and photoshoots all over the UK mean I'm often out of my comfort zone, but also my routine.
I work most efficiently when I have a sound routine and the rest of my life tends to follow suit, therefore its noticeable when said routine, falls apart.
I like to rise early , I feel most productive when I do and I immediately drink 1ltr of water. Breakfast is usually eggs, 1 yolk 2 whites & a cup of coffee. Following this, I refill my water bottle and get to work on my day, sipping away as I do and it's a good day if I've consumed 3ltrs by the time I shut my laptop for the day.
All of my skincare, both morning and night-time routines are centred around hydrating my skin, because as regular readers will know, my skin lacks moisture.
With this month being so incredibly hectic, with little time to even eat let alone consume my usual levels of water I have to ensure I step up my skincare accordingly.
Meet my secret weapon, the new ELEMIS Hydra-Boost Serum which reduces water loss whilst also reinforcing the skin's natural moisture barrier and provides continuous 24 hour hydration for your skin. When I know I'm gonna be on the go all day or I simply need an extra boost, I have a few tips and tricks for ensuring all is not lost, including hydration.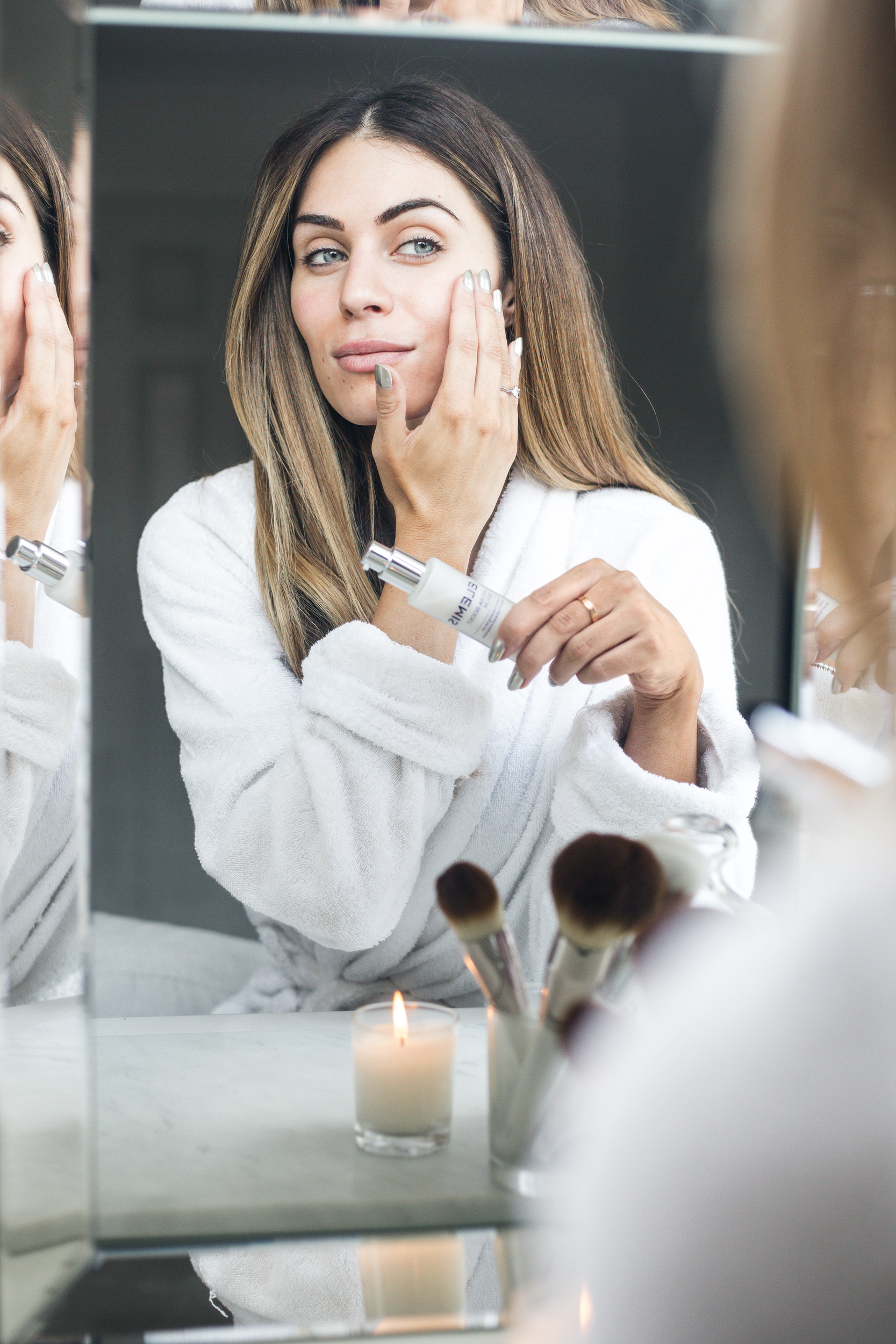 SKINCARE
A good skincare routine will set the tone for your day ahead and if you are out of the office all day you will want to make sure it is centred around hydration. On days like these I cleanse using the ELEMIS Biotec Cleanser, which kick starts the skin whilst also protecting it from the environment, perfect for being in the City. I love this cleanser because not only is it effective at cleansing and purifying, but its also one of the most cost effective cleansers to date. I'm pretty sure I've been using this same bottle for months and it's only half empty!
The ELEMIS Hydra-Boost Serum is also a key player in my daily skincare currently, not just the days when I'm OOO. Working in perfect harmony with the ELEMIS Hydra-boost day cream to increase hydration by 77% it also leaves me skin enviably soft, supple and perfectly prepped for a face of make-up to tackle the day ahead. The serum boasts a light weight non greasy formula which absorbs into the skin rather than sitting on the surface making it the perfect pre foundation prep.
LIQUIDS
I often worry, when I'm out and about, that I wont be able to find a ladies room when I'm attempting to get my daily fluids so wherever possible I opt for coconut water (which I know is an acquired taste) with replaces the electrolytes lost through your sweat, which is inevitable on the London Underground, whatever the season.
WATER RICH FOODS
I do a fair bit of eating when I'm running around the place in and out of meetings so another way to replace lost fluids and keep skin hydrated is eating foods with a high water content such as vegetables. Now I'm not the biggest fan of the green stuff but cucumber, crunchy salads, peppers and broccoli are my go to on days super hectic days.