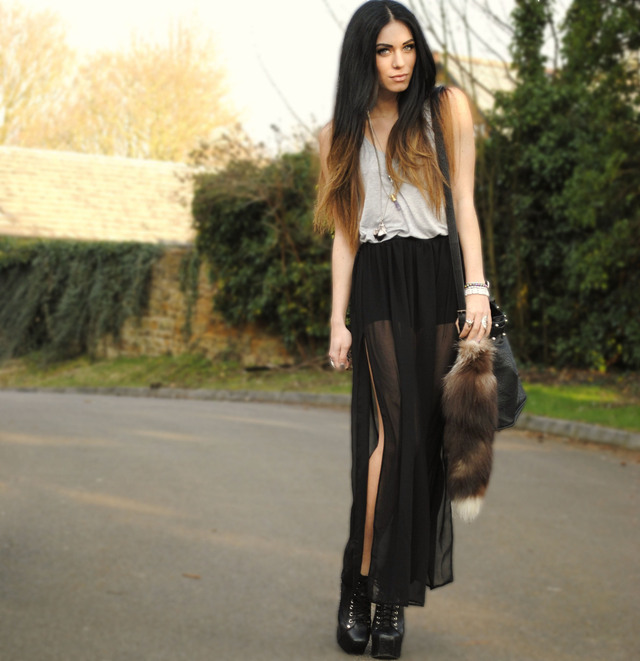 Skirt – C/O
BANK
Bird Skull Necklace – C/O
BAD PASSION
Rams Skull Ring – C/O
CUTIE PIE
Amethyst bullet necklace – C/O
BAD PASSION
Vest – H&M BAG – Select BAG CHARM – Ebay Rings and rock necklace – H&M Shoes – Jeffrey Campbell
Today I've spent the majority of the day attempting to answer not only the questions my evil lecturers make me answer in 3000 words but also the questions surrounding my own life…turns out the lecturers ones were the easy ones, I mean even Google couldn't answer these bad boys!
I've always considered going back to something, no matter how unfinished it may be, a step back in life as a whole…However you never envisage that backwards winding path to open anyway, so when it does not only does it slap a whole world of reality in your face but also makes you question the present, needless to say my heads a mess…because if this confused you….Think of what must be going on in my head ha-ha!
Anyway, today's outfit reflects the nature of my day, basic and cluttered….That's the sheer genius of wearing basics you get to clutter the f*** out of them with random jewels and foxes tails. This skirt was one of a number of items I chose from High Street retailer
BANK
as I figured this skirt to be the perfect option for a girl like myself, who prefers legs out on all occasions. You can bet your a*** I'll be running around campus in this and my Harley Davidson Biker boots, all spring.
These necklaces have probably been the highlight of my week though, I've wanted a semi precious stone necklace since forever but always freak out about chain length (silliness I know) so when Jackie from
Bad Passion
contacted me asking me to choose some items to review, I took the plunge! Have you visited their site? It took me forever to choose, there was just too much candy goin' on!!
The bird skull is another style I've been lusting after as I really think it gives a basic outfit like this a lil more edge!!
Also please all let me know if you're going to be at the Motel Rocks event next week as I'm so looking forward to meeting lots of Familiar faces,
Still need a blogger date for the Spirithoods event the day before though so if you're going to that let me know, I don't wanna be a Norman.
x
| Follow LydiaEliseMillen on TWITTER | Follow LydiaEliseMillen on BLOGLOVIN |