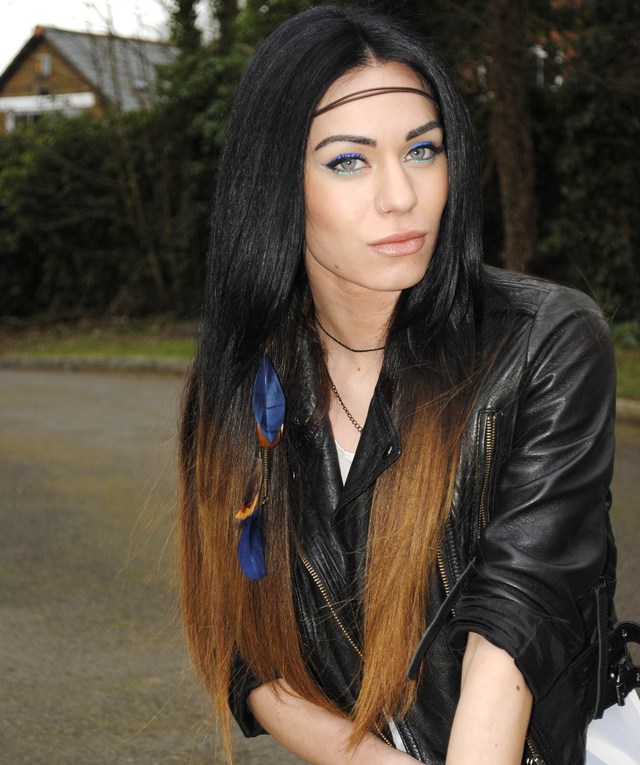 Dress – C/O
YAYER
Jacket – Topshop Boutique Boobtube – New Look Feather Hair Band – £1 Dorothy Perkins Necklaces – Topman Shoes – Jeffrey Campbell Bag – Select Bag Charm – Ebay Bracelets – Ebay, Pandora
If someone had said to me last week that I'd walk into SuperDrug and purchase and electric blue eyeliner I would have told them to 0-1-2-1 back to the 80's…But this is exactly what I found myself doing today, Oh Lawwd!
I do however have someone to blame (there fore its ok), if you've checked out my blog roll, you find a blog named
LightsDriveMySoul
. I'm pretty sure she doesn't have twitter so I haven't been able to send her incessant tweets about how much she inspires and intrigues me so she left me no choice but to do it on my blog.
Not only is her face one of the most pleasing to behold but she's got the most unique sense of style and when she writes…you feel like your reading a story that has no end, nor do you ever want that end to come.
But back to the eyeliner, she rocked some Anna Sui inspired blue eye make up and that was it, my shoes were on and I was in my car driving to town to grab myself some coloured eyeliners!
I did adapt the look to my own make-up style which can only be described as SAFE as I'm really not at all able or willing to try many different things when it comes to my boat race, so this really was a challenge!
What do you guys think of it? Do I look like my litter sister painted my face while I was asleep?
I don't know if any of you have checked out the web-shop
YAYER
, I tend to go on about it quite a bit on every communication platform possible! So I was absolutely over the moon when they contacted me asking if I'd like to collaborate with them as in all honesty, right now they are my absolute favorite store, easy to communicate with, fast delivery and above all KILLER stock!
So I picked myself this beautiful chiffon dress because lets face it, the warm times are on their way…I can feel it in maa bones.
But just as I was about to step outside to do some outfit pictures I realised there was a package on the table with my name on it, I ripped it open and inside were two BEAUTIFUL rings from a brand that contacted me a while ago (and I thought they'd forgotten about me)
Cutie Pie
. This Rams Skull was one of them and I can already feel the bond between us growing, Welcome new friend 🙂
God this is a long arse post, sorry guys, also you can see I got my barnet done, another
Seaghna
inspired moment, what do you think?!
| Follow LydiaEliseMillen on TWITTER | Follow LydiaEliseMillen on BLOGLOVIN |