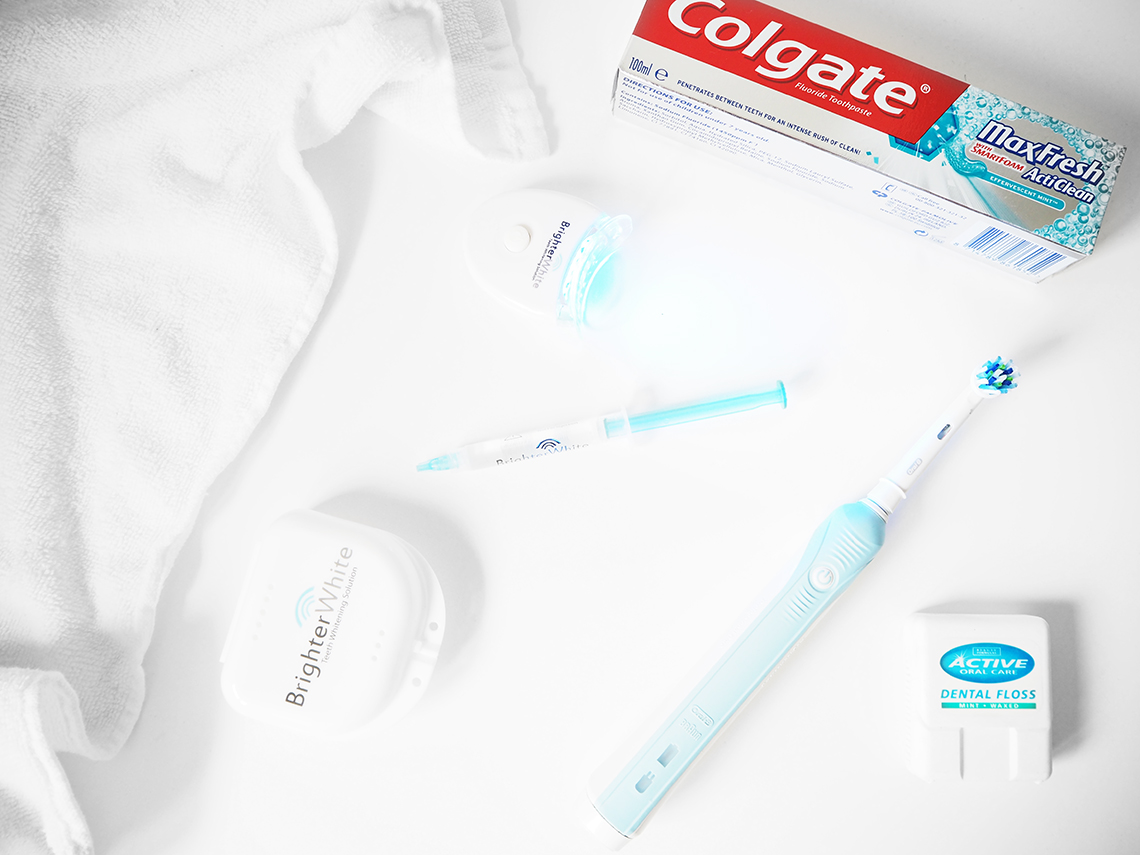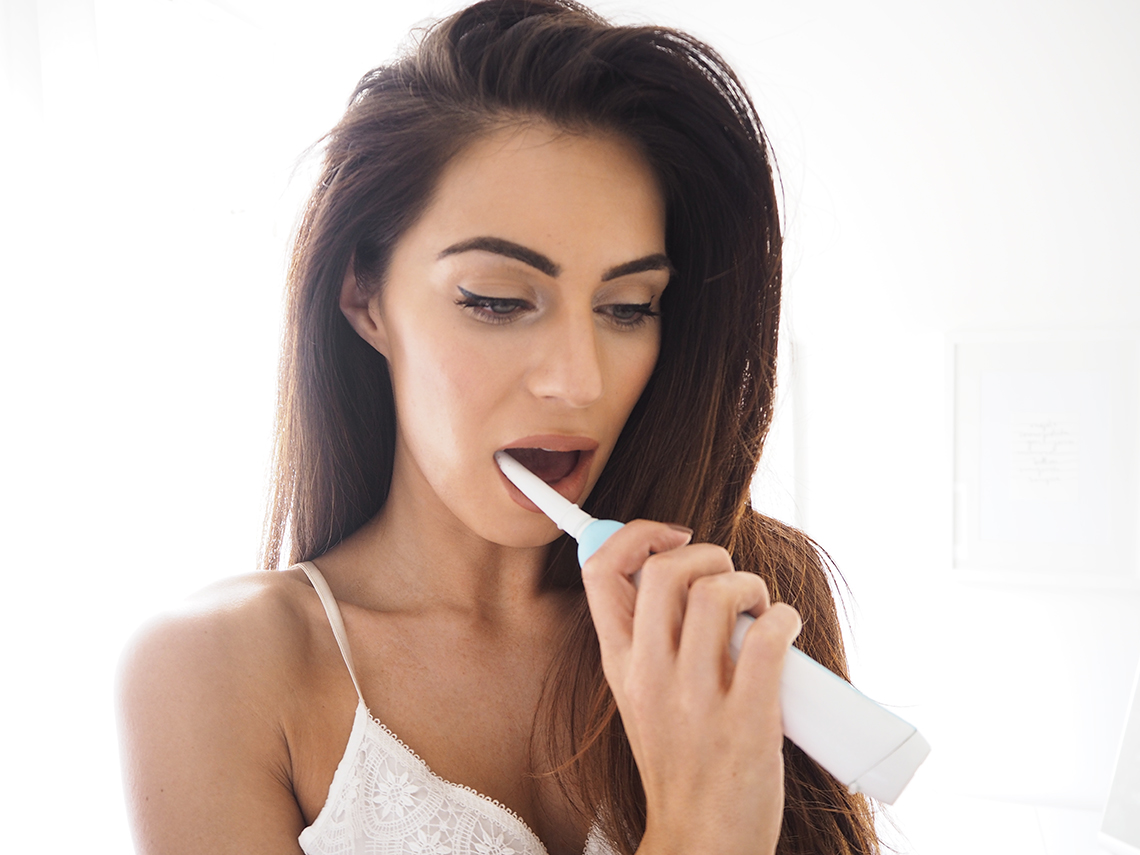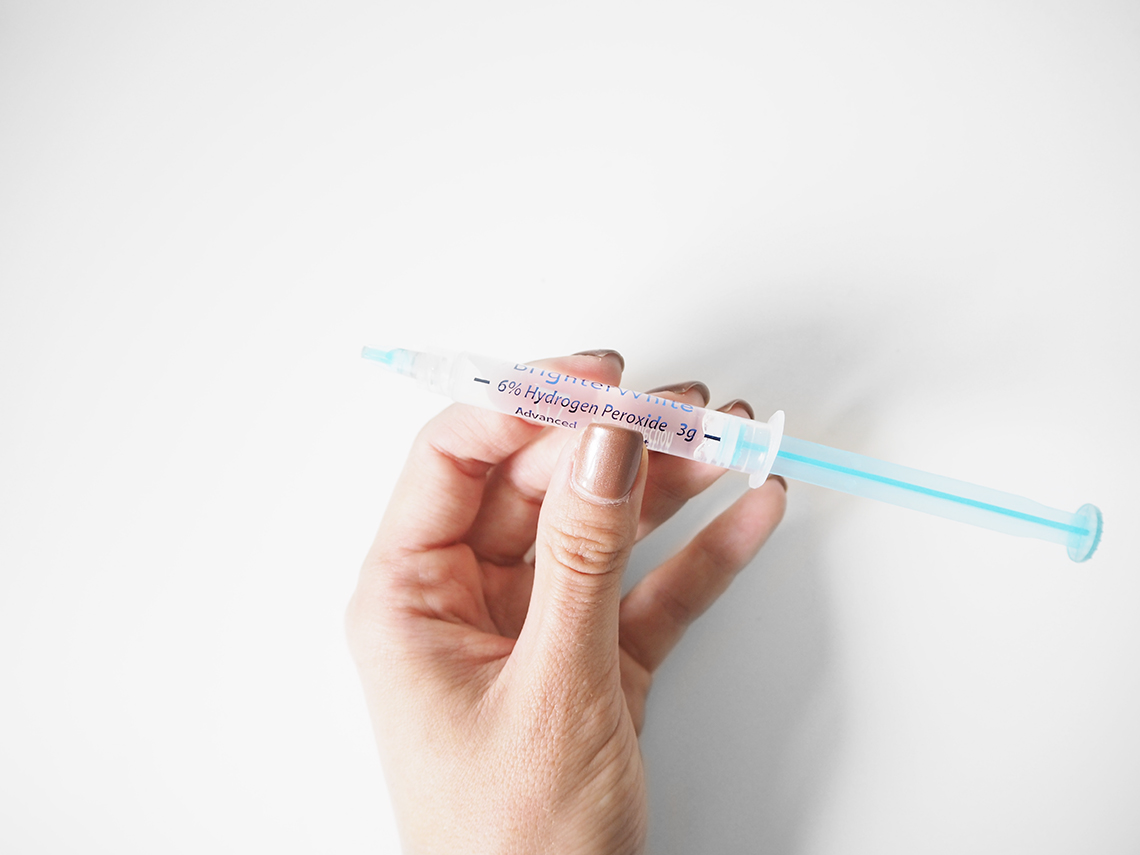 Believe it or not about 9 years ago I would never smile. I bet you don't find that so hard to believe from my blog photos, I look like a right grump I know so I've actually been making a conscious decision to look happier because in person I do actually smile, ALOT! But 9 years ago I did not. My lovely dad made sure my teeth were completely protected by having an extra layer of enamel coated on my teeth, but it also lead to my already discoloured teeth getting worse. I'd always had good dental hygiene but the colour of them wasn't a reflection of this.
Then for my birthday my wonderful and ever understanding Grandma took me to have my teeth professionally whitened by her dentist. It cost around £400 and I would need to sleep with the custom mouth guards in every night for two weeks. It was pretty expensive but it worked and I've never looked back. But thankfully times have changed a lot since then and what is now available on the market are products that are just as effective for a fraction of that price.
Brushing
First off buy a damn good electric tooth brush. I've literally only learnt this since Christmas when Ali bought me my first electric one. I'd always had a problem with plaque build up between my teeth, no matter how much I flossed, which also leads to your teeth appearing discoloured. When I started using the Braun Oral-B electronic toothbrush I genuinely couldn't believe how good it was and it completely stopped all build up, even my dentist couldn't believe the difference. My Grandma still has all her own teeth because of how well she looked after her and I fully intend to be like her at 80yrs old (a complete bombshell too) plus taking care of neglected teeth is painfully expensive. If you buy one thing this pay day, make it this tooth brush!
Flossing
It's such a ball ache but in reality we should be flossing after every time we eat, if you manage that I'm in complete awe of you. I aim for once a day but sometimes I can miss a day (or two, eep!) But it really is a fundamental part of good dental hygiene as well as keep teeth bright and sparkling. I tend to go for any old floss but I know that the Denta-brushes which are tiny minute brushes that go into the gaps are always the best option, they are just also rather expensive.
Whitening
There are endless teeth whitening products on the market now and I always like to top mine up especially before Summer, I love glowing skin and sparkly teeth and eyes! This set from Brighter White is a really great option and is almost identical to the kit I got from my Dentist all those years ago, the only difference is technological advances means you are able to now mould your mouth guards at home using just a jug of boiling water, Genuis! You also don't need to wear this one all night, which was part of what I hated it made me feel like I wanted to grind my teeth. Instead you wear this for 30-60 minutes with the LED light on which can be done whilst you get ready for work in the morning. You just have to remember that You can't whiten your teeth past your natural whiteness and people with harder teeth (Me) have yellower toned teeth and people with softer teeth (Ali) have whiter toned teeth. It's a really great which is budget friendly at about £40 rather than £400!
---
Shop the Post